Blog entry by Jamie Earnshaw
Anyone in the world
In this blog, Dawn Tagima, Cultural Ambassador at Cherrywood Community Primary School, writes about her experience achieving Gold in the EMTAS EAL Excellence Award.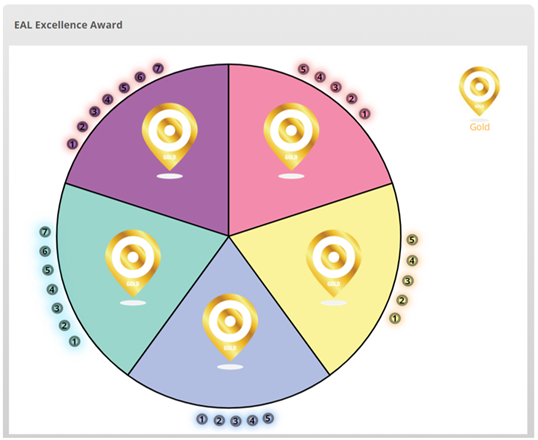 My name is Dawn Tagima and I am the Cultural Ambassador at Cherrywood Community Primary School.
After achieving the silver Award in 2019, this April the school was delighted and very proud to be awarded the first Gold EAL Excellence Award from EMTAS. The Award was developed by the EMTAS Specialist Teacher Advisory team and is an online school self-evaluation framework to help monitor the impact of provision to all EAL children.
I was introduced to the Award at one of the EMTAS Network meetings run by Claire Barker. I quickly realised that not only would it be amazing for our school to be recognised in this way, it was going to be of huge benefit to me in my role.
The Excellence Award covers 5 broad areas-
Leadership and Management

Pedagogy and Practice

Data, Assessment and Progress

Teaching and learning

Parental and Community Engagement
Using this framework (which has become an invaluable tool), I was able to make sure that we, as a school, were ensuring the provision we were offering was making the best impact on our children.
I was still relatively new to the role and will admit to initially feeling a little overwhelmed, especially as we have a high percentage of EAL pupils in our school, so when the Award was shown to me I thought it perhaps seemed a scary prospect and was concerned it may add to my work load BUT how wrong was I! I was able to clearly see what was needed in our school and how this could be achieved.
I made the decision to keep a file, breaking it down into the 5 areas. I was able to add photographs, pieces of work children had completed, assessments etc to use as evidence. Personally I like things in 'paper' form that are easy to refer to. Equally, I know of other schools that have done the whole Award online which has also worked well for them.
One of the things we worked hard on in school to move from Silver to Gold was to ensure we were encouraging our children to use their first language in the classroom.
Some examples of this were one of our Yr 6's wrote a beautiful piece of work about Word War 1 which was proudly put on a class display in Portuguese. She was very proud of this and shared her work with her peers. Another child in Yr 2 sat and wrote out the numbers from 1 to 100 in Nepali which again was displayed in class on the maths working wall and became a real topic of conversation.
The use of first language is also shown around the school environment with 'hello' and 'welcome' signs written by the children in the entrance hallway in many different languages and a 'changeable' sign outside that at present says' be happy' written in Pashto and translated to English.
Using first language in the school/classroom environment not only embeds their first language but makes the children feel included, accepted and proud!

I was offered support from EMTAS throughout the whole process whether it be asking questions by e-mail or visits to the school to help inform me of our next steps and what we could improve on to reach our 'goal'.
When I felt we were ready to be validated, I sent all the evidence to EMTAS and was then visited by a Specialist Teacher Advisor from another area, Astrid Dineen. I shared my file and we discussed what we were doing as a school and how we were ensuring we were embedding the best practice for our EAL learners and their families.
By using the Award as such an amazing tool, we have been able to make sure we are offering best practice in all areas but most importantly making sure we continue to do so in the future. As the school's Cultural Ambassador, I now feel so much more confident to know what this 'best practice' looks like which helps me in my day to day role. One of the criteria was to make a three year development plan so this is now in place to refer to and also reaching Gold has made the SLT team, the named Governor and all the teaching staff aware of what we have achieved and what we need to do moving forward. I am also carrying out observations in classes and auditing what resources are needed regularly.
Obviously we are living in a very different world at present and all our children are needing extra support to settle back in. We as a school are finding different ways to make sure our children still thrive and learn. Our EAL children have come back happy and ready to learn and we are determined this will continue!

I would encourage any school to use it. Everything is so clear and laid out for you and gives you the ability to see what you are working towards to become an 'excellent school'!
Congratulations to Dawn and Cherrywood Community Primary School for achieving the Gold Award!
[ Modified: Monday, 16 November 2020, 4:36 PM ]