Blog entry by Jamie Earnshaw
Anyone in the world
In this blog, Rosie Cayless, EAL Coordinator at Fernhill School, writes about her experience working towards and achieving Silver in the EMTAS EAL Excellence Award.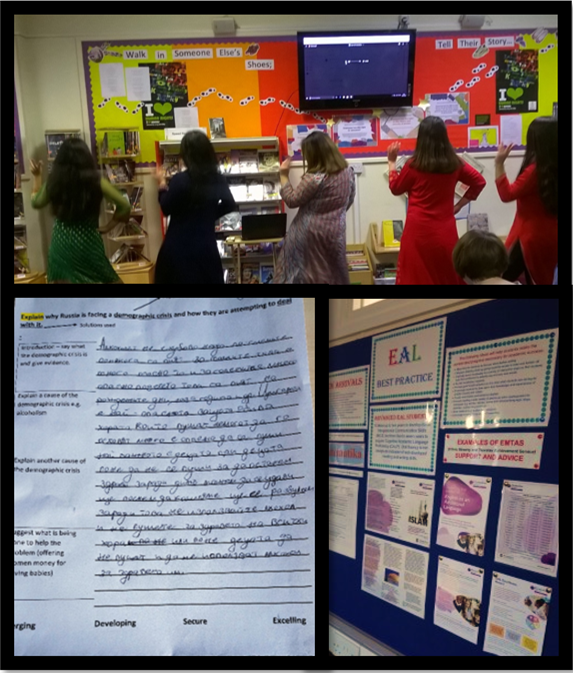 I was really keen to gain the EAL Excellence Award Level Silver for Fernhill School but, like everyone else, had no idea when I would have the time to actually do the work needed for this. Claire Barker from EMTAS visited me and went through the different criteria suggesting I could make a folder with all of my evidence and then fill in the online form too, but in less detail, as the documentation was in the folder. This galvanised me into action!
I decided to break the tasks down into ones that I knew as a school we were achieving, but needed to evidence (e.g parental engagement), and ones that required action to bring us up-to-date, such as CPD. 
We arranged an EAL training session for NQTs (led by Claire) and opened it up to NQTs from other schools, which was well-received; we had a cosy pre-Covid roomful of over 30 teachers!
Some areas required a lot of detailed recording such as doing the Bell Foundation EAL profiles for selected students, while others could be demonstrated with photographs from events such as our Global Fair. The more evidence I collected, the more enjoyable it became. 
I would say that the whole process increased my sense of job satisfaction; it was rewarding to examine all aspects of EAL provision and ask: 'Are we doing the best for our students and their families and what can we improve?' One of the most useful aspects of undertaking the challenge was to completely re-write our school's EAL policy, which underpins our whole approach and proved to be a vital part of our application. And the most enjoyable was collating examples of some of the wonderful writing Fernhill students have done in their first language.
The moderation visit was conducted by Astrid Dineen - it was very thorough, one could even say rigorous! But by the end of the (lengthy) session, no stone was left unturned and I was left feeling hopeful that we would gain the award. 
It was great to receive the email with the shiny Silver Award logo attached, Astrid sending congratulations as well as encouragement to go for the Gold Award next time!
Congratulations to Rosie and Fernhill School for achieving the Silver Award!

To find out more about the Hampshire EMTAS EAL Excellence Award, visit our website and our Moodle. 
[ Modified: Tuesday, 5 January 2021, 1:50 PM ]