Blog entry by Jamie Earnshaw
Anyone in the world
In this blog, Claire Barker, Operational Lead of the Hampshire EMTAS Traveller team, provides an update on the work of the team and gives an insight into future projects.


Hampshire EMTAS includes a very active Traveller team who work closely with schools to support staff with cultural awareness of our GRT communities, to help improve attendance and to engage with GRT pupils about their attainment and aspirations for the future.
In the past, the team has worked in a similar way to our Bilingual Assistants, offering a number of fixed sessions of academic support for every GRT child referred to us.  Over the last year as part of a regrouping exercise, we have evaluated the purpose of our work and reviewed the impact it has had.  We all agreed the children enjoyed support sessions but once we finished, the children did not have face to face support from us again.  This meant that the impact was short-lived.  Unlike children who are new arrivals to the country and struggling with English, our GRT children do not experience a language barrier and can therefore be supported academically by the school day-to-day.  We looked at issues around GRT children and their learning and found that the key recurring barriers to their progress and attainment are: poor attendance, lack of literacy and slower rates of progression in general.  None of these issues can be alleviated by a fixed number of support sessions delivered across half a term.
The crux of working with the GRT communities is trust and we all agreed that this needs to be built up over time, working with the children and getting to know their families.  As a team, we want to work with schools to look at their GRT cohorts and work out how to accommodate small mentoring groups that will be visited at least three times a year.  On each visit, a member of the team will work with the children on literacy, attendance and attainment.  This will be linked to the school participating in our GRT and Showman Literacy Ambassador programme.  This programme is being further expanded to include an interschool GRT and Showman Book Club; this is still in its infancy so watch this space.
If you are interested in the GRT children in your school being part of our mentoring scheme and you are a Hampshire school, for more information please contact Hampshire EMTAS: EMTAS@hants.gov.uk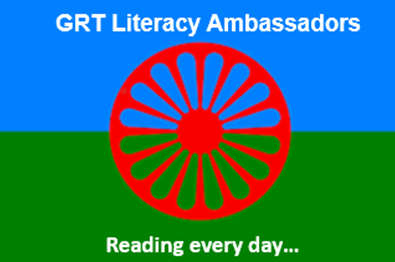 An important part of our journey moving forward is raising the cultural awareness of both staff in schools and agencies who work with our GRT communities.  We do this in a variety of ways: we have a termly network meeting held on TEAMS where teachers and other professionals can come together to discuss good practice for GRT children within schools and learn about any new ideas and projects.  We are also hoping to hold three GRT Roadshows to showcase good practice across the county.  These will be in Basingstoke, Winchester and the New Forest in October 2021 and we will send out details in due course.
We also hold Cross Border meetings with professionals from outside Hampshire with an interest in GRT communities and education.  These meetings are held on TEAMS and if you would like to take part please contact Lizzie Jenner to be invited: lizzie.jenner@hants.gov.uk  Our next meeting on 1st March is focusing on aspirations and aiming higher with presentations from Darlington EMTAS and the University of Sussex.

Hampshire EMTAS is keen to raise aspirations in our GRT children from an early age and we believe our new way of working through mentoring should help this.  We have coupled this with the introduction of Kushti Careers.  This is a suite of short videos by people who are currently from Romany Gypsy communities, who share their stories of how they valued their education and where it has led them in their lives today.  We hope to add others from the Showmen community, Irish Travelling community and Roma. The idea is to share it in schools to show that there doesn't have to be barriers to education because of culture and background.
We hope to have one of the presenters of a Kushti Careers video delivering a keynote speech at the EMTAS Conference on 9th July 2021.  Please make a note of this date in your diary.  It promises to be a great day, focusing on best practice for EAL and GRT children in education.
These are exciting times for the Traveller Team moving everything forward, preparing to return to schools and encouraging our GRT families to come on the journey with us so that their children's futures are aspirational and show how, in the 21st century, our GRT communities are benefitting from expanded horizons and opportunities.
Tags:
[ Modified: Tuesday, 2 February 2021, 2:27 PM ]
Comments