Blog entry by Jamie Earnshaw
Anyone in the world
UASC may arrive at any point in the academic year, typically into the end of Key Stage 3 or into Key Stage 4.  They have often experienced a difficult journey to the UK and they may face an uncertain future.  What can Hampshire EMTAS offer by way of support for these young people? In this blog, Sarah Coles, Hampshire EMTAS Consultant, explores this question.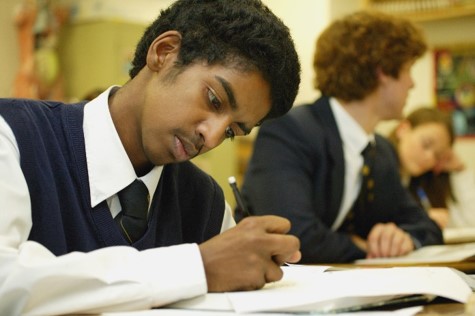 UASC present schools with a challenge when it comes to provision in that many will have gaps in their schooling with some having had no prior experience of formal education.  In recent years, Hampshire schools have welcomed some UASC who have previously worked as sheep farmers in very rural settings and who have never attended school before; others have come with a more recognisable educational history though there may still be gaps in their knowledge of the different curriculum subjects studied in UK secondary schools.  In most cases, an immediate issue schools need to address relates to the young person's levels of proficiency in English.
As with other international arrivals, EMTAS undertakes Profiling for all UASC referred, either through the SLA (for maintained schools and subscribing Academies) or through sold services.  Due to the complex and highly individual nature of each case referred, the profiling work is led by a Specialist Teacher Advisor working with a Bilingual Assistant or Interpreter.  Recently, due to Covid restrictions, some EMTAS Profiling work has moved online and has been carried out using MS Teams.  This article captures elements of the UASC profiling experience from the point of view of an EMTAS Specialist Teacher Advisor.
The young person in question I shall call Rebin, which means 'path-finder' (it's not his real name).  He arrived in the UK in the summer of 2020 from rural Iran -where he had in fact worked with his father on the family sheep farm - via Italy and then a refugee camp in France.  Right in the middle of the lockdown.  He had no papers – which is not unusual for UASC – and so an age assessment was carried out which placed him in Year 10 – though right at the end of Year 10 with only a few weeks to go before the summer holiday.
Rebin's first language was identified as Kurdish Sorani.  As part of Profiling, a first language assessment is always done in order to determine how the young person can use their first language to support their access to the curriculum.  Listening, Speaking, Reading and Writing are all included in this assessment.  For Rebin, an Interpreter was used to support the assessment, which was all done using MS Teams with Rebin supported at home to engage with the process by his foster carer.  It was found that Rebin could understand and speak Kurdish Sorani fairly well though because he'd not been schooled in Iran, his first language speaking and listening skills were very much about social interactions with others and not so much about academic learning. 
Rebin explained that whilst he had not attended school, his mother had taught him some reading and writing at home. When this was explored, it was found that Rebin could communicate meaning in writing in Kurdish Sorani but at a fairly basic level and he did not have a well developed academic register.  Another thing to note about Kurdish Sorani is that it's written from right to left, which can present the learner with a directional difference to contend with when they start writing in English. 
Rebin's reading in Kurdish Sorani was halting and he found it difficult to access much beyond basic, simple sentences.  This meant that for Rebin, providing written translations of curriculum materials would be of limited use.
Pre-Covid, the best place for a child like Rebin to begin to make new friends and learn English is at school with other pupils of a similar age.  Peer mentors would be asked to help induct the new arrival, help them find their way around and make sure they are not on their own during break times.  They might also accompany the new arrival to clubs and activities – Rebin was very keen on playing football, which normally would give him access to a group of peers who shared that interest. 

Rebin's writing in English and Kurdish Sorani
An assessment of Rebin's English showed that he knew a few words and phrases, enough to say 'hello', that he could read some very simple words, performing better where these were supported by visual cues.  He could also write a few letters of the alphabet but by no means enough to communicate in writing in English; for practical purposes he would be classed as 'new-to-English' and he would need to be taught the basics of reading and writing for sure, most likely in withdrawal sessions as these are not things you can just pick up. 
With regards access to a broad and balanced curriculum, Rebin shares the same entitlement as other students and should be given access to a range of subjects, including Maths and English.  Immersion in the new language gives a student like Rebin diverse examples of contextualised language use and, after an initial settling-in period when it all sounds like a jumble of noise, he will begin to hear where sentences end, he'll notice words and phrases being repeated and he'll start to make sense of what he's hearing.  Once that has happened, he will begin to be able to respond to what's said to him, gradually building up from single words to short phrases to sentences.  In about two years' time, Rebin will be able to hold a pretty fluent conversation in English, though it will take significantly longer for him to be able to write for academic purposes across a range of subjects. 
Rebin will need support, and the best way of supporting him will be for subject teachers to sit him with peers of similar underlying cognitive ability and to let him follow their lead, whilst making full use of visuals when delivering content.  Translation apps may have a place also – what is needed for a student like Rebin is one where there's an audio component so he can listen to new words in English and first language, not just see a written translation.  However, given what we know about Rebin's educational history, translation apps will clearly not offer a panacea.
Thinking forward, Rebin will very soon need to be planning his post-16 pathway.  During the initial profiling, he was asked about his work on the family sheep farm, in case he had liked it and an option to study animal care at a place like Sparsholt was viable.  Rebin, however, said he wasn't interested in this but didn't really know what other options might be available.  To address this issues, School could usefully plan in opportunities for Rebin to shadow/talk to students who are currently following the courses he might like to think about for himself.  School could further facilitate with interpreter-supported discussions at his PEP meetings where the options can be set out for him, his views can be sought and he can ask any questions he may have. 
Of course, all the while Rebin plays catch-up with his education, he is still recovering from his experiences of being trafficked to the UK, from his separation from his family and from uncertainties about his future – whether or not he will eventually be granted indefinite leave to remain.  If all goes well, Rebin could, in spite of all the attendant challenges he faces, be successful in forging a new life for himself in the UK, and staff in schools have a key role to play in supporting him to work towards that end.
For advice and guidance on meeting the needs of Unaccompanied Asylum-Seeking Children, see the EMTAS website.    
Tags:
[ Modified: Tuesday, 9 March 2021, 2:23 PM ]
Comments