Blog entry by Jamie Earnshaw
Anyone in the world
In this blog, Cristina Mitchell, Romanian-speaking Bilingual Assistant at Hampshire EMTAS, reflects on how technology has evolved and the positive impact it has had on her recent work with schools during the Covid-19 pandemic.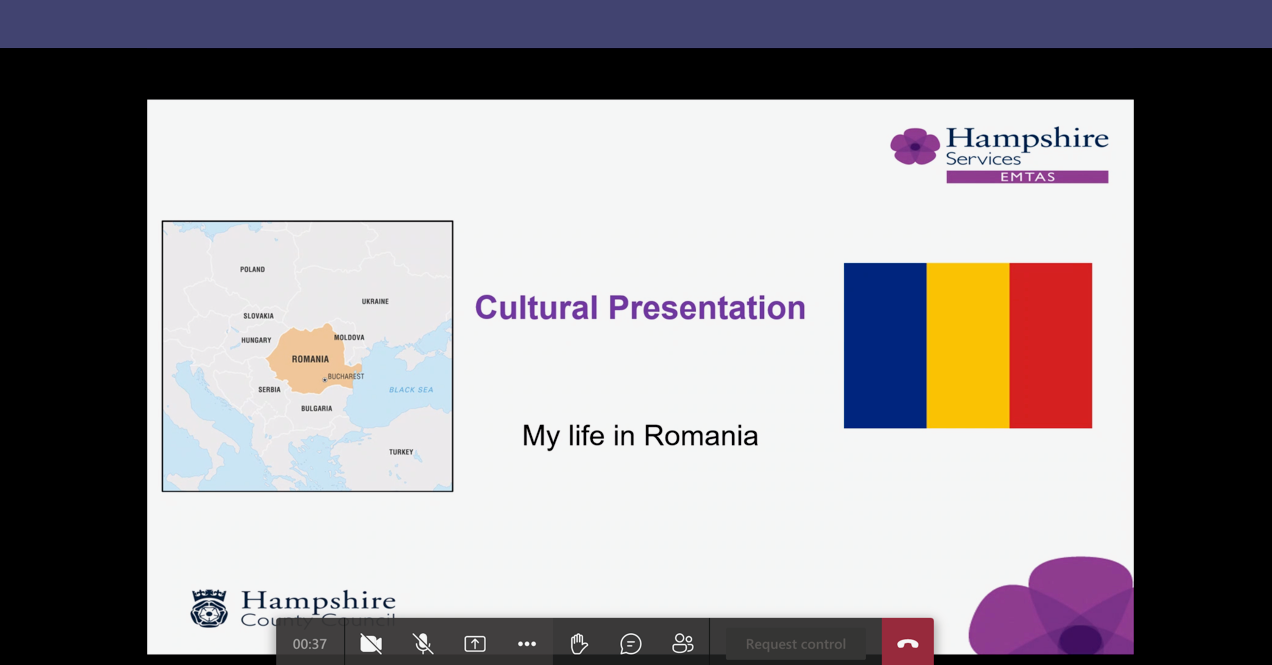 What do you think your children would say if you were to tell them that you did not use any electronic devices in your childhood? They may laugh, they may feel sorry for you or they may say you lived in ancient times. It is hard to believe nowadays that it was possible to live that way. But it is real that we lived very different times. Some may argue life was good and some may not understand how someone can live without a phone or a tablet. It is for each of us to choose and decide how the technology has helped us in life. Has the use of technology made your life easier and more complicated at the same time? Have you got concerns that our children, who are growing up with technology, will become tech-savvy or more robots than humans? It is human nature to worry and look at the negatives, but I like to look at technology as incredibly helpful in my life journey.


I grew up in a world of books, playing outdoors, practising sports and talking to people face to face. Until I was 14, we had only watched TV for 10 minutes on Saturdays (Tom and Jerry cartoons), as under communism, my home country, Romania, would only broadcast 2 hours a day (mostly politics). I was 14 when my father showed me a computer in his office and allowed me to play a computer game with bricks. It was not until my first year of university when I first used a computer for learning. Mobile phones appeared in my life after I graduated from university. Until then, we used to write letters to communicate with people who were not local, telegrams for something urgent, announcements in newspapers and landline phone calls and fax machines.


After I graduated from university, I started using the internet as a learning tool and to speed up and widen my communication. When I moved to the USA, I started using Yahoo messenger to keep in touch with my family back in Europe.


The impact of technology on my support to schools


Due to the pandemic, the use of technology to support my work as a Bilingual Assistant (BA) has increased dramatically over the last year.  The BA team were in the situation where we had to find ways and solutions to transfer the support offered to schools and children in a non-face to face approach, which we had never done before. Technology and online platforms have become more relevant than ever.


Moving to online support has been an interesting change for me as I love technology and I am always happy to explore innovative ways to support children. However, delivering online sessions is not for everyone. Some can stumble in using technology or can become overwhelmed by the multitude of functions. My approach has been to be patient with technology and explore as much as I can to see what it can offer and how this can have a positive impact on our support for children in schools.


In my day-to-day role, I have delivered support sessions using Zoom and MS Teams. I soon started enjoying that I can share the activities, documents and dictionaries easily and that the support sessions can become highly interactive, using some other functions, such as whiteboard and drawing in different programmes and video and audio sharing.


In normal times, I used to work with children on creating Cultural Presentations, which we would then co-deliver to the class. With the help of technology, the lockdown did not stop me from doing this. Using Zoom or Teams, I was able to help children prepare the presentation and then we were able to co-deliver the presentation, using one of the online platforms. The PowerPoint presentations delivered on Zoom were very interactive and highly successful. Indeed, this approach can even work better for some children with EAL, who are shy to speak in front of the class, but can gain confidence if they deliver it online. In one situation, a year 3 pupil and I were sitting together in a room adjacent to the classroom. Her classmates could see us through the window and could wave to us. Sharing videos and songs was also possible. Sometimes, the WiFi connection or the phone signal in school (if using 3G or 4G) can become a problem and the delivery can suffer because of that, but these are minor issues.


There are many ups and downs of using technology, but to me this was a fantastic solution for continuing our support during lockdown and, indeed, into the future. I've certainly learnt that there is more good in technology than bad!


Find out more about the support available from our team of Bilingual Assistants on our website here.

Tags:
[ Modified: Friday, 2 July 2021, 10:32 AM ]