Site blog
Anyone in the world
written by Jamie Earnshaw, Hampshire EMTAS Specialist Teacher Advisor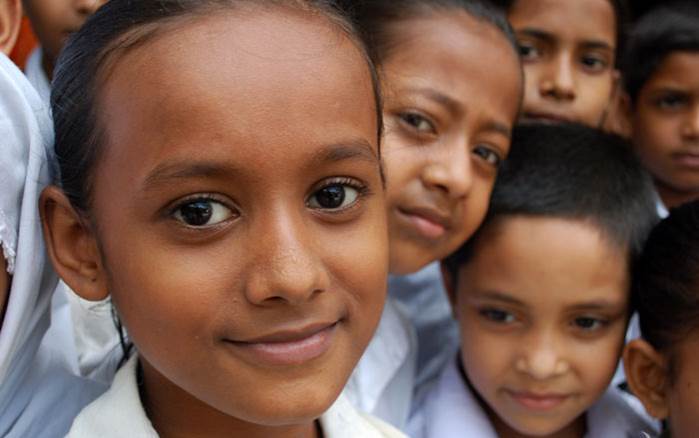 A small scale piece of research into the 'Bangladeshi' (ABAN) ethnic group in Eastleigh offers an insight into the experiences of Bangladeshi families in UK schools
Bangladeshi families in Eastleigh have generally been settled in the town for many years. In fact, Bangladeshi children going through the education system now tend to be UK born and are often the second or third generation of their family to attend school in the UK. However, school data for the ABAN group suggest they are behind many other ethnic groups, particularly in the primary phase, in English and Maths.

Observations of pupils in class illustrate how settled and integrated ABAN pupils are in primary schools; ABAN pupils were seen to be actively participating in the classroom in both collaborative and independent activities, often taking the lead when presenting back to the rest of the class during group work. Discussions with school staff paint a similar picture; anecdotally, ABAN pupils are as engaged and as settled in the school environment as any other pupil. Of course, this has not happened by chance but is the direct result of quality first teaching, in which good practice strategies for supporting EAL pupils are embedded. The mismatch between the anecdotal evidence pointing to how ABAN pupils should achieve in school, compared with the factual data, is therefore quite a quandary.
At home, parents of EAL learners often battle with the decision over whether to forgo the use of first language in a pledge to support their child's acquisition of English, despite this being the antithesis of good practice advice. With Bangladeshi families in Eastleigh, this is not so. At home, first language is used, often exclusively, between parents, their children and the wider family. The only time pupils tend to use English at home is with a sibling, normally when they are working on a piece of homework or playing a game.
For pupils, the desire to discuss homework in English is often as a result of the academic nature of the language which they have  learnt and used solely in the classroom where the language domain is English; specific vocabulary for topics like Ancient Greece or the transference of forces in gears and pulleys is unlikely to be used in day-to-day family life. It is perhaps therefore understandable that pupils might choose to use English to support with the completion of homework. However, as a result, parents can often feel ostracised from their children during this time.
Unlike parents of newly arrived EAL pupils, the usual potential barriers for ABAN parents are not as prevalent. After all, ABAN parents in Eastleigh have often gone through the education system themselves. Parents tend to know what the school systems are, they understand about school events such as closures or non-uniform days and, according to school staff, frequently attend parents' evenings. Dialogue between home and school, on the surface, is not an issue.
The unquestionable desire for parents to support their children at home, yet not feeling equipped to do so, appears to lie incongruently with the established links between home and school. Perhaps the best comparison is that of the advanced learner of English in the classroom; such pupils often do not receive the support they require due to them blending in, being able to partake in conversations, coupled with not wanting to identify themselves as being different by asking for additional support, for example. This is the dilemma parents often face. The general expectation of reinforcing at home what has been learnt in the classroom is understood, but addressing the finer details of actually being able to support in this role is often the pitfall.
The compartmentalisation of English for academic purposes and first language for family time can inhibit the identification of ways to build on what a child learns in class. Many ABAN pupils are not able to read and write in first language yet contrast this with the fact that parents are often confident when speaking conversational English but have low levels of literacy in English (coupled with low literacy levels in first language too). Consequentially, families tend not to have texts in any language they can share with their children at home. Additionally, the relative economic deprivation and lack of cultural capital in Eastleigh, exacerbated by the fact that often families do not have a car to travel out of the area, means that opportunities for learning in other contexts are rather limited.
The solution?
Of course, there is no one-size-fits-all answer. Key, however, must be continuing to build on the established links between school and home, in order to facilitate further exploration and open dialogue of how parents can support at home. Playing on parents' strengths is essential; whether that's sending home key questions for parents to ask in first language in order to evaluate their child's prior learning, or sending home dual language texts as a way of sharing the learning process between parent and child. Recorded audio instructions might also help, alongside sending home differentiated materials used in the classroom, in advance, just to give parents confidence to get involved in supporting their children at home. Additionally, help with identifying opportunities for learning in other contexts away from school might also be beneficial.
This blog may well leave schools and parents with more questions than answers. Nevertheless, it has certainly shone a light on how well integrated ABAN pupils are in schools, which is testament to the hard work of schools, families and pupils. Through encouraging further open dialogue between home and school, the trajectory for ABAN pupils in Eastleigh can only be positive.
Further reading and resources
http://www3.hants.gov.uk/education/emtas/forparents/parentsandcarersguide.htm
https://eal.britishcouncil.org/teachers/parental-engagement
[ Modified: Monday, 13 November 2017, 8:59 AM ]
Comments