Site blog
Anyone in the world
By EMTAS Specialist Teacher Advisor Lisa Kalim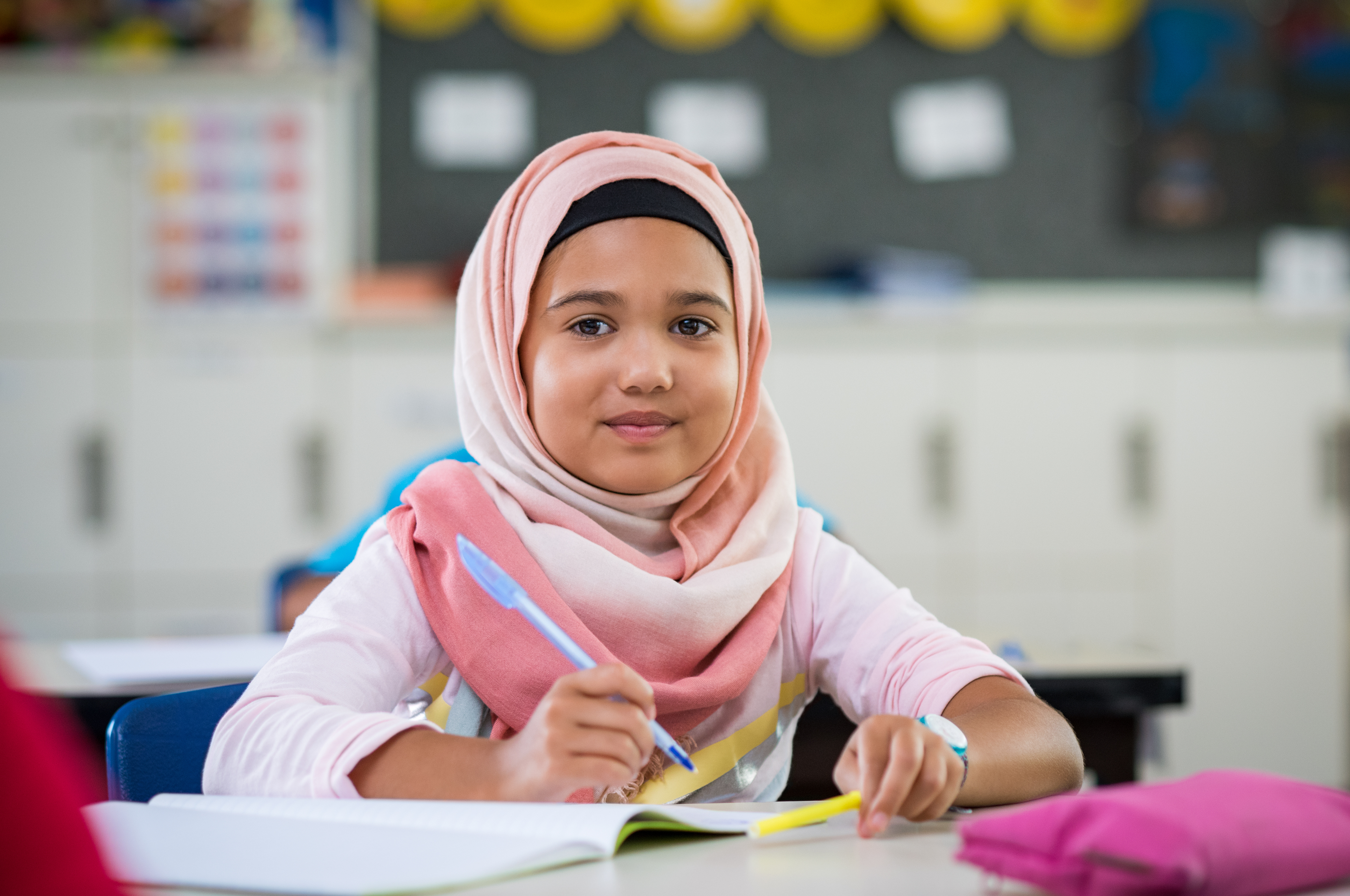 Following last summer's military evacuation of families from Afghanistan and a subsequent period in temporary hotel accommodation, many of these refugees are now permanently settled in Hampshire.  The families have been able to start the process of building new lives for themselves.  For the children an important part of this has been starting school and being able to attend regularly.  This blog describes the experiences of nine-year-old Maryam as she left Afghanistan and how her new school in Basingstoke helped her to settle in and subsequently begin to thrive. 


Kabul
Maryam was airlifted by the British military from Kabul airport on the 26th of August 2021, together with her parents and two younger brothers.   Her father had previously worked as an interpreter for the British army for several years and was therefore fearful that the whole family would become a target for the Taliban if they remained in Afghanistan. 
The decision to leave their home was a sudden one.  Maryam was woken in the middle of the night and told to put a few things into a small backpack.  Shocked, she hastily packed a few clothes and a bottle of water, grabbed her favourite necklace and then they were picked up by a family friend who had a car.  He drove them as close to the airport as he could get and then dropped them off – the roads close to the airport were all blocked by vehicles and large numbers of people on foot who were packed tightly together.  It took Maryam and her family several hours to get near to the airport perimeter.  By this time, it was starting to get light.  Then they had to join the crush to get through the gate and try to work their way towards the front where soldiers were checking papers and making decisions about who could get a place on a flight and who would be left behind.  It was incredibly difficult to move forwards because there were so many people and there was no space to move.  Maryam was terrified that she would be separated from her family and never find them again.  They gradually inched their way forwards, managing to stay together, but many more hours passed and they were still nowhere near the front.  It was really hot and there was no shade.  They hadn't brought any food with them, so they were all hungry.  There were no toilets.  They spent the rest of the day in the crush and into the following evening.  Just as it was starting to get dark, there was a loud explosion behind them and they could see smoke rising from just outside the airport close to where they had been earlier.  This was shortly followed by the sound of ambulance sirens.   Maryam felt numb inside – what was happening to her didn't seem real, she felt like she was in a movie. 
Eventually, sometime in the night, they reached the front.  Maryam watched as her father waved his papers at the soldiers, desperately trying to get their attention.  He had to keep trying for quite a while but at last a soldier took his papers, examined them and then let the whole family through.  They were taken to a runway where they had to wait for several more hours before boarding a military plane.  Once they were aboard Maryam quickly fell asleep only waking when the plane touched down in the UK. 
Once they had left the plane, they were told to get on a bus that was waiting for them just outside the airport.  Maryam had no idea where they were going.  She looked out of the window and found that everything looked very different to what she was used to.  She was not sure if she was going to like living in England.

Basingstoke
Three months later Maryam and her family were finally able to move from their temporary hotel room to their permanent accommodation in Basingstoke.  It was such a relief to be out of the hotel and to have their own safe space at last.  For the first time in her life Maryam had a bedroom to herself.  She was delighted to discover that it even had a small desk and a chair that she could use to study at home.  It had been several years since Maryam had been able to attend school in Afghanistan due to it being too dangerous – the Taliban often targeted girls' schools as they did not support education for girls or women.  There had been many attacks aimed at schools where bombs had exploded resulting in children being injured or killed in the province that Maryam's family came from.  Her father had reluctantly decided that it was safer to keep Maryam at home.  He tried his best to continue her education by teaching her at home when he was not working but this was not possible every day.  In fact, Maryam was one of the lucky ones in terms of being able to access at least some education as about 40% of children in Afghanistan are not able to attend school at all.
Shortly after moving into her new home Maryam was hugely excited to find out that she had been given a school place at her local primary school.  She had walked past it a few times on the way to the shops so knew what it looked like on the outside but had no idea what it would be like inside or what kind of lessons she would have.  Then she started to worry about how she would understand what her teacher was saying because she didn't know much English.  Her father told her that they had been invited in to speak to school staff and that she would find out more then.  He said that he was sure that they would do everything they could to help her and that she should try not to worry.
A few days later Maryam and her father visited her new school.  They had a good look around the whole school with Maryam's father acting as an interpreter so that Maryam could understand everything that was being said.  Maryam was amazed at how different it was compared to her old school in Afghanistan.  The classrooms themselves were much bigger and there were only about 30 children in each class.  She had been used to smaller classroom sizes with up to about 60 children in each, packed in very close together.  There were no individual desks – instead the children sat in groups around tables.  Maryam was puzzled to see that not all of them faced the front.  There were lots of pictures and children's work on the walls – this made it seem much brighter and more colourful than what she was used to.  All the classrooms had large electronic screens on the walls at the front and Maryam saw teachers using these to show their pupils lots of different things – back in Afghanistan her teachers had just had a board at the front that they wrote on, and the pupils had to copy what they wrote into their exercise books.  Maryam didn't see this happening here and wondered how she would know what her teacher wanted her to do.  Another strange thing that she noticed was that for quite a lot of the time the children were talking amongst themselves whilst doing some writing in class – this would not have been allowed in Afghanistan and if you were caught talking, you would be punished. 
Maryam was introduced to her teacher and was told which classroom would be hers.  The teacher explained what Maryam would need to bring to school each day and where she could hang her coat and bag.  She also showed her where to line up in the morning and told what time she had to be there and when school finished.  Maryam was surprised that the school day was so long in Basingstoke – back in Afghanistan her school day had only been about three and a half hours long with another shift of children arriving in the afternoon.  However, she felt reassured that she knew what to expect.  Most importantly she had also been shown where the toilets were as she had been worrying about not being able to ask about this.  Maryam was also introduced to a girl called Isobel who was going to be her 'buddy' on her first day.  She seemed very friendly, and Maryam felt happier knowing that she wouldn't be left on her own.
The next day Maryam started at her new school.  She felt a strange mixture of excitement and nervousness but visiting the school the day before had helped her to feel less worried than she would have been if she hadn't already had the opportunity to visit the school. 
Unbeknown to her the school had been busy preparing for her arrival.  They had identified some actions that they could take and strategies that they could use to best support Maryam as she started her full-time education in the UK.  They ensured that Maryam was placed in her correct chronological year group, Year 5, and her teacher made sure that she was included in the same types of activities that the other children were doing in class, but with appropriate differentiation and lots of peer support.  She was placed in a middle ability group with children who would be able to assist her if needed and who could provide her with good models of English.  They understood that withdrawing her from the classroom for interventions or to 'teach her English' would not be a helpful approach and that what she needed was to follow 'normal' school routines as far as possible.  They were also very mindful that Maryam had been through a very traumatic experience in the way she left Afghanistan.  She had also had to leave almost everything behind in terms of possessions, extended family and friends at very short notice to move to an unfamiliar country where her family knew no-one.  Because of this, the school decided that initially their focus should be on providing excellent pastoral care, ensuring that Maryam settled into the school well and was happy rather than concentrating on her academic attainment and progress (which could be addressed later). 
The school also considered cultural differences and how these might affect Maryam at school.  One area where they felt this could be relevant was around the school's PE kit and changing facilities.  Mindful that Maryam would most likely not feel comfortable changing for PE in front of boys they ensured that she had a private area in which to change and also allowed her to wear long track suit trousers instead of shorts for PE. 
The school was also very aware of the importance of finding out as much as possible about Maryam's background including details of her previous schooling and her skills in her first language, Pashto.  The school therefore put in a referral to EMTAS soon after Maryam joined the school so that profiling could be carried out.  They also kept in regular contact with Maryam's father to ensure that there was good home-school communication.
It's still early days in terms of how long Maryam has been in school in the UK but the early signs are good.  She seems to have settled and is joining in with class activities non-verbally.  Her teacher has high expectations of her going forward.  Her father reports that although she is finding school very tiring, she is enjoying attending.
Hampshire EMTAS have advice and guidance about refugees and asylum seekers on our website here.  We have also produced a comprehensive good practice guide which schools receiving refugees and asylum seekers in Hampshire will find useful.  There are more resources on our Moodle.

[ Modified: Tuesday, 25 January 2022, 11:18 AM ]
Comments