User blog: Jamie Earnshaw
Anyone in the world
By Lisa Kalim, Hampshire EMTAS Specialist Teacher Advisor.

When a school has concerns about the progress of one of their bilingual pupils, an underlying SEND is often suspected.  But how can teachers decide whether this is the case or whether the pupil is just going through the normal process of acquiring English as an Additional Language?  Lisa Kalim discusses how to tackle this tricky decision and signposts the support that EMTAS can offer.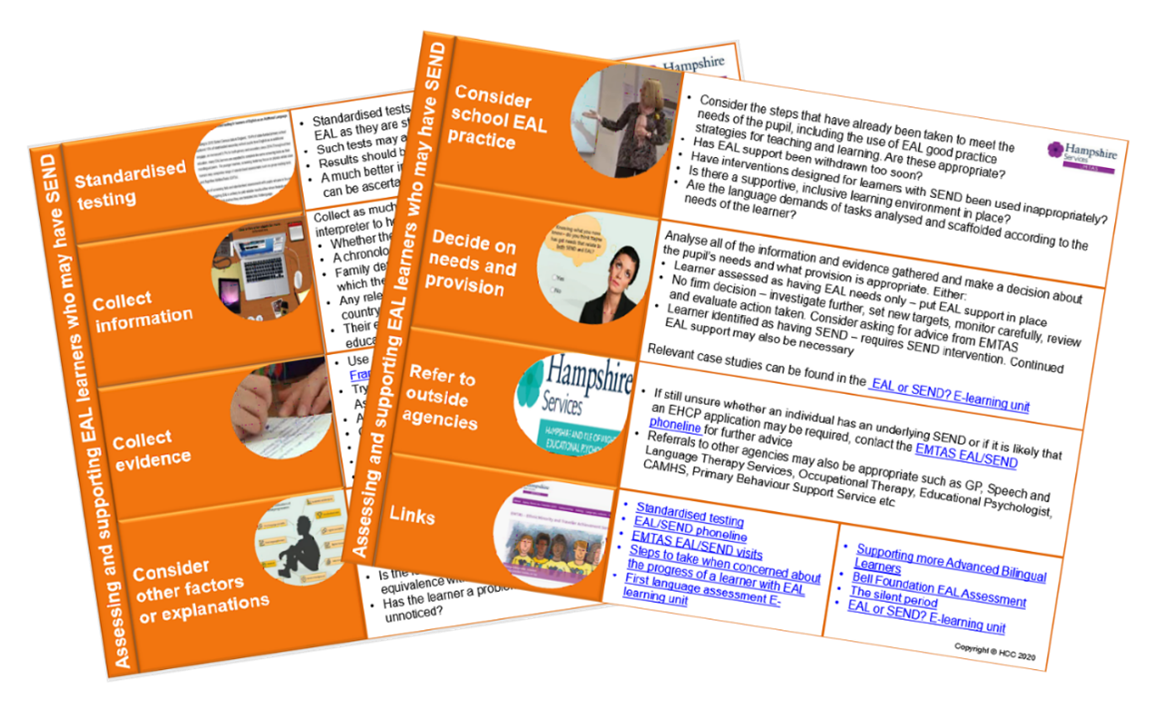 So, you have concerns about a bilingual pupil in your class - let's call her Agata.  She is a likeable, well behaved pupil with good social skills and a talent for sport, but her academic progress has been slower than you had expected.  You are worried that Agata will not reach the required standard by the end of the year.  You are concerned that she sometimes appears not to understand what is said in class.  Agata is very quiet and only responds to direct questions in class, usually with just a one or two-word answer.  Sometimes it looks like she has drifted off into a daydream – she seems to find maintaining her concentration difficult for longer periods of time.  She struggles to produce independent written work.  The written work that she does produce is very short, uses very simple vocabulary and contains grammatical errors.  However, you are not sure if this is just because Agata has English as an Additional Language or whether she may also have an underlying Special Educational Need/Disability.  Where should you start?
Think of the process as being a bit like doing a jig-saw puzzle but where the pieces are scattered around in different places, are mixed up with some pieces from different puzzles that you don't need, and the box lid is missing so you don't have the picture to help you.  You need to gather all the pieces that you need together, discount the pieces that belong to other puzzles and then you can start to put the pieces together to make the picture.  So, in relation to Agata, there are lots of pieces of information and evidence that you need to collect, some things you need to check and possibly discount, and then you can start to consider and analyse what you have found out.  Following this process will hopefully result in you being able to reach a conclusion on whether Agata could have an underlying SEND or whether her needs are just related to having EAL.  However, sometimes it is necessary to continue monitoring a pupil causing concern for a longer period before deciding, or to refer to EMTAS for help if still unsure.


Steps to take:
1.  Record the reason/s for your concerns and inform other relevant school staff such as your SENDCo.  EMTAS have developed an easy to use suggested format for doing this and recording the information/evidence described below.  It can be found here.
2.  Collect as much background information as you can about Agata.  This should include:
when she arrived in the UK or whether she was born here

information about her family background including which countries they have lived in and when

which language/s are spoken in Agata's home and details of any others that she may have been exposed to in other contexts

any relevant medical information such as diagnosed conditions, significant illnesses, periods of hospitalisation etc. 

information regarding Agata's early childhood development including whether developmental milestones were achieved at the expected times

details of her previous education (if any) including information on any gaps or interruptions and her levels of attainment

whether she has been identified as having any type of SEND by health/educational professionals in her country of origin or elsewhere and if so, gather as much detail as possible

whether the pupil has experienced significant trauma during her life

attendance data since she has been in your school
If Agata has been previously assessed by EMTAS you will find much of this information on her profile report.  You should also speak with the pupil's parents/carers, using an interpreter if needed.  (EMTAS may be able to help with an interpreter if required – please contact our office to enquire.) This can reveal extremely useful information that you may not have been aware of previously which proves key to the decision around EAL/SEND.  Sometimes a parent/carer has crucial information but has not been able to convey it to school staff until a meeting facilitated by an interpreter takes place. 


3.  Collect evidence/information on the following:
Agata's strengths and areas in need of development

the steps that have already been taken in meeting her needs, including teaching strategies, resources used and support for EAL. If appropriate teaching strategies and resources for learners of EAL have not been consistently used over the time that Agata has been in school in the UK then this could explain her slower rate of progress making it appear that she might have SEND when actually she may not have  

Agata's current levels of achievement in English (listening, speaking, reading and writing). EMTAS recommends that you use an EAL-specific assessment tool such as the Bell Foundation's EAL Assessment Framework to do this, available here: Bell Foundation framework.

Agata's rate of progress over time in English and other curriculum areas. Include information gained from using the Bell Foundation's EAL Assessment Framework (or other EAL-specific framework) together with the perceptions of teaching staff, pupil, parents and any other agencies involved.

samples of Agata's work over time


4.  Collect information about Agata's proficiency in her first language.  You need to know her proficiency in speaking, listening, reading and writing (if literate in first language) in as much detail as possible.  This is important as difficulties in first language can be an indicator of some types of SEND. With speaking and listening, check whether there any difficulties apparent in her speech sound pronunciation, her use of grammar and vocabulary use, as well as how fluent she is, how well she can communicate and whether she has any difficulty understanding what has been said to her.  With reading and writing it is important to know how much schooling Agata has had conducted in her first language when considering her proficiency. Remember that many countries start their formal education later than in the UK which may mean that they have had less years of schooling than their contemporaries here in which case a lower level of literacy is to be expected.  It is also important to bear in mind that pupils who were born in the UK will have had less exposure to their first language compared to their peers born in their country of origin and so may have less well developed proficiency.  Thus, it is very important to bear in mind that a lower level of first language proficiency does not always indicate an underlying SEND.


5.  Analyse all the information/evidence collected. (Try and put the pieces of the jig-saw together.)     


6.  Carefully think about whether there are other factors that could explain Agata's perceived difficulties:
Is her attendance poor or has she had extended absences from school either in the UK or whilst in country of origin?

Has she experienced a high level of mobility during her life involving frequent moves between countries or schools?

Has she had exposure to multiple languages/different languages at different times during her life? (if so, she will require additional time to acquire proficiency).

Has she had an unnoticed problem with her eyesight, hearing or other medical problem that has affected her ability to learn?

Has she received appropriate EAL support in school or was it stopped too soon? 

Has she been placed in appropriate ability groups/sets (if used)? – EAL learners should not be placed in lower ability groups unless they are known to also have SEND.

Has she experienced significant trauma, bullying, racism, bereavement or difficult living situations which could have affected her learning?

Is she unhappy in school or about living in the UK?

Has there been a misunderstanding about the typical length of time required for pupils with EAL to reach equivalence with their monolingual peers, leading to you having unrealistic expectations?

Have tasks been set that are too academic for Agata's current level of language proficiency?  Remember that it generally takes around two years for pupils to acquire conversational fluency in English and up to ten years to reach full academic equivalence.


7.  Based on all the above, try to decide whether Agata does have an underlying SEND or whether her needs are just related to having EAL.  It may be helpful to talk this through with a colleague such as your SENDCo.  If you are still unsure it may be that further monitoring of Agata's progress over a longer period is needed after which it will become clearer whether she does have an underlying SEND or not.  Additional help is available from EMTAS if you need it (see below).


Help available from EMTAS:
EMTAS have a range of resources available to help you when distinguishing between EAL and SEND.
Our website has a section dedicated to this topic here.
A handy aide memoire which summarises key points around EAL/SEND (pictured at the beginning of this blog)

An article on standardised testing and EAL learners which discusses why such tests may not be helpful when assessing bilingual pupils.

Our Moodle has an e-learning module on distinguishing the difference between EAL and SEND

The EMTAS EAL/SEND phone line runs every Tuesday afternoon in term time from 12.00-4.00pm.  Callers can discuss individual pupils that they have concerns about and receive advice.  If necessary, a school visit can be arranged by an EMTAS Teacher Advisor.  They will then be able to assist you with assessing them and advise on any appropriate next steps.  Before calling is best to have already collected as much information/evidence about your pupil as possible as outlined above.


So, did Agata have SEND as well as EAL or not I hear you ask.  After following the steps above, Agata's teacher concluded that she most likely did not.  Key to this decision was the collection of background information/evidence which showed that Agata had only been in school in the UK for just over three years and so would require at least another four to five years (maybe even a little more) of UK education before reaching full academic equivalence with her peers.  Additionally, assessment of her skills in first language showed a good level of proficiency for the number of years of education that she had received in her country of origin and her progress across all curriculum areas was average to above average before she came to the UK.  This suggested that SEND was unlikely.  Some of the other areas of concern were in fact quite typical features of pupils learning EAL (e.g. the grammatical errors in writing, finding sustaining concentration for long periods when working in English difficult, and not understanding some more academic language used in the classroom).  Furthermore, on reflection, her teacher decided that EAL support had probably been stopped too soon for Agata.  As a result of going through this process, Agata's teacher was then able to put in place appropriate on-going EAL support for her.  She continued to monitor Agata's progress and was pleased with her rate of progress going forwards. 
Tags:
[ Modified: Wednesday, 16 December 2020, 10:01 AM ]
Anyone in the world
In Diary of an EAL Mum, Eva Molea share the ups and downs of her experience bringing up her daughter, Alice, in the UK. In the latest instalment, Eva reflects on the process of finding a secondary school for Alice. 


Prequel
Just like every parent, since our lovely daughter's birth, my husband and I had made plans for her future. Plans that, obviously, did not take into account Alice's own ideas, inclinations and desires. Don't look at the screen with that scolding face… we all make castles in the air when our children are young, it is just natural to wish them all the happiness in the world according to the way we see it.
Having said that, when we were in Italy, we had already decided that she would have attended either the humanistic or the scientific secondary schools starting in year 9 (the Italian system is different, so children have to make a choice about their future five years in education in Year 8). But our education plans took an unexpected turn when we moved to the UK, and the choice for a secondary school comes two years earlier.
And since we are not anxious parents and leave everything to the last minute (ahahah), we started touring the schools in Year 4. So, we took our lovely little girl (aged 8) to the open evenings of 3 schools in the area, did the school tours, questioned our guides, had Alice take part in all the possible activities, sat and listened through all the Headteachers' presentations, and went home possibly more confused than before. We looked at the prospectus of each school and then put them on the shelf. In the end, Alice was only in year 4.
We repeated the full exercise in year 5, but with just two schools - the two schools we visited the previous year which we had liked the most. We discussed with Alice these schools in detail and listened to her supporting evidence for both. Once again, the prospecti from the two schools went on the shelf, next to the ones from the previous year. In the end, she was only in year 5…

September 2019
Year 6, here we come! This was the time for us to make this very important decision for Alice's future. I looked for guidance on Hampshire County Council's website which had a lot of useful information about the application process. But, I still had a lot of questions: were we in the position to make an informed decision? did we really know what to look for when visiting the schools? should we have only visited the two schools we had liked in Year 4, and therefore re-visited in Year 5, or should we have explored more? It goes without saying that we decided to explore more, so we attended the open evenings of 4 schools. But we didn't go as tourists this year. My husband and I went with our inquisitive hats on (we nearly took our notepads and question lists out… just to remind you, I was a journalist in my life pre-UK) and a strategy:
1-     Headteacher's talk
2-     School tour visiting the the departments more interesting to us and Alice (please notice the order, which is not casual): English (me), Modern Foreign Languages (me), Maths (husband), Sciences (husband) and then Food Tech, Music, Drama, Dance, Arts and the Canteen (all Alice's choices).
The Headteacher talks gave us an idea of the principles guiding the schools. My husband really appreciated the slides with numbers on them (being an engineer, he finds safety in numbers). I looked at the Headteachers' attitudes and ways of talking to and of the children, their passion, the things important to them; the extra-curricular activities; the pastoral care; and listened attentively to the students' presentations. I am not sure what caught Alice's attention, probably her friends in the hall with us. 
Once we had gone through the hardest bit, we enjoyed the tour and were very lucky to have friendly and chatty children taking us around and willing to answer all our questions:
Do you like your school?

What is the best bit?

What is the worst bit? (there is always one)

What are your favourite subjects?

Are there many bullying incidents and how are they dealt with?

How is good behaviour rewarded?

Have you made many friends?

Do you attend any after-school clubs?

What are the extra-curricular activities on offer?

How is the food?

What subjects will you take at GCSE?
In each department, whilst Alice was doing the activities organised for the prospective students, we spent our time looking at the books, at the learning walls, at the resources, at the revision guides and talking to the teachers. We questioned them on the curriculum, methodology and results. If there were slides showing GCSE results from the previous years, we asked them to break them down for us and highlight any improvements. I doubt they loved us…
From each school, we came home with some good feelings and some grey areas. But at least now we had some information to reflect upon. 
I went to Alice's current school for advice and guidance. As always, the school reassured both Alice and me, and talked us through our doubts (have I already said how amazing her school is? As a reminder, you can check the previous chapters of this diary). We left still uncertain about what would have been the best option for us, but at least we knew that we were looking at good schools, in terms of Ofsted ratings, academic results and reputation. 
We kept on talking about the secondary school choice for weeks, to the point that we were all sick of it, without reaching any decision. My husband and I had our hearts settled on different schools. Alice was in a bubble because all her school friends would be going to one school, which was next door to her current one; none of her school friends, but most of her dance friends, would be going to our catchment school, but we only hit the 8th admission criterion for that school. 
It was all still up in the air when we received a dreadful reminder from Alice's school that we were running out of time and God only knew what would happen to late applicants! 
We needed to act quickly, so, on a bright Sunday morning on the 19th of October, I sat down with a nice cup of tea and a piece of paper, and spent my time dissecting the 4 schools. This was the result presented to my husband and Alice:

We ruled out school #4 because of transport and school #3 because of the walking distance and the number of friends (much less than in # 1 and 2). 
We were left with two schools, which were equally distant from home and where Alice would have had a good bunch of friends. 
I spoke to all the friends, colleagues and literally everyone I know who had children in these two schools to find out about their perspectives and their experiences and whether they were satisfied with the academic preparation and results of their kids. 
I had more information about one school, because it was the one working closely with Alice's current one, so I contacted the other school to have an appointment with someone who could shed some light. The meeting was very informative, and I left the school a little less doubtful. 
At this point, the choice was only Alice's. She had a dilemma (oh, how I wish all grown-ups had these kind of troubles!) because her friends from school wanted her to go to their same school or else…
To help her unravel her thoughts and to opt for one school before the deadline of the 31st of October, we looked at the GCSE offer and #1 had 10 more subjects at GCSE level than #2, including Food Tech and Dance, the ones Alice had always wanted to do (let's review this point in 4 years' time). We then looked at facilities, and #1 seemed a much bigger and newer school. Her mind was made up in less than 5 minutes… With my brain boiling after such an elucubration, I sat down at the computer and typed https://www.hants.gov.uk/educationandlearning/admissions/applicationprocess
I logged in and put down schools #1, #2 and #3, in this order, as preferences, and clicked submit. What a relief!
In the whole process, there were some points I really could not get my head around, such as:

Why are not all schools offering the same subjects? And for the same number of hours per week?


Why do some schools work on a 2-week timetable and some don't?


If a child has a problem on the way to school, can they call the school?


If my catchment school is very far away, can I apply to a closer one? If not, can I get any support for transport?


If a child has a problem in school, who is the first port of call?


Is it possible to choose a specific Foreign Language or is it automatically assigned?


Why would some schools allow Alice to take her heritage language GCSE and some wouldn't?


How does the cashless system work and how are children's biometric information kept and used?


Why do some schools take GCSE options in year 9, but some others in year 8?


If a child changes their mind on studying a subject, could this be changed?


How many subjects should one take at GCSE and who decides them? 

With hindsight, besides the open evenings – which offer a great opportunity to see the full array of the subjects and activities on offer at each school – it would have been very useful if secondary schools had visited the primary ones to present themselves and allow some Question & Answer time to prospective students and their families. Unfortunately, there are some questions specific to each child which aren't covered at open evenings. This would provide an opportunity for more detailed information to be given to students and their families, particularly those who have a different background from English, who might find it tricky to understand some aspects of the education system in the UK.

It would also be great if primary schools, knowing each child's strengths and weaknesses, could guide the families by shortlisting a couple of schools that would be the best options for the students, with regards to their academic, social and emotional needs.   

Sequel
We waited patiently (couldn't do otherwise), anxiously (we could have relaxed more), and excitedly (as always when an event gets closer) for the 2nd of March, the day when our future would be revealed to us. Just to keep us on our toes, the Hampshire County Council Admissions Team sent out an e-mail the week before, to check that our accounts were still active. 
On the 2nd of March, at 7.20 am, I received a text from a friend "Morning, did you get the e-mail?". I was a bit puzzled… I had not checked my calendar and had completely forgotten!!! And there it was, that shiny little envelope on my screen, opening the doors to the so longed-for secondary school, with all its future rewards and tribulations.


September 2020
First things first: we are very lucky that our children could get back to school at the beginning of September, and a big shout out goes to all people working in education for their hard work, resilience and flexibility. You are all amazing!
Please read carefully: even without this ever-changing Covid-19 scenario, secondary school would have been a completely different universe from primary. Parents, and children, really have to up their games. All is new, all is different, and a lot of responsibilities lie on the shoulders of the students (= of their parents). So far, there has been so much to take in, and sometimes the information overload has been hard to manage. Schools have been proactive with digital technology and the Year 7 Welcome Packs are amazing, super-detailed pieces of work, but sometimes, in such a vast sea of words, the important bits can get lost – I could have really done with a bullet point summary at the end!
Things do get easier along the way, but there are some things that will need attention beforehand:
Uniform hunt: the number of bits and pieces needed by our children tends to be infinite, and some of them are hard to find or need to be ordered. Before the Summer break we managed to get hold of some bits, getting slightly bigger sizes to allow for a possible growth spur. We left shirts and trousers to the end of Summer, which was not very wise as we struggled to find the right sizes.

School bag tetris: secondary backpacks/handbags would not be allowed as hand luggage!! There's so much that needs to get in there, that Mary Poppins' bag seems ordinary in comparison: books, pencil case, maths equipment, reading book, lunch box, water bottle, Covid-19 kit (hand gel, mask, tissues), lab coat, apron, earring tape (what?? at least this is small), drama shoes (I didn't even know they existed)… To fill your child's schoolbag, you need a lot of patience, their timetables, and the ability to compress solids. 

Login desperation: there are so many different accounts parents and children will need to get (and remember) IDs and passwords for. Do not despair!! Get a cuppa and sit down, it might take longer than you expected, but eventually you will get there. You might need more than one sitting to get on all platforms, as info comes your way in different shapes (emails, letters, casual conversations with your children) and times. Maybe just one email with all the links could have saved some time, but I quite enjoyed my cups of tea.

Homework (un-)awareness: one month in, and this is still a dolorous mystery to me. More or less, all secondary schools have an app (for ID and password read above) that both parents and children can (should/must) download on their smartphones. This amazing software informs about: timetable, behaviour, achievement and homework. This last tab details subject, deadline, and sometimes there is also an attachment. So, how hard can it be? It wouldn't, if all teachers uploaded the homework there, and also if all homework could be considered due, and not optional… That would save completing pieces at 8pm the night before it is due, only to find out later on that it was optional. 

As we approach the second month of Year 7, with relief I can say that Alice has become much more confident and aware of how big school works. She has made many new friends already and all her fears of getting lost, and being late to class, have disappeared. She is really enjoying the variety, and challenges, of all her subjects, including Religious Studies, that last year used to give her tummy ache every Monday, and the extra-curricular activities offered by the school. Fingers crossed, we will happily whizz through the first years of secondary school and start our quest for the right college :D  

[ Modified: Monday, 5 October 2020, 4:24 PM ]
Anyone in the world
In this blog, Ranvilles Infant School's Deputy Head Teacher Stacey Barnes discusses her school's journey from a general reading scheme with bands and guided reading to non-colour banding books and close reading. This blog follows a workshop she presented at the 2019 Hampshire EMTAS conference where she talked about using close reading of texts to support an integrated and creative curriculum which benefits all pupils, including learners with EAL.



The rationale for using a different approach to reading that is vocabulary specific for EAL learners is supported by research which shows that many children with EAL in England and elsewhere have less vocabulary knowledge than non-EAL peers (Murphy, 2015; Hutchinson et al, 2003). Even EAL children with well-developed oral language skills and above average reading comprehension skills have been shown to have less productive vocabulary knowledge than non-EAL peers (McKendry 2013). We also know that vocabulary is a strong predictor of reading comprehension and with children starting primary learning to read but finishing primary reading to learn it is crucial to address problems with reading comprehension which may exacerbate the achievement gap between EAL and non-EAL peers in specific sub-groups.
What is close reading?  
Here is a definition:
Close reading is the careful, sustained interpretation of a brief passage of a text. A close reading emphasizes the single and the particular over the general, effected by close attention to individual words, the syntax, the order in which the sentences unfold ideas, as well as formal structures (Wikipedia).
It also uses language in context and is key to exploring language, playing and having fun. We have found it benefits a wide range of children including EAL learners and is useful for all children.
Some examples of close read we have used are instructions for making sushi, instructions for making puppets, passages from a fictional text based on the Titanic and basically anything that supports our integrated curriculum and can provide a cross curricular link to reading. In this video example, the children revisited the theme of 3D shapes and reinforced their understanding of different shapes through a short poem.
Close read is distinct from guided reading as one text is used with one mixed ability group. This benefits EAL pupils as children should not be denied access to texts because of their current proficiency in English and this method exposes EAL pupils to a wide variety of reading materials.   Close read links to the whole curriculum really well, including subjects like Maths/DT/Art, helping to develop reading in every subject.  Close read is not specific to English. Close read also capitalises on practitioner:peer relationships, using peers and adults as a positive model of talk. We have also found the practice to be very inclusive.
Practically we manage close reading by creating mixed ability groups of up to 6 children with an adult, usually within the mainstream classroom. This obviously aligns to best practice for EAL pupils.  Close read also allows for pre and post learning for a topic; this can be vital for an EAL pupil.  Working with parents may also be something to capitalise on, by sending home close reads or putting them on Tapestry or other learning platforms for parents to access.  Explanation in a home language and preparing and talking around the specific text for the child may be extremely beneficial prior to the actual close read.
Above all, a close read allows for exploring language and vocabulary and this is essential – the whole reading and writing flow on a sea of talk analogy. It allows for message abundancy (Gibbons, 2008) and explicit content learning.
Around a close read many activities could be undertaken such as pre talk in the first language, drama activities exploring the language or Directed Activities Related to Texts (DARTs), such as vocabulary matching activities. Many of our close reads lead to an outcome in art, design technology and maths.
The impact of close read has been that our age-related expectation reading results increased by 4% to 93% (2018/19). Results were also favourable for our EAL pupils. Close reads have also helped to increase our results in writing. The overall impact of close reading is that the children are enjoying the close read sessions and making the links in learning to our integrated curriculum and this has been wonderful to see.


References
Gibbons, P. (2008) Challenging Pedagogies: More than just good practice? NALDIC Quarterly, 6(2), 4-14.
Hutchinson, J. M., Whiteley, H. E., Smith, C. D., & Connors, L. (2003) The developmental progression of comprehension
‐
related skills in children learning EAL. Journal of Research in Reading, 26(1), 19-32.
McKendry, M. (2013) Investigating the relationship between reading comprehension and semantic skill in children with English as an additional language: A focus on idiom comprehension.  Unpublished DPhil thesis.  University of Oxford.
Murphy, V. (2015) Assessing vocabulary knowledge in learners with EAL: What
'
s in a word? NALDIC Conference.
Tags:
[ Modified: Monday, 21 September 2020, 3:27 PM ]
Anyone in the world
By the Hampshire EMTAS Specialist Teacher Advisors




We hope you had a wonderful, relaxing summer break and are now refreshed and ready for the new academic year. In this first blog of 2020-21, we are taking the opportunity to share with you some of the exciting projects we have been working on and to signpost some things to look out for in the year ahead.
EAL Excellence Award film debut
A few months ago, before the lockdown, five EAL coordinators from local primary and secondary schools in Hampshire LA came together to talk about their experiences around entering for the Hampshire EMTAS EAL Excellence Award. It was a highly successful morning with lots of sharing of practical ideas. We thank Anne Marklew (Harestock Primary School), Dawn Tagima (Cherrywood Community Primary School), Stacey Barnes (Ranvilles Infant School), Eileen Rawlins (Cove Secondary School) and Sophie Durbajlo (Merton Infant School) for kindly allowing us to video this session for the purpose of disseminating best practice more widely within the local authority and beyond.
The themes explored in the video include:
-  the benefits of entering for the award
-  preparing for the award
-  submitting data and evidence
-  next steps and working towards the next level
Watch the video here.
Training and resourcing 

We are really pleased to welcome to the EMTAS Specialist Teacher Advisor Team Lynne Chinnery and Helen Smith. Lynne will be supporting schools in Havant & Waterlooville, and Helen will be covering Basingstoke & Deane whilst Astrid is on maternity leave. 
Our training activities for 2020-21 include a series of network meetings.  We have added to our offer network meetings aimed at an NQT and RQT audience to get people started in the right direction when it comes to practice and provision for EAL and GRT learners.  Other network meetings are also available so if you're interested, see our website for more information and for details on how to book.  The first of our network meetings this year will be held online.  If your school would be willing to host a network meeting towards the end of this term or later in the year, we'd love to hear from you.  If you can't attend one of our network meetings, don't forget our EAL e-learning is an on-tap way of accessing training and it's free to staff in Hampshire-maintained schools.
Two new services we offer schools in 2020-21 are EAL and GRT clinics.  During an EAL Clinic, a Specialist Teacher Advisor visits the school on a pre-arranged date and meets individually with members of staff to discuss 1:1 the EAL children in their class.  Please see here for more information.  For schools with Gypsy, Roma and Traveller pupils on roll, the GRT clinic model may be more relevant.  This is aimed at supporting the GRT Co-ordinator on staff to develop and embed best practice for GRT pupils, including Showmen.  For more information, see the EMTAS website.  We are launching for 2020-21 a Kushti Careers page showing the achievements of members of the GRT community and how education has influenced their life choices
The very successful 6-module Supporting English as an Additional Language (SEAL) course is due to run again from October 2020 to July 2022.  The advantage of sending a member of staff on this course is that you will have an EAL expert on staff who can advise colleagues about EAL best practice and cultural aspects that may affect a child's learning and/or ability to settle into their new school environment.  For further information see here.
Date for your diary:  Friday 9th July 2021 is the next EMTAS Conference. It promises to be an exciting and informative day with EAL and GRT speakers and workshops that will impact on your practice in the classroom.  Look out for communications on the conference throughout this term.
In case you missed it before the summer holidays, we released our guidance on entering EAL learners for the autumn GCSE exam series. The guidance includes information about the autumn 2020 GCSE exams, factors to consider when deciding which EAL learners to enter and suggestions as to how to support EAL learners who are entered for the exams. Keep in mind that the exam boards' deadline for entering learners is fast approaching: 4th October for English and Maths and 18th September for all other subjects.
In light of the changes to the Heritage Language GCSEs in the autumn, particularly the removal of the speaking tests, we have adapted our packages of support to focus on preparing students for the Reading, Writing and Listening exams. Full details can be found here. Please complete the request form on our website and return to the EMTAS inbox: emtas@hants.gov.uk
Hot off the press, we have just released our guidance on the placement of EAL learners in sets, groups and streams. A copy of the full guidance can be found on our moodle, alongside our other Position Statements.  We hope that this document will help to inform decisions made by all school staff about the best sets, groups or streams in which to place learners for whom English is an additional language.
Another useful resource which has just been updated and is available to use on our website here is the audio version of 'Welcome to Hampshire' in English, our information guide written specifically for unaccompanied asylum seeking children and young people.  This is aimed at those who can understand English but who are not yet able to read it sufficiently well to access the booklet independently.  Our website also hosts translated version in Arabic, Farsi and Pashto, aimed at children and young people who are literate in these languages. 
Young Interpreter Scheme research update
In other news, Debra Page's PhD research evaluating the Young Interpreter Scheme's impact on children's language use, empathy, and cultural awareness continues.  Debra is now recruiting schools for her data collection phase.  Since Debra's last blog in May, her teacher questionnaire has closed and findings from this will be released in a few months' time.   If your school is interested in taking part in this exciting research project, do email debra.page@pgr.reading.ac.uk; she will be very happy to discuss her project and what it involves with you.
Developing the writing of more advanced EAL learners (AEL) project
This year EMTAS is planning an all new cross-phase project aimed at improving the writing of more advanced EAL learners (and non-EAL peers) using authentic reading and writing experiences. The project aims to use cutting edge technologies (two types of Google tools) to engage learners in creative experiences that link with existing Programmes of Study and project-based learning already happening across the curriculum.
There are two elements to the project:
a. Providing online sources of rich multimedia experiences around topics and themes that support work already going on in the curriculum. These experiences contain authentic high-quality texts that act as a model for children prior to designing their own versions.
b. Enabling children to create their own multimedia versions using the Google tools within Google Earth and Google Poly (3D/Virtual Reality).
The main text-type is likely to be information-based although the experiences may also feature elements of explanation and persuasion or discussion depending on the subject and topic.
Any schools wanting more information or who are interested in taking part should contact Chris Pim - chris.pim@hants.gov.uk
Finally…
Like schools, we have been working on a comprehensive Risk Assessment to support our staff to begin safely visiting schools again after the lockdown.  We recognise that the Covid-19 scene is subject to frequent change and our aim is that our Risk Assessment will keep pace with the situation as it continues to develop.  Schools can be reassured that we take the safety of pupils, families and all school-based colleagues as seriously as we do that of our own staff and we are working hard to come up with creative ideas for ways we can continue to offer support where it's needed.  If you have any suggestions to make to that end, do get in touch.

More news coming soon




Tags:
[ Modified: Monday, 7 September 2020, 1:44 PM ]
Anyone in the world
By the Hampshire EMTAS Specialist Teacher Advisors




Supporting you during the school closures
During the lockdown, the EMTAS team have been busier than ever.  Our Bilingual Assistants (BAs) continue to support home-school liaison, invaluable as the lock down, distance learning and subsequent reopening of schools has necessitated good communication between schools and all members of their communities.  Many of the BAs have also been working on translations of new resources.  This has resulted in a set of three new aide memoires aimed at parents/carers new to the UK education system being made available on the EMTAS website and our Moodle's Guidance Library. 

Meanwhile, the Traveller team have launched a postcard competition for Gypsy, Roma & Traveller History Month (June) and planned roadshows which will take place in October.  There's more on both of these in this blog written by Claire Barker.  The team have also been supporting transition for pupils due to make the move from primary to secondary phase as well as updating the GRT pages of the EMTAS website.  This includes a new section called 'Kushti Careers' which features real-life, education-related success stories from Hampshire's GRT communities.

The Specialist Teacher Advisor team have continued to offer support to schools.  Key output includes the new open access Guidance Library and Distance Learning course on Moodle, a virtual Young Interpreter Conference open to all children including those who have participated in the scheme, new guidance on setting and the premiere of a film about the EAL Excellence Award, made in collaboration with staff in Hampshire schools.  The teacher team are currently developing training deliverable via Zoom as the shift to online learning looks set to continue into the autumn term.  In fact, via video conferencing, St Peter's RC Primary in Havant and John Keble Primary School in Winchester have this term been validated for the EAL Excellence Award, achieving Bronze whilst The Wavell Secondary School in Farnborough was validated at Silver - a motivational thought for any school working on their own submission.  

The EAL/SEND phone line remains open on Tuesday afternoons for schools to discuss any pupils about whom they have concerns, but is operating slightly differently.  Schools can still ring in using the usual number and they will speak to one of our admin team who will arrange for the school to be phoned back.  A new suggested format for schools to record such concerns has also been created and can be found here.  Our language phone lines are also still available to support with sharing information with parents/carers, answering any questions they have and helping with home-school communication. Contact details and the list of languages can be found here. 

The EMTAS Admin team have continued to offer back office support, maintaining records and dealing in impressively efficient ways with new referrals that have started to come in from schools.  They have also been registering school staff for resources on the EMTAS Moodle, notably the EMTAS EAL e-learning and the EAL and GRT Excellence Awards.  One, who leads a secret double-life as our Resources Manager, has also run a project with members of our Bilingual Assistant team on how to make best use of Kitabu.  This is an app from MantraLingua that gives access to their entire range of dual language texts and includes additional features and functions.  She's also been sending out resources from the EMTAS library to schools.
Staffing
There have been some staffing changes this year too.  We lost Graham Ellwood, Traveller Team Manager, back in the autumn term.  His death was unexpected and he is much missed.  Following Graham's demise, Claire Barker took over the operational lead of the Traveller Team with Sarah Coles taking the strategic lead.  We also said goodbye to Kamaljit Dulai, Bilingual Assistant Manager, who retired in April after being with EMTAS for over 22 years.  In her place, we have Eva Papathanassiou, previously our EMTAS Greek-speaking Bilingual Assistant.  Eva continues to speak Greek where it's helpful and is now leading the Bilingual Assistant team too.

At the end of this term, we say à bientôt to Astrid, who will be taking maternity leave from the end of the summer term.  Jamie Earnshaw will be over-seeing the EMTAS blog in Astrid's absence whilst Helen Smith, previously a member of the Traveller Team, stands in for her as the Specialist Teacher Advisor for Basingstoke and Deane schools.  Helen's teaching background is in EYFS whilst during her six-year stint with the Traveller team at EMTAS she has led on the EYFS and KS1 transition programmes.

In September, we welcome Lynne Chinnery to the EMTAS Specialist Teacher Advisor Team.  Lynne's background includes 14 years in Libya where she ran a language school and picked up Arabic. She has also lived and worked as a TEFL teacher in Greece, Turkey, Spain and China.  Lynne will be working with schools in the Havant and Waterlooville district and she has already been involved in doing a remote validation for the EAL Excellence Award for a school in that area, St Peter's RC Primary School.  She also has experience of working with Unaccompanied Asylum Seeking Children (UASC) and delivering training on aspects of EAL practice and provision to schools on the Isle of Wight.

We also welcome Huijie Zhou (aka Nicole) to our Bilingual Assistant team.  She will be working with our Chinese families and supporting the Mandarin Heritage Language GCSEs.
Finally…
Like many schools, we have plunged in at the deep end when it comes to using videoconferencing and have discovered it can be used as an alternative to in-person visits to schools in various different ways.  As an option that enables schools to access services from EMTAS, we will continue to offer support via videoconferencing in 2020-21.  Alongside this, in preparation for the new academic year and in anticipation of the lockdown being eased still further by September, EMTAS have developed a detailed risk assessment to help ensure everyone stays safe when our staff are able to start visiting schools again.  We have some exciting projects up our sleeves for 2020-21 including a bedtime story project, working with parents to record bedtime stories in other languages for children to enjoy at bedtime; and an Advanced EAL Learner project that draws on cross-curricular immersive virtual experiences as drivers for speaking, reading and writing in English and other languages.  We are keen to identify schools to participate so we can get started on these – and other things too, of course. Have a great summer and we look forward to seeing you all next term!
More news coming soon


[ Modified: Tuesday, 14 July 2020, 12:42 PM ]