Blog entry by Astrid Dinneen
Anyone in the world
By Debra Page, Masters candidate at the University of Reading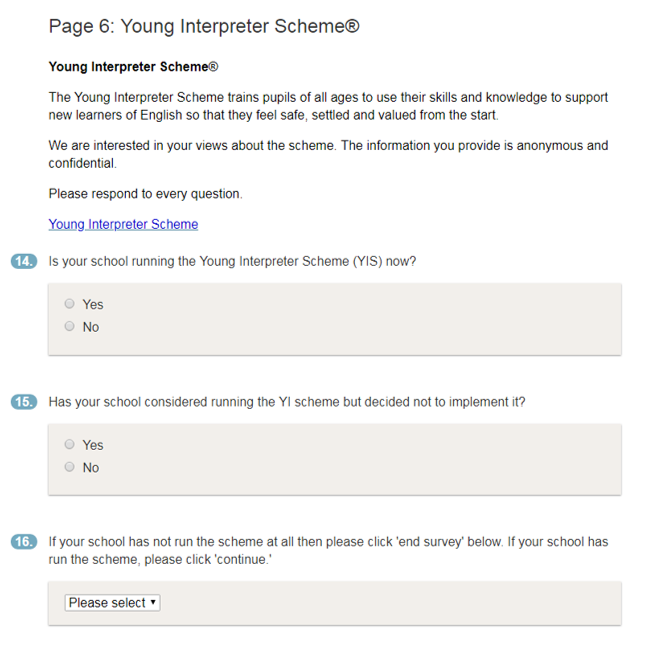 Hi readers. If you've not read about me in the Young Interpreters Newsletter, my name is Debra Page. I am conducting research on the Young Interpreter Scheme under the supervision of the Centre for Literacy and Multilingualism at the University of Reading and with Hampshire EMTAS as a collaborative partner. This is the first time the successful scheme will be systematically evaluated since it began 10 years ago. I have worked in research and as an English as a Additional language teacher since graduating with my psychology degree. Now, I am completing my Masters in Language Sciences before starting the PhD. My Masters research dissertation is looking at staff experiences of the Young Interpreter Scheme with a specific focus on motivation for participation in the scheme, views around teaching pupils with EAL and effects of running the scheme on children, staff and schools. 
After months of behind the scenes work from the team, a questionnaire has now gone live! The team and I encourage as many staff as possible to complete the questionnaire. This includes people who are running the scheme, who aren't running the scheme, and staff who work with children with EAL. This anonymous online questionnaire should take around 15 minutes to complete and will allow myself and Hampshire EMTAS to discover what you really think about the scheme, your experiences of participation, and working with children with EAL. Finding out your views in running the scheme (or not) will help EMTAS improve and expand it, plus you will be helping to shape its future. 
If you haven't met me yet, I will be at the Basingstoke Young Interpreters conference on 28th June. If you have any questions about the questionnaire, please email me – debra.page@student.reading.ac.uk
. 
I hope you choose to help by completing the questionnaire. Please spread the word and share the link!
Tags:
[ Modified: Monday, 29 April 2019, 10:07 AM ]