Blog entry by Astrid Dinneen
Anyone in the world
By Laura Harman-Box, Year 6 teacher with responsibility for the New Arrival Ambassadors (NAA) at Talavera Junior School with an introduction from EMTAS Specialist Teacher Advisor Claire Barker.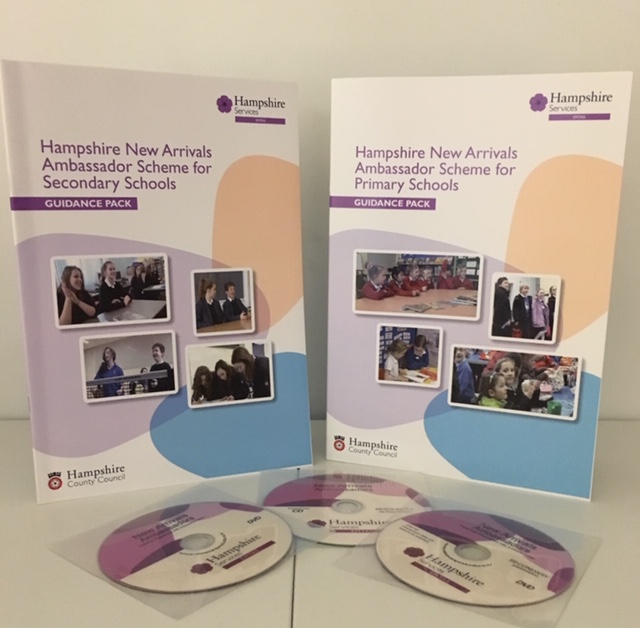 Recently I had the pleasure of working in Talavera Junior School in Aldershot. I went to train thirteen young people to be New Arrival Ambassadors (NAA). Talavera Junior School is a very diverse school that welcomes children from many counties, cultures and religions. Many of their children are from Service families and this is one of the groups than New Arrivals Ambassadors works particularly well with. Many Service children are used to transition in their lives and are able to talk confidently about what makes a good transition for them. The children who have experienced transition all say how they wished they had had a New Arrivals Ambassador when they went to their new school. It highlights to the whole cohort that is being trained that everyone - adults and children - experience the same fears and insecurities when faced with a new challenge and setting. Laura Harman-Box, Year 6 teacher at Talavera with responsibility for NAA had this to say after the training:
The New Arrival Ambassador Scheme seemed like a perfect fit for our school, working both as a welcoming system for our high level of new entrants and as a chance to develop leadership qualities in our pupils.
As a school in a garrison town, our school population can be very turbulent. This is, understandably, difficult for some pupils, particularly when they find it hard to then find their place in their new environment. We believe that we offer great support for pupils who enter at an unusual time of the year but are also aware that some pupils will need additional transitional support. Who better to deliver this than the peers with whom our new arrivals will be learning, playing and growing?
We chose our New Arrival Ambassadors based on the emotional literacy level of the children and children who would themselves benefit from taking on a role of responsibility within our school. The training itself was such a positive experience, in part because of the diverse range of children (ethnically, culturally, age-wise, academically, with regards to interests) who could bring an eye-opening number of experiences to this scheme. Encouraging and providing opportunities for all pupils is a fundamental value of our school, especially leadership roles. The NAA Scheme has provided us the chance to give this opportunity to children who may not otherwise always get it.
Our pupils' well-being is a continued focus for us and the NAA scheme provides another valuable way of ensuring all pupils feel safe, comfortable and ready to learn. This is the start of a journey for our New Arrivals Ambassadors, one that they cannot wait to begin! Here are  their comments:

Today we learnt about becoming a New Arrival Ambassador and how we can help new arrivals with settling in their new class without making them panic. We learnt today that new arrivals can choose who they want to be friends with, which surprised some of us. We thought it would be our job to be their friend but our trainer, Claire, helped us to understand that everyone should choose their own friends. We were taught that if a new arrival tells us something and it is serious, we must tell the teacher immediately due to the fact that we can't always help them. We've learnt that a New Arrival Ambassador is a very important job and we must work hard to continue to represent our school and make every new pupil feel comfortable and safe here. We look forward to being New Arrival Ambassadors!
Visit the Hampshire EMTAS website to find out more about the NAA and come back soon to read a blog comparing the NAA with the Young Interpreter Scheme.

[ Modified: Friday, 7 December 2018, 10:41 AM ]