Blog entry by Astrid Dinneen
Anyone in the world
by Smita Neupane and Sudhir Lama, Nepali Bilingual Assistants with Hampshire Ethnic Minority and Traveller Achievement Service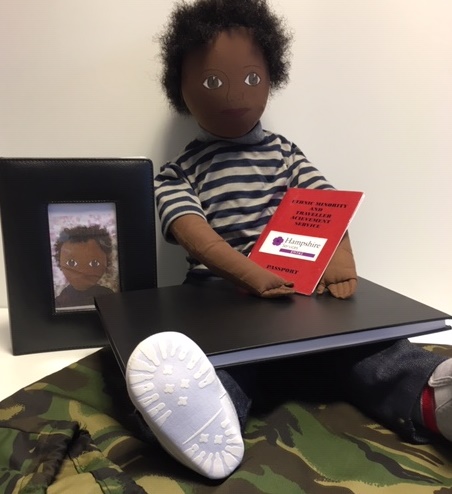 Have you ever used a Persona doll? Do you know how and why to use a Persona Doll? Persona Dolls are an ELSA resource and emotional literacy support tool used to initiate talk and to share experiences within the classroom. EMTAS were awarded an amount of money in an MOD bid to work with Infant and Early Years settings to introduce Personal Dolls to help all children cope with the demands of moving school, house, and even country with a particular focus on Service children. The Persona Doll project is also designed to involve the family and community and to share experiences with peers. It has an intergenerational element with the involvement of secondary pupils supporting the creation of some of the resources.
In the beginning…
Hampshire is an area rich with Service children across the length and breadth of the county and spanning all the educational phases. The project is designed to support Early Years children but to make it relevant, the experiences of older children was needed and had to be included in the package.
Initially, before the Persona Dolls had joined us, the work started at The Wavell School, with two Nepali Bilingual Assistants from Hampshire Ethnic Minority and Traveller Achievement Service (EMTAS) interviewing students with backgrounds from Fiji, Nepal, Malawi and Jamaica. They shared their stories and were open and honest about their experiences including the difficulties faced during transition and the worries about having a parent in the forces. They spoke of homesickness and missing friends and family, the foods they missed and aspects of their lives that had changed. Some of the students were UK born so had not lived in their parents' country of origin so they took time to find out as much about their culture and history as they could through their families and community. The students created talking books from this information that included pictures and speech both in English and first language. Some of the books included nursery rhymes from their culture and how to count in their first language. The books are proactive and help bring the Persona Dolls alive. The Wavell children chose the dolls and named them ready for their journey into their schools.
First steps…
When the Talking books were all prepared and each Persona Doll had its name and a passport produced, they were packed up ready to travel with their big note book to record their experiences. The dolls have been taken to infant and primary schools all over the county and the idea is that they stay in that school for roughly half a term and then they are off on their travels again. The doll is taken into the school and introduced into the class where it will be staying and the children get to ask it questions and to find out what it likes and dislikes. 
Some ground rules were set:
doesn't matter how dirty the doll gets

no face painting, hands or feet painting of the doll!

it is not to be used as a reward

it has to be included on the register

it has to have its own seat, peg etc.

it has to have lots of different experiences

everything has to be recorded in the Persona Doll's book and shared.
The first doll to leave EMTAS was Himal, a Nepali boy, and he went off to Talavera Infant school and Becky the class teacher. Becky and the class totally embraced this project and the work was amazing. Himal attended an Eid festival where he was gifted new shoes.  He went to a Christening. He went to a hot tub party (but just watched). He also shared his feelings about moving to a new school and how this made him feel.
The Persona Dolls generate lots of discussion with the children. It encourages them to think about how they feel when they experience trying something for the first time.  It makes them think about what a good friend is and how a good friend can support a new arrival. It allows the children to talk about things that may worry them about transition and about what is happening in their lives at home and at school.
Desired outcomes …
It is hoped that the eight dolls will continue to transition from setting to setting and may even revisit schools they have been to already as can happen with Service children.
One of the aims of the project was to help build up pupil self esteem and confidence.  It is hoped that through exposure to the stories children will want to talk and share their own feelings and experiences. Through listening to each other's experiences it helps children realise that they are not alone in what they are feeling and it is okay to feel that way.
While the project has a fun element of taking the doll to different celebrations and events it is also teaching social and emotional skills through communication and responsibility.
The feedback so far from two schools has been very positive and the children have loved having their guest to stay and were really sad when they left.  This too helped teach pupils resilience as many children feel unhappy and lost when their best friend moves on and this helps them build up coping strategies to deal with this and invites discussion within the classroom to look at feelings.
Do you want to be part of this?
If you are a Hampshire school and would like to be part of this ongoing project please email Claire Barker, claire.barker@hants.gov.uk. We would be delighted to have you come on board and training is available this term.  
Please see our website for further information on the use of Persona Dolls.
If you are a school outside Hampshire and would like a chat about how to set this up in your area, please contact Claire Barker, claire.barker@hants.gov.uk.
[ Modified: Wednesday, 23 January 2019, 11:09 AM ]