Blog entry by Astrid Dinneen
Anyone in the world
By Rights and Diversity Education (RADE) adviser Minnie Moore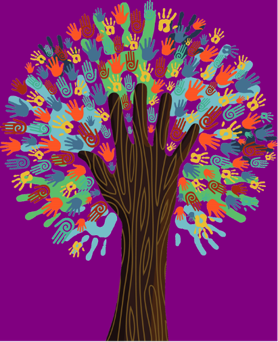 The shocking images on our screens of the death of George Floyd have resonated across the globe and led to many protests and demands for change across all areas of society in addressing and challenging systemic racism which is being characterised as an insidious and pervasive pandemic affecting every institution.
In Hampshire, through our education services, we have strived for many years to address discrimination and prejudice and to promote positive attitudes to difference across all our school communities. We support practitioners to enable them to provide a truly inclusive culture in their settings and there are many opportunities that teachers can access to enable them to continue to reflect on and develop existing practice.
Hampshire schools are in the enviable position of having access to a Rights and Diversity Education centre crammed full of teaching and learning resources which enable practitioners to embed good quality diversity education right across the ethos, environment and curriculum in their schools.
"It is firmly embedded in our staff psyche to source our topics from the RADE Centre as it is a treasure trove of resources and information covering a range of issues associated with rights, diversity and community cohesion in the UK particularly." Headteacher Hale Primary School
CPD opportunities include training on race equality, diversity, equality teaching, pupil voice, prejudicial behaviour and Rights Respecting education and are all available to book in a range of formats tailored to individual school requirements.
'It was a great session. One of the best training sessions I've had to do with school including insets in my own setting." Assistant Head teacher,Tanners Brook Primary School
We have recently produced a Hampshire Toolkit to support schools in challenging and responding to prejudicial language and behaviour which includes a new tracking form, a pupil survey and a leaflet for parents and carers. This is available to download by clicking on this link (FREE to Hampshire schools, please get in touch for a password). 
The Voice of our children and young people is key to informing the work we do to embed inclusive practice across our schools and they have been instrumental in promoting equality and challenging discrimination in their school settings.
The Equality and Rights Advocates (EARA) is a group of students from secondary schools across the county who work collaboratively to promote equality and child rights in their schools, based on the nine protected characteristics of the Equality Act and the UNCRC. The group has recently expanded to include primary age children and have been making their voices heard across a range of different platforms across the county. For more information on the work they do please click on this link. We are always looking for new members so please give your students the opportunity to get involved!
For more information on any of the above please contact Minnie.moore@hants.gov.uk. 
Tags:
[ Modified: Tuesday, 16 June 2020, 3:43 PM ]