Site blog
Anyone in the world
In this letter to her new born daughter, native speaker of French and Hampshire EMTAS Specialist Teacher Advisor Astrid Dinneen reflects on her first steps as a parent raising her baby bilingually.


Ma chère Elise,
Did you notice the different patterns and music of the languages spoken at home when you were still tucked into my tummy? Perhaps you recognised they were from different classes of language a couple of days after you were born. You see, your daddy speaks to you in English and I mostly speak to you in French, switching to English or a mixture of French and English when your daddy is within earshot in order to include him in our chitchat.
Long before you were born we always knew we would raise you bilingually – not quite strictly using the 'one parent, one language' (OPOL) approach where I would solely use French and your father English when around you. This method simply wouldn't suit our family unit where - so far - I'm the only speaker of French and where English is the only language that everyone has in common. Instead we'll use our own flexible approach where you'll see me dip in and out of French and English and perform a lot of translanguaging.
Mixing languages didn't use to be recommended as it was understood it confused children however advice is changing around this practice which is pretty common in multilingual households. So, rather than being brought up by two seemingly monolingual parents, you will grow up witnessing bilingualism in action in a dynamic, dual language environment where either French, English or sometimes a mixture of both will be spoken, read and written depending on context and audience – something I hope will help model how you too can use the whole repertoire both your languages have to offer.
This is all nice and well however you should know I suffer from a mild case of language attrition. You see, when you've lived in a country other than your own for as long as I have and speaking your first language only occasionally you become a little rusty – the words fail to roll off your tongue, you stumble and you fall mid sentence in a mess of grammatical approximations and incomplete idioms. This isn't helped by the fact there is no cohesive local French speaking community that I know of hence the opportunities to regularly chat with compatriots are somewhat lacking, especially during a pandemic when even your French family is unable to travel and see us. This is definitely a concern when you think about how much input in French you'll need to even have a chance to acquire it. But what a beautiful opportunity you've given me – the chance to reconnect with a language, identity and culture I am determined to pass on to you.
Talking to you in French all the time offers me much needed practice and reassuringly the words eventually come to me naturally even though false friends occasionally trip me up in my sleep deprived state. For example, the term bib in English is very close to the French word for baby bottle (biberon or bibi for short) hence why you often hear me use these words interchangeably! I'm sure you'll soon join your daddy in making fun of my slipups but these will make superb opportunities for unpicking quirks and comparing our languages – a process which will soon become familiar to you as your metalinguistic awareness develops (that's grownup for your awareness of how languages work).
Singing to you in French is a lot of fun and is great for repetition, rhyme and rhythm and you particularly love my rendition of Alouette. I'm rediscovering long forgotten songs and nursery rhymes. I'm discovering new ones too including translations of popular English classics such as The wheels on the bus. Interestingly, in French, the mums on the bus don't chat, they say chut (shush) straight after the line where the babies cry. Can you guess why the translator made this choice? Have you also noticed how the body parts in Heads, shoulders, knees and toes are in a different order in French so it still rhymes? I'm sure translation will soon become another subject of conversation in our home and you'll soon discover the skilful way we sometimes have to manipulate language and adapt text to suit our purposes (the metalinguistic awareness I've already mentioned will help you do just that).
Practitioners in pre school and school settings may consider you as EAL when they eventually get to work with you. This is such a big umbrella term however and children with EAL have varying experiences which lie on a wide spectrum. You will definitely receive a language diet that is different from your peers raised only in English. However, your exposure to French won't be comparable to that of children born in an exclusively French speaking household either as their input in French will naturally be greater than yours. You will no doubt sit somewhere in the middle with skills and qualities developed through your exposure to two identities, ways of thinking and speaking.
Will you have a preferred language when interacting with us at home or outside the house? Will this change when you start school? Will you tap into both languages to express yourself in the same utterance? Will you be happy to use French in front of non French speakers? Will you enjoy talking about how our languages work? Will translation interest you? Your development of language will be truly unique and one no one can really predict. One thing is for sure though – it's how grateful I am ma chère Elise for putting French back into my life in addition to being the best thing that's happened in 2020.
Bisous,
Maman


NB: Astrid is still on maternity leave. 


References:
Babies, First words – Netflix, April 2020
Tags:
[ Modified: Monday, 22 February 2021, 4:27 PM ]
Anyone in the world
Sarah Coles shares the second instalment of a journal-style account of her reading for the literature review and methodology chapters of her PhD thesis.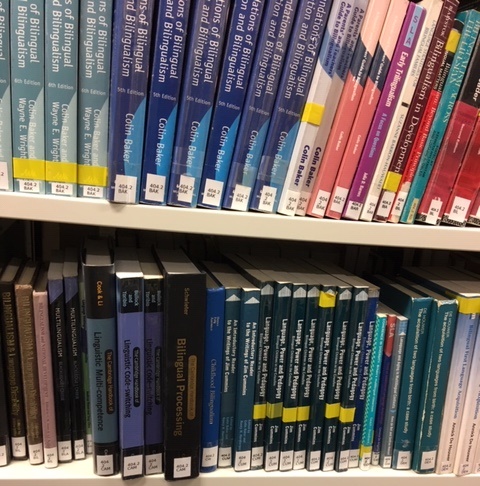 Week 3, Autumn 2018
Week three of the PhD experience and this time I dwell on second language acquisition in early childhood and whether or not there is a difference in one's eventual proficiency in a language due to acquiring it simultaneously or successively in early childhood. Simultaneous bilingualism is where 2 (or more) languages are learned from birth, ie in a home situation where both languages are more or less equal in terms of input and exposure, a child would develop 2 first languages. I am not volunteering to try and explain this to the DfE, who seem thus far only able to comprehend home situations in which children are exposed to just the one language, but maybe some followers of this blog don't find it such a strange notion. If so, then perhaps they are in the company of researchers who suggest children growing up in this sort of situation proceed through the same developmental phases as would a monolingual child, and they are able to attain native competence in each of their languages. I personally think there are many variables at play in any teaching and learning situation, things like motivation, confidence, opportunity, resilience and the like, and they all play a part in our lifelong learning journeys. I also think the concept of "native competence" is problematic. What do we mean by that term? How are we measuring it? Do we mean just listening and speaking or reading and writing as well? What about the different registers – does – or should - fluency in the language of the streets count for as much as academic English delivered with Received Pronunciation? Who says so? Then I consider the many monolingual speakers of English I have known; they are not all comparable in their competence in English, despite experiencing a similar sort of education as me, many of them over a similar period of time.  Thus 'native competence' is not a fixed, immutable thing – in an ideal world, you don't stop developing your first language skills when you meet the ARE for English at the end of Year 5, do you? 'No', I hear you chorus, clearly agreeing with me that it's a moveable feast. So now even the yardstick implied by the term "native competence" is starting to look a bit flimsy and unfit for purpose. Funnily enough, it wasn't nearly so problematic until I started all this reading.
Moving swiftly on: if, however, two or more languages are acquired successively, a very different picture emerges from the literature. It has been argued that in successive bilingualism, learners exhibit a much larger range of variation over time with respect to the rate of acquisition as well as in terms of the level of grammatical competence which they ultimately attain. In fact it is doubtful, asserts a guy called Meisel writing in 2009, that second language learners are at all capable of reaching native competence and he says the overwhelming majority of successive bilingual learners certainly does not. Controversial or what? And Meisel is not on his own here; there are many people who agree with the "critical period hypothesis" which essentially boils down to the idea that there is an optimal starting age for learning languages beyond which, and no matter how hard you try, you will never become fully proficient (whatever that means). Johnson and Newport (amongst others) say this age is between 4 and 6 years - which makes me feel a bit downhearted, like I have completely missed the bilingual boat here. Curses.
It all makes for a rather depressing prognosis for older EAL learners, those late arrivals for instance, yet we know from other research that those of our EAL learners who've had long enough in school in the UK can achieve outcomes at GCSE that are comparable with their English-only peers, and this can only be a Good Thing, opening doors for them as they go through their teens and into adulthood. For next time, I will try to read something more uplifting, though I expect whatever that turns out to be it will raise more questions than it answers. Keep tabs on the journey as it unfolds using the tags below.


Tags:
[ Modified: Thursday, 24 October 2019, 9:42 AM ]