Site blog
Anyone in the world
By the Hampshire EMTAS Specialist Teacher Advisors




This last year has been busier than ever for the EMTAS team.
 


Our Bilingual Assistants (BAs)

, led by our BA Manager Eva Papathanassiou, have been working tirelessly, 

remotely 

throughout the national lockdowns 

and

 then

, when

 it became

 possible,

 in person,

 

providing support to pupils, families and schools. 

Much time 

has been

 spent by our BAs supporting children and families with accessing online learning.



We have seen an increase in the number of referrals compared to last year

 and have been busy ensuring that all requests are responded to

. The most popular languages referred to us this year have been Nepali, Polish, Romanian, Arabic, Turkish, Portuguese and Cantonese.


Our language phone lines have also been popular. The phone lines are available to support with sharing information with parents/carers, answering any questions they have and helping with home-school communication. Contact details and the list of languages can be found 
here
. 


Over with the Traveller team, new this year a series of termly GRT-focused network meetings were held online. These will continue to be online through 2021-22 in order to make them accessible to staff in schools across the county. Like our other network meetings, they are free to attend for Hampshire-maintained schools. To find out when the next ones are, check the 
Training section
 of the EMTAS website.


The EMTAS Admin team have continued to offer back-office support, maintaining records, sending out resources and dealing in impressively efficient ways with new referrals that have been flooding in from schools since the end of the last lockdown.  
EAL/GRT Excellence Award


We are delighted that over 60 schools have started to work towards their EAL or GRT Excellence Awards this term.


Congratulations to the following schools who have successfully submitted or completed the validation process this year:


EAL
Petersfield Infant School

 

John Keble C of E Primary and Ampfield C of E Primary Federation

 

Awaiting validation for Bronze

 

 

Manor Field Infants

 

Validated at Silver
GRT
St John the Baptist C of E

                                                         


Heritage Honours Award 



The EMTAS Heritage Honours Award, launched this academic year, celebrates the achievements of children from BME, EAL and GRT backgrounds at school and within the home/community. Children and young people can be nominated for an award by the school they are currently attending.


More than 65 successful nominations have been made this year. Reasons for nomination variously include success in heritage language examinations, practical and creative use of first language within the school environment, sharing cultural background with peers, acting as an empathetic peer buddy, success in community sporting events and excellent progress in acquiring EAL.


Congratulations to all the children and families involved. 
Find out more 
here
.
New e-learnin
g
The team has been busy developing new pieces of E-learning this year which will be 
available from September 2021. 
-  Supporting children and families from Gypsy, Roma and Traveller (GRT) backgrounds 

-  
Developing culturally inclusive practice in Early Years settings
-  The appropriate placement of learners with EAL in groups, sets and streams
The e-learning modules can be accessed on our Moodle here
.
Supporting English as an Additional Language (SEAL)

 


This is a course aimed at Teaching Assistants and it covers key aspects of practice and provision in relation to pupils for whom English is an Additional language.  The full course comprises 6 modules which are delivered one a term over two years.  There is a new SEAL course starting in October 2021.  
For further details, please go to the 
Training section
 on the EMTAS website.


Guidance Library

 


Thank you for all the positive feedback we have received about the remote support we have provided in the Guidance Library section of our Moodle. We will continue to add to this next year. Access our Guidance library 
here
.
EMTAS Blog


This year, we have published 20 blogs, written by a range of practitioners, including EMTAS Bilingual Assistants and Specialist Teachers, school-based staff and University students. We look forward to continuing to publish a fortnightly blog next year.


If you would like to contribute, please do get in touch with Astrid Dinneen 
astrid.dinneen@hants.gov.uk
 (who would like to say a massive thank you to Jamie Earnshaw for editing the blog so beautifully during her maternity leave).
 
EMTAS Resources Update

 


This year, we have been busy adding to our Resource Library. Below, we have listed some of the resources available to loan. You will also find a link to our online catalogue, so you can view all the resources we have available.



Story Packs

 




Each book has a series of props, made from key characters/events in the story, on lolly sticks (six of each prop), plus six copies of a key phrase that is used throughout the book. This resource can then be used with a group of children, who can enjoy telling the story in their own language, or share in English, using the props, or in many other ways. The resource can be lent out with one dual language version of the book.


Some of the stories we have include:
- Sports Day in the Jungle
 – Hungarian, Polish, Portuguese, Russian, Spanish
- The Hungry Caterpillar
 - Punjabi
- Brown Bear, Brown Bear, what do you see?
 – Arabic, Albanian, Bengali, Chinese, Portuguese, Somali, Turkish, Urdu, Shona, Hindi, Panjabi
- Farmer Duck
 – Bengali, Chinese, Malayalam, Turkish, Urdu, Bulgarian, Japanese, Panjabi, Romanian, Hindi, Nepali, Polish, Tagalog, German
- Monkey Puzzle – Brazilian Portuguese


EAL Story sacks


We have in stock a selection of EAL story sacks. They come in stories suitable for KS1. 
They have the story book, story props, and an audio CD of the story. Plus, they have a DVD with printable resources of activities for children with EAL.
 

Fiction for older readers


For the later primary and early secondary age (10 – 14 years), we do have many stories that can be enjoyed, in a variety of languages. We also have some of the very popular choices of fiction, such as Harry Potter and Tom Gates, in some languages.
GCSE texts


We have a range of GCSE texts available to loan, such as 

A Christmas Carol, Animal Farm, Macbeth, 

and 

Romeo & Juliet

, available in different languages including Polish, Portuguese, Bulgarian, Italian and Spanish. 

There are direct translations, thesaurus versions, graphic versions and GCSE notes.

 


Exam Dictionaries


We have a large range of exam dictionaries, which are word to word only and do not have a definition or what the word means. 
 

New books for older readers with low reading ages




We now have a range of reading books available, primarily aimed at secondary school aged students who have low reading ages but many are also suitable for upper primary school aged pupils too. They have been written specifically with older readers in mind and so the content has been chosen to interest this age group, ensuring that the readers do not feel that the books are 'babyish' even though the text itself may be relatively simple.   


The reading ages of the books range from approximately 5-6 years old to around 9-10 years old. They have been divided into nine groups so that books with similar reading ages can be easily identified. Books from a particular colour band for an individual student can be borrowed, matched to their reading level, then, as the student's reading skills improve, a book from the next colour band up could be borrowed as their reading skills improve.  


These books would be suitable for older new arrivals who need support to develop their reading skills in English and for whom reading books aimed at younger readers would not be suitable.  They would also be appropriate for older students with EAL who also have SEND or for older pupils from Traveller backgrounds who are still developing their reading skills.  
 

A word of warning about using these books with UASC and refugees – there are some titles within this group of books that are 
not
 suitable for use with UASC or refugees due to either the genre, content or illustrations. This is because these children and young people may have experienced trauma either in their country of origin or during their journey to the UK and some of the books may remind them of this. 
 

EMTAS Library Catalogue


The EMTAS Library Catalogue can be found on our website 
here
. Use the search box at the very top right-hand side of the screen to search for resources in a particular language. You can then email our Resources Manager, Julie Yates, who will arrange for the resources to be sent out via the courier.
Staffing 



At the end of this term, we will be bidding farewell to a number of colleagues. 


Chris Pim, who retires at the end of the summer term, has been a member of the EMTAS Specialist Teacher Advisor team for many years.  Schools in Fareham and Gosport will know him particularly well as he's been their District teacher and has provided ad hoc advice and support as well as network meetings and other training opportunities.  Until handing over to Lynne Chinnery in September 2020, Chris was also often to be found in schools in Havant and Waterlooville performing a similar role. 


Chris's particular interest has been in the use of ICTs and he leaves a fantastic legacy in this area.  His project on the use of immersive gaming as a driver for writing was exemplary EAL practice in the classroom.  He's been instrumental in conceiving of and developing the EMTAS EAL e-learning available to schools across the county as part of the SLA.  The EMTAS Moodle, the blog, the videoscribes and the app 'Big Ideas' were other contributions made by Chris to the resources available to staff in schools.  He led on the project that looked at Hampshrie's Fijian communities, resulting in a dual language book about Rugby being produced, along with two new Fijian/English versions of titles in the Mantra collection of dual language books.  We also have Chris to thank for the new Heritage Honours Award, the subject of a recent blog from Henry Cort.  All at EMTAS will miss him greatly. 


On the Bilingual Assistant team, we say goodbye to Cintia, who has been working with our Portuguese speaking children and families, and Marianne, who has been supporting our French referrals. We wish them the best of luck in their new ventures.
We extend a warm welcome back Astrid Dinneen, who returned in July following maternity leave. Astrid will be back working with schools in Basingstoke & Deane, along with overseeing the blog and the Young Interpreter Scheme, and much more!


As a result of the staff changes to the teacher team, there will be some changes to the geographical areas the Specialist teacher team will be covering from September. Helen Smith has spent the last year supporting schools in Basingstoke and Deane but, from September, Astrid will be resuming her work in this area. Instead, Helen will be supporting schools in Test Valley.  As we bid farewell to Chris Pim, Jamie Earnshaw will be taking the lead in Fareham and Gosport. 


We also welcome Abi Guler to our Bilingual Assistant team.  He will be working with our Turkish families.
Finally…


We have some exciting projects up our sleeves for 2020-21!


After having to be postponed on two occasions, we are very much looking forward to our EMTAS Conference, which is to be held on Friday 15
th
 October.  


We will be continuing to hold our termly network meetings. Check the 
Training section
 of the EMTAS website for dates and to see what these sessions will cover.


Following the support we provided to students completing a Heritage Language GCSE this academic year, we look forward to sharing the results in September. We will also be getting ready to support students with Heritage Language GCSEs in the autumn and again next summer. We will keep you posted with news of the packages of support we will be offering.


Have a great summer and we look forward to seeing you all next term!
[ Modified: Wednesday, 21 July 2021, 4:51 PM ]
Anyone in the world
In this response to Astrid Dinneen's letter style blog published
here
in February, bilingual baby daughter Elise shares her experiences of being raised in two languages. Bonus material – find Elise's top resources in her post scriptum.




Chère Maman,


I really wanted to write to you in response to your letter to me where you discussed your first steps as a bilingual mum.


I've definitely noticed you and Daddy don't always speak to me and others in the same language. From what I've observed Daddy always speaks in English and when you and I are alone you speak to me in French. When Daddy is around you speak in English or sometimes a mixture of both French and English. When we leave the house you continue to speak to me in French but then speak in English with most people we bump into or meet - mind you sometimes it's hard to make out what language you're speaking when you wear a mask that covers your mouth. You do speak French with other people than me I've noticed. For example, you have regular conversations with Mamie* over WhatsApp. I've also heard you speak French with a couple of mums we met through our baby group. As for neighbours, friends and family – they stood in the front garden and waved through the window but I'm sure you and Daddy both spoke to them in English. I wonder if we'll ever have French-speaking visitors one day and if they'll be allowed to come in and play with me.


One mum asked how I was coping with both my languages. I suppose it might all sound confusing to some but it's in fact all normal to me. I've never known life in one language only and I see you're constantly navigating between both French and English so it must be quite normal for you too. Is this why you frowned when you completed this year's census? 'What is your main language?' they asked. 'This is the language you use most naturally. For example it could be the language you use at home' they explained. The choices were 'English' or 'Other'. You and I don't have a main single language, do we? From what I've gathered it's perfectly possible for someone to use more than one language naturally depending on who they speak to, where and for what purpose. If I grow up to become a statistician one day, I'll suggest the survey allows you to check both English and Other.


Unlike the census, I sense people around us recognise both our main languages as being equally important. For example in the beginning Daddy didn't use any French but I'm increasingly noticing his attempts to use words and phrases linked to our routine and he knows a surprisingly wide range of animal names including the word for my seahorse bath toy (hippocampe). I guess repetition and active listening are helping babies and grownups alike. Some mums also show an interest and say hello to me in French. Mamie is learning English in her spare time and my cousins are learning French at school. Your friend from work also lent us French board books from the resources centre at EMTAS after she read your letter to me. This all makes me feel very good because it shows me that both my languages are highly valued by my important people as well as by other, friendly people. It would mean a lot to me if everyone around me continued to be so supportive because I think it will help me feel confident to be a bilingual baby.


Lately I heard you talk about returning to work and going to nursery. I have a feeling I'll be the one going to nursery and you'll be the one going to work, meaning we'll probably no longer be spending all of our time together. As I write this letter, we haven't yet been allowed to visit the nursery or meet anyone in person because of the virus so I've no idea if my bilingual experience will continue when you and I are apart. If everyone at nursery speaks English all the time like I suspect they will, how will this impact my language development in French? Might it mean that English will end up being my 'main language' after all, due to reduced input in French? Is there any way you could spend time with me during the week so I don't have to wait for evenings and weekends to hear you speak French?


Anyway, I'm off to listen to my bilingual playlist of nursery rhymes you and Daddy have put together for me. I love how all the animals get into mischief no matter what language you sing!


Bisous,

Elise


*Grandma



Astrid carefully considered Elise's compelling case and will return to work at the beginning of July for four days a week – Wednesday being her day off.


We look forward to welcoming Astrid back on Thursday, 8th July.






PS: Elise's top resources


In no particular order:



@minibilingue on Twitter – Conversations avec my bilingual son - love these snapshots of a bilingual little boy translanguaging in French and English. An example: 'Pousse ta chaise away s'il te plaît !'

Crisfield, E (2021) Bilingual families, A Practical Language Planning Guide Multilingual Matters, Bristol – a handy book for mums and dads to consider their babies' language goals and how to achieve them.

KIDIDOC (2011) Mon imagier de la ferme NATHAN, Paris – a book where I learnt French ducks go 'coin coin' whereas English ducks go 'quack quack'. What a world!

Donaldson, J & Scheffler, A (2015) Rabbit's nap Macmillan, London – an epic story I equally enjoy when my Daddy reads it in English and when Maman retells it in French. Ce lapin est fatigué.

Amazon Music – 80 comptines pour enfants et bébés – a playlist which showed me some animal names are conveniently the same in both French and English, just pronounced differently e.g. elephant, crocodile, etc.

Gründ (2019) Mes premières chansons du Nord Éditions Gründ, Paris – an interactive book of songs from Northern France, a region very dear to my French family by the sound of things even though they live in the Pyrénées. Could it be that your sense of identity and belonging is more a regional than a national notion? Something to explore in another blog if I'm allowed to hijack it again in the future!

Tags:
[ Modified: Wednesday, 7 July 2021, 11:22 AM ]
Anyone in the world
In this blog, Cristina Mitchell, Romanian-speaking Bilingual Assistant at Hampshire EMTAS, reflects on how technology has evolved and the positive impact it has had on her recent work with schools during the Covid-19 pandemic.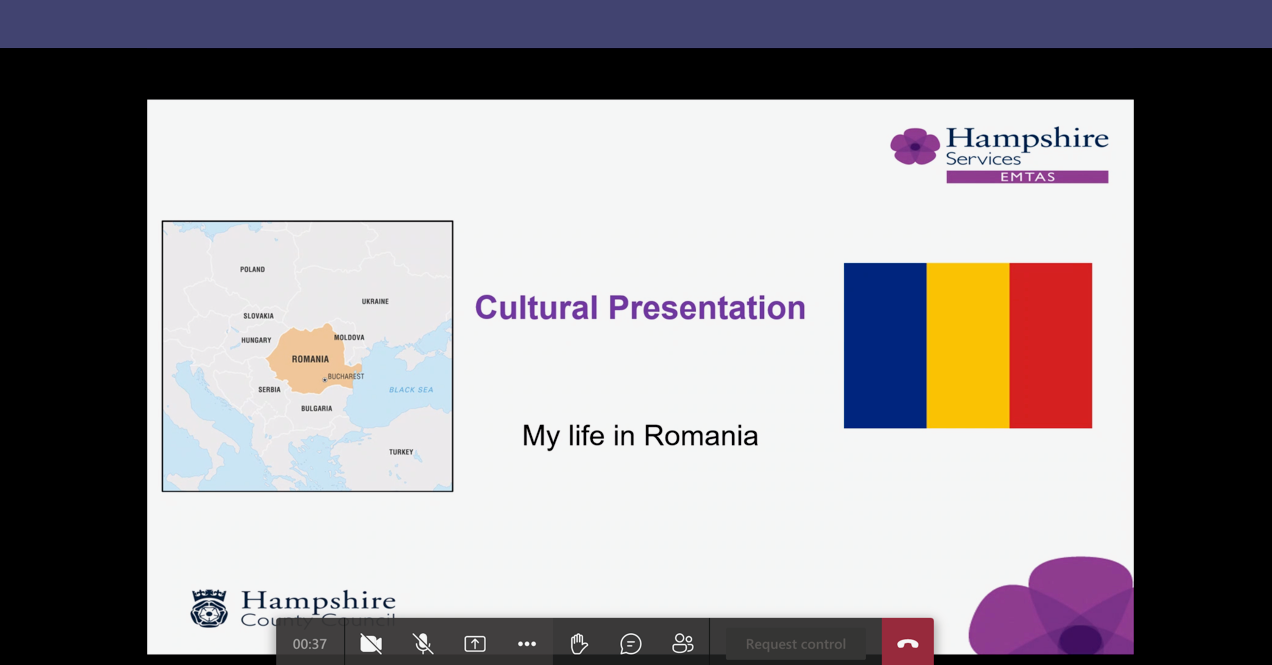 What do you think your children would say if you were to tell them that you did not use any electronic devices in your childhood? They may laugh, they may feel sorry for you or they may say you lived in ancient times. It is hard to believe nowadays that it was possible to live that way. But it is real that we lived very different times. Some may argue life was good and some may not understand how someone can live without a phone or a tablet. It is for each of us to choose and decide how the technology has helped us in life. Has the use of technology made your life easier and more complicated at the same time? Have you got concerns that our children, who are growing up with technology, will become tech-savvy or more robots than humans? It is human nature to worry and look at the negatives, but I like to look at technology as incredibly helpful in my life journey.


I grew up in a world of books, playing outdoors, practising sports and talking to people face to face. Until I was 14, we had only watched TV for 10 minutes on Saturdays (Tom and Jerry cartoons), as under communism, my home country, Romania, would only broadcast 2 hours a day (mostly politics). I was 14 when my father showed me a computer in his office and allowed me to play a computer game with bricks. It was not until my first year of university when I first used a computer for learning. Mobile phones appeared in my life after I graduated from university. Until then, we used to write letters to communicate with people who were not local, telegrams for something urgent, announcements in newspapers and landline phone calls and fax machines.


After I graduated from university, I started using the internet as a learning tool and to speed up and widen my communication. When I moved to the USA, I started using Yahoo messenger to keep in touch with my family back in Europe.


The impact of technology on my support to schools


Due to the pandemic, the use of technology to support my work as a Bilingual Assistant (BA) has increased dramatically over the last year.  The BA team were in the situation where we had to find ways and solutions to transfer the support offered to schools and children in a non-face to face approach, which we had never done before. Technology and online platforms have become more relevant than ever.


Moving to online support has been an interesting change for me as I love technology and I am always happy to explore innovative ways to support children. However, delivering online sessions is not for everyone. Some can stumble in using technology or can become overwhelmed by the multitude of functions. My approach has been to be patient with technology and explore as much as I can to see what it can offer and how this can have a positive impact on our support for children in schools.


In my day-to-day role, I have delivered support sessions using Zoom and MS Teams. I soon started enjoying that I can share the activities, documents and dictionaries easily and that the support sessions can become highly interactive, using some other functions, such as whiteboard and drawing in different programmes and video and audio sharing.


In normal times, I used to work with children on creating Cultural Presentations, which we would then co-deliver to the class. With the help of technology, the lockdown did not stop me from doing this. Using Zoom or Teams, I was able to help children prepare the presentation and then we were able to co-deliver the presentation, using one of the online platforms. The PowerPoint presentations delivered on Zoom were very interactive and highly successful. Indeed, this approach can even work better for some children with EAL, who are shy to speak in front of the class, but can gain confidence if they deliver it online. In one situation, a year 3 pupil and I were sitting together in a room adjacent to the classroom. Her classmates could see us through the window and could wave to us. Sharing videos and songs was also possible. Sometimes, the WiFi connection or the phone signal in school (if using 3G or 4G) can become a problem and the delivery can suffer because of that, but these are minor issues.


There are many ups and downs of using technology, but to me this was a fantastic solution for continuing our support during lockdown and, indeed, into the future. I've certainly learnt that there is more good in technology than bad!


Find out more about the support available from our team of Bilingual Assistants on our website here.

Tags:
[ Modified: Friday, 2 July 2021, 10:32 AM ]
Anyone in the world
In this blog, Chris Pim, Hampshire EMTAS Specialist Teacher Advisor, explores how technology can be used to support learners of EAL.


Technology, when used appropriately, can enhance any pupil's learning experience. However, technological solutions have been shown to have relatively small effect sizes in many circumstances (Hattie 2017); when used in the wrong situation, technology may even interfere with learning. It is apparent that effective use of technology is
"
dependent on context and predicated on the notion that what works in one context may not be entirely replicable in another" (Pim, 2013). This is especially true where practitioners have the additional consideration of matching provision to the proficiency in English of their target EAL pupils.


From the perspective of learning EAL, since acquisition of English should not be the totality of a pupil
'
s learning journey, technology just used to
'
teach English
'
, particularly where it supplants quality mainstream provision, is best avoided. Instead, the power of technology lies in the potential for enhancing pupils
'
wider learning; enhancing curriculum access, utilising proficiency in heritage languages, providing flexible opportunities for demonstrating learning and supporting the development of English across the curriculum.


Using technology to provide pupils with greater access to the curriculum is an obvious starting point. In order to make learning more explicit for EAL learners, to make the messages more abundant (Gibbons 2008), practitioners need to infuse their lessons with multimedia. Images, infographics, videos, podcasts, animations all enhance meaning and are essential to overcome the additional linguistic and cultural challenges EAL learners experience, whether UK born or recently arrived from abroad.


Using translation tools, either for ad-hoc communication or more academic purposes, is another useful strategy. These tools have become extremely powerful, although they still have their limitations (Pim, 2018). There are many solutions available – these range between dedicated digital devices like
ECTACO
products, through text-based online translation tools, to apps like SayHi that use voice recognition and the power of neural networking to provide instant translations, read aloud in authentic, synthesised speech. The camera on a portable device can be used through
Google Translat
e to render real-time on-screen translation as well. Whilst not good enough for formal translation, these tools are genuinely useful for two-way conversations, mediated by both parties. With care, they can be used by practitioners to prepare dual-language glossaries and to communicate simple ideas in text. Pupils literate in first language, with guidance, will find them immensely useful to facilitate access to the curriculum and
even as a means of providing support
with translating their writing from first language into English.


There are many digital resources available to support pupils
'
maintenance and development of heritage languages. Companies like
Mantra Lingua
have had a long association with the EAL field through their audio-enabled, multilanguage books and learning charts. Many schools will already be aware of Mantra
'
s
TalkingPEN
technology which provides a natural link between touch, print and sound to bring interactive learning to the user. Their Kitabu library is also an efficient delivery platform for their bilingual e-books. There are plenty of free e-books available in different languages on the web, but as always with online materials, their provenance will need to be checked. The International Children
'
s Digital Library
is an excellent source of free texts that can be filtered in several different ways e.g. by age category and language.



The importance of developing listening and speaking skills should not be underestimated, whether children are at an early stage of learning EAL or more advanced learners. EAL learners will benefit from structured approaches to develop such skills in English,
building on practitioners' understanding that
children are not blank slates and carry relevant skills from their own heritage languages (Coles, Flynn & Pim n.d.).

Storytelling is a perfect opportunity for all children, whether learning EAL or not, to practise their oral skills for authentic purposes; technology can both facilitate the process as well as enable recording and playback. Children can use first language, or a combination of languages alongside English. Using tablet devices and an app like Puppet Pals HD, pupils can work independently - or collaboratively - to create digital stories from backgrounds, moving characters and a recorded narration that is eventually bound up into a movie clip. Software like Crazy Talk, Morfo and Voki allow shy children to develop oral confidence by enabling them to make a private recording and then attach it to an animated 'avatar' such as their face, an animal or even an inanimate object.

Technology can also help pupils to create and self-publish stories with digital elements. Book Creator, available on most platforms, enables a user to produce e-books from text, drawings, images, audio and video. Pupils can be encouraged to write independently or collaboratively, using Storybird. This free online tool, accessible from school or home, provides glorious imagery to stimulate creative writing in any language. Mantra Lingua offers another solution in the form of recordable sticky labels, TalkingPENs and a range of software for producing audio-enabled stories.

The ability to record and playback speech allows children to practise pronunciation, rehearse vocabulary and play around with chunks of language in preparation for further tasks. There are numerous portable solutions around (Talking Products and TTS-Group) such as talking tins, pegs, cards and photo albums. The latter devices are especially useful for combining text, imagery and artefacts with recorded speech as a talk-for-writing approach.


The link between understanding text and wider educational attainment has resonance for learning EAL, since pupils
'
reading skills are reportedly on average a year behind monolingual peers (Smith 2016). Whatever approaches schools take to address this discrepancy, practitioners need to bear in mind that learning to read is just one element woven into a rich tapestry that results in a pupil
'
s lifelong passion for reading. It is important that teaching builds upon pupils
'
existing reading proficiencies in other languages, that practitioners use age-appropriate texts and capitalise on pupils' interests through presentation of a diverse mix of texts.

There are some genuinely useful resources and technologies for enabling pupils to access texts which might ordinarily be beyond them. It is worth looking online for translated and abridged versions of typical class and course readers. Many book schemes provide texts with an audio CD such as Oxford and Cambridge graded readers. Providing an audio accompaniment for an associated text like this is a particularly
useful technique
. E-books offer another option, although practitioners should bear in mind that some pupils may not particularly like them, rather preferring to read an actual book. However, along with high quality audio, e-books do provide additional features such as contextualised glossaries. Print can be read aloud from paper-based sources through OCR scanning technology using a device like C-Pen; different versions of C-Pen offer additional functionality such as in-built dictionaries and translation capability. Digital text can easily be read aloud from the screen on computers and mobile devices using integrated text-to-speech software. It
'
s also possible to look up word meanings and translation equivalents directly using online resources that interface with a user
'
s digital reader of choice. Finally, it is worth considering how to ensure that online texts are as accessible as possible to emergent readers; for example, finding appropriate sources that present information simply. There are websites like
Kidrex,
which assist web-safe refined searching, that do exactly that. Also consider use of Simple English Wikipedia for older learners.



It is well established that children learning EAL need opportunities for explicit teaching and learning of new vocabulary across the curriculum (DfES 2006). Typically, pupils learning EAL have smaller vocabularies in English compared with non-EAL peers, a factor that has been shown, for example, to be an important predictor of reading comprehension Murphy (2015). There are numerous ICT-based tools available for reinforcing knowledge of vocabulary (in all its forms). Dual-language glossaries, supported visually, are easy to create using Widgit, something that may be useful to L1 literate pupils, as well as their parents. Quiz-based vocabularies can be created and/or sourced online from pre-built versions, via Quizlet. Plickers is a free polling tool suitable for whole class vocabulary building activities. Other games can be made using tools like Osric
'
s Bingo Card Generator
as well as a wide variety of word-definition matching activities using
Formulator Tarsia
software. Word clustering tools like WordArt.com help learners focus on topic words, as well as encouraging inference around the text-type and genre the words have been drawn from.

One of the biggest challenges for EAL learners is to convert their thinking and talking into writing. Some children will be ready for sustained free writing, whilst others may be limited to composing smaller chunks of text within digital scaffolds. They may choose to write in English, first language or a combination. It is worth mentioning that computers and mobile devices need to be set up specifically to enable children to interface voice and keyboard input to search, translate and write digitally in a preferred language other than English.
 
Emergent writers benefit from technologies that enable them to convey their ideas through multimedia elements and snippets of text, rather than full prose. Cartoon makers like Comic Life provide a framework in which to drop imagery, either from a device's camera or an external file, alongside the use of text holding areas like speech bubbles and legends. An app like iMovie can be used across the curriculum to help pupils demonstrate learning in creative ways. Within iMovie, the Trailer feature offers different storyboard templates across a range of genres, encouraging pupils to edit default text with their own short, snappy version to accompany the visuals. Adobe Spark Video is another tool for producing annotated movies. This app allows a user to record an audio narration and build up a storyboard using copyright-free imagery, but interestingly, once again, deliberately constrains writing to short sentences.
 
There are many digital writing tools available for more cohesive writers. These take the form of dedicated supportive word processors such as Book Creator and Clicker Docs as well as plugin software keyboards like Texthelp's read&write and Grammarly. Traditional supports in digital writing tools like spelling and grammar checks will of course be useful, but only when children are explicitly taught the conventions of red and green underlining. Integrated thesauri will also help those pupils with a strong enough lexical knowledge to make sensible choices between synonyms. Newer features like predictive text assist pupils with word choice, both within and between words. They can also hear back what they have written via text-to-speech synthesis, a feature which can help some users spot their errors more easily. A user can also shortcut typing via the speech-to-text listening capability of the operating system; an easy way for pupils who are not confident in their use of keyboards to render digital text through natural speech. Clicker Docs has an additional feature where topic word banks can be imported from online repositories, enabling easy access to context-related subject glossaries.
 
To conclude, it is worth considering what networking tools are available for busy practitioners to keep up to date and access additional guidance from the wider community of EAL professionals. One idea is to register for the EAL-Bilingual Google group. Following organisations and professionals on Twitter and tweeting around the #EAL hashtag is another great idea. Curating apps like Pinterest and Pearltrees offer a cornucopia of relevant content when searched for relevant terms such as a 'EAL' and 'ELL'. Finally, subscribing to relevant blogs is a useful way to keep up to date with current thinking.
 
This blog first appeared in the EAL Journal, Spring 2020.


References:

Coles S., Flynn, N. & Pim, C. EAL MESHGuide. Accessed 2.1.20


http://www.meshguides.org/guides/node/112?n=119



Department for Education and Skills (DfES) (2006) Excellence and Enjoyment: learning and teaching for bilingual children in the primary years. Unit 2 Creating the learning culture: making it work in the classroom. London DfES.

Gibbons, P. (2008). Challenging pedagogies: More than just good practice? NALDIC Quarterly, 6(2), 4-14.



Hattie, J. (
2017).
Backup of Hattie
'
s Ranking list of 256 Influences And Effect Sizes Related To Student Achievement

https://visible-learning.org/backup-hattie-ranking-256-effects-2017
Murphy, V. (2015) Assessing vocabulary knowledge in learners with EAL: What
'
s in a word? NALDIC Conference.

Pim, C. (2013)
Emerging technologies, emerging minds: digital innovations within the primary sector. In G. Motteram (Ed.)
,
Innovations in learning technologies for English language learning
(pp. 17-42). London. British Council.

Pim, C. (2018, June 12). Aren
'
t digital translation tools only useful for keywords? [Blog post]. Retrieved from:
https://emtas.hias.hants.gov.uk/blog/index.php?entryid=18
Useful websites:
Tags:
[ Modified: Wednesday, 19 May 2021, 3:22 PM ]
Anyone in the world
In this blog, Lauren Atkins, EAL Champion at 
St Peter's Catholic Primary in Waterlooville,
 writes about her experience working towards and achieving the Bronze EAL Excellence Award.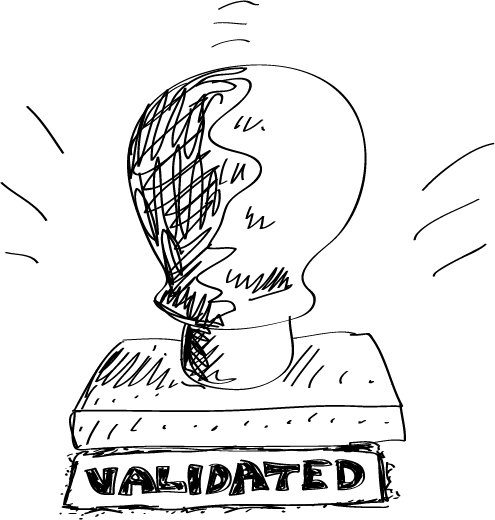 Back in May 2020, thick into Lockdown, even before Years R, 1 and 6 returned or 'live' teaching was compulsory, I sat at my desk at home, waiting nervously to join a Zoom call. The accumulation of 8 months of hard work had come to this; a validation meeting which I had to join via my mobile, with two people (one of whom I hadn't met), under the constant concern that one or both of my children would make an entrance at some point with something inappropriate to say. Thankfully, this moment – before the meeting started – was the scariest, most problematic of the entire journey to achieving the EMTAS EAL Excellence Award at Bronze level! The rest was, thankfully, incredibly straight-forward.

I assumed the role of EAL Champion in the September after completing my NQT year. I'd always had an interest in everything that would fall under the inclusion agenda; anything which could help to identify and overcome the barriers some children face when it comes to their learning. And so I was thrilled to relieve my SENDCo of the responsibility and to have the opportunity to really make a difference to many children - many, many children in fact, as our school, St Peter's Catholic Primary in Waterlooville, has the highest percentage of pupils speaking English as an Additional Language in the area.

Of everything handed over to me by the SENDCo, hands down the most valuable piece of information was the email address of the EMTAS Specialist Teacher Advisor for our area - in my case, Chris Pim. After our very first meeting, I was set up to be able to access the EMTAS Moodle, I had a clear view of what the EAL Excellence Awards were, what would contribute to 'evidence' and how to record it.

I was also given access to the EMTAS e-learning. My first stop was the 'Role of the EALCo' training and it was an absolute nerve-saver! In particular, the action planning section of the training left me feeling clear (not only on the responsibilities of the role but how to be successful), in control and with an easy-to-follow, albeit reasonably sizeable list of things to do – exportable as a PDF nonetheless!

I'm definitely a scribble on a paper-copy kind of person and the EAL Excellence Award Criteria Reference Sheet became my new best friend, annotated with what we were already achieving, what we could do to achieve another or who I would need to meet with (usually the Head Teacher or the Business Manager) in order to clarify.

Throughout this, I should say, that I was lucky in that I had a portion of my PPA time every other week dedicated to all things EAL as well as release time once a half term. I appreciate that I was more fortunate than most in terms of dedicated time.


Along the journey, I dipped in and out of various training modules as I needed them. I wouldn't always complete them in one go but found it useful to revisit and complete them when it suited. For instance, before typing up a Hints and Tips Sheet for distributing to Class Teachers, I completed the Teaching and Learning training. The EAL:SEND training I completed with a specific child in mind, both to help me internalise things but also to provide meaningful guidance to a real-life conundrum.


Anyway, I'm very pleased to say that my school is now working officially at Bronze level, on our way to Silver. In addition, I am thoroughly enjoying developing an area of expertise and raising the profile of EAL in our school community. Long may the benefits of the EAL Excellence Awards be felt!  


Congratulations to Lauren and St Peter's Catholic Primary for achieving the Bronze Award!

 
For more information about the EMTAS EAL Excellence Award, please see this page on our Moodle.
For more information about our e-learning modules, please see this page on our Moodle.
[ Modified: Monday, 10 May 2021, 11:19 AM ]
Anyone in the world
In this blog, four reviewers on initial teacher training pathways at the University of Chichester provide feedback on the Hampshire EMTAS 'Big Ideas' App. The app is designed to offer a snapshot of all the significant issues related to working with learners of EAL and their families, with links and suggestions for further reading. The app also gives users the opportunity to produce an action point list which can be printed or copied for further editing.




Big Ideas in EAL is an app designed to be used in schools containing a huge amount of information in one, easy to use area.  The simplicity of the design and clear layout belies the huge breadth and depth of information held within. It is easily accessible and the process of finding relevant information and ideas within each section is straightforward.

We felt overwhelmingly that this is an excellent resource for all school staff but especially NQTs and RQTs. For new teachers, the Teaching and Assessment and the Strategies and Resources sections have particularly valuable links that will be useful when thinking about lack of experience when working with children with EAL. The section on setting targets is also extremely useful, particularly with the links provided. This app would also benefit anybody in the teaching profession, especially those with little experience of teaching children with EAL, for example in a small village school, who may suddenly find themselves in a position where they have to. It would also benefit TEFL teachers.

The strategies and resources section would be ideal for lesson planning and teaching and we found the pedagogy section is especially useful: clear and concise, it does not assume any knowledge but is not patronizing either. The links to other pages and embedded documents are an excellent resource and save so much time. It's great that you can make a list and then easily print it off, giving it to a TA perhaps. It is useful that you can save ideas for later (with the lightbulb) and print certain sections. We particularly liked the links that were in the cultural factors section, such as the TEACHING CULTURALY DIVERSE STUDENTS: RECOMMENDATIONS FOR TEACHERS which gave useful information how as a teacher you could provide an inclusive environment for children with EAL.

We thought it was important that wider school life and understanding has been brought into the EAL training – e.g. safeguarding / learning environment / pedagogy / SEND and EAL – and that, in particularly the safeguarding/SEND sections, there are other things to think about which may not occur to some at first, e.g. other things on top of EAL to be aware of. This was really valuable. It might be useful to have a section with quotes from children with EAL as to what they find/found most helpful in schools, what they enjoy/ed or benefit/ed most from. Their point of view may vary per child, but it would be interesting to have examples.

We liked that the homepage is colour-coded (e.g. red for strategies and resources / yellow for teaching and learning) as it makes it much clearer when navigating your way around the information. A couple of us found the white text on a black background a little hard to read and wondered if black on white would be visually more inclusive, or perhaps using warmer colours like turquoises and purples for the background or font. Using a big arrow pointing left to indicate "go back" rather than the words would be simpler, and the writing in the app in general would benefit from being a bit bigger as it is quite hard to read on a mobile phone screen. The symbols depicting each help section, e.g. links (spider diagram), ideas (lightbulb), print (printer!) are clear and these quick representations lighten the mental load when you are looking for something in a hurry. The hand-drawn illustrations are a nice personal touch.

We all liked the periodic table idea but did wonder about its relevance to EAL. However, it does provide a clear layout and we liked the coherence of the overall scheme. For example, when you click on a link e.g. Cd for Cultural Diversity, the same colour is used for the border, as well as the symbol 'Cd' and the full title, which ties together nicely. 

Gillian Roe (University of Chichester Academy Trust, School Direct)
Sarah Southey (University of Chichester Academy Trust, School Direct)
Sarah Green (The Bay, School Direct)
Alexandra Foster (Bishop Luffa, School Direct)


Many thanks to the trainee teachers for the feedback on the app. Watch this space for updates!
For more information about the Big Ideas App, and to access it, please visit the EMTAS Moodle
[ Modified: Wednesday, 21 April 2021, 10:45 AM ]
Anyone in the world
In Diary of an EAL Mum, Eva Molea shares the ups and downs of her experience bringing up her daughter, Alice, in the UK. In the latest instalment, at the end of Lockdown 3, Eva reflects on Alice's first 6 months in secondary school.
Last time I delighted you - my affectionate readers - with my comments on Alice's education, we had just started Year 7 and barely managed to get through all the set-up steps needed for Alice to be a well-functioning secondary school student. Let's recap some key points:


Uniform hunt:

by the end of September, we had all the right bits and pieces, and Alice was a pro at doing her tie. We had seen some additions to the full array, like the embroidered cardi (that Alice had never worn because it was too uncomfortable under the school blazer), a V neck navy sleeveless jumper (that Alice had worn only once because she was afraid of being laughed at by other children) and different styles of hats, scarves and gloves to brave the morning chill. Obviously, during lockdown, she had a growth spurt, so we have been on a trousers-hunt again. On most websites, her size was sold out, but I managed to get a pair from the school second-hand uniform shop. That is a good starting point to get spares or items needed for a short time (and short it will be this time, as Easter holidays are just a few days away), and it supports the school finances!
                     


Apps: In September, I had drunk many cups of tea to get all my apps up and running, and I am proud to say that I was on top of everything. Since the beginning of Lockdown 3, camomile has become a permanent fixture in our cupboard. More than once we had issues with logging on to the learning platform or getting into the Zoom lessons. Nothing that a bit (= a lot) of perseverance and a phone call to the school could not fix. The school has been very understanding, and the Reception Ladies should get a bonus for their unlimited patience. When things were getting too slow for the three of us to be able to work at home, my husband agreed on a WiFi upgrade (the broadband market offers many solutions, it only requires a little time to look at them), which helped a lot. To ease the traffic on the band, sometimes I still had to tether from my mobile phone or, even better, stop working for a couple of hours and read a book instead. Which was a treat! (One of the advantages of working part-time!)

Besides the normal challenges that any newbie secondary school parents/carers and children would have faced, lockdown has put some more hurdles on our path. But every cloud has a silver lining and there are some positive outcomes as well. I have asked Alice to give her views on a few points:

Technology:

Alice: During lockdown, having my own laptop has been great because we all needed a device to work on. The WiFi has been a bit up and down, but since the upgrade we have been fine. I have learnt how to use different conferencing software, like Zoom, and have improved my presentation skills with PowerPoint. Now I know how to scan and print from my phone or laptop and I have found some nice apps that allow me to draw on my tablet.

Eva: Alice has become very independent with the use of technology, and this is a life skill that will always be handy. Devices have eventually evolved from portable TVs to multipurpose objects: from attending her lessons to dancing, and from chatting with her bunch of friends to online gaming. Alice has improved her ability to use the online bilingual dictionary and thesaurus (we use wordreference.com, which comes also as an app), to research online and to check reliable websites (we have used many of the free resources for distance learning available on the EMTAS moodle). We have discussed online safety and I have reviewed my parental controls on all her devices. Without being too intrusive, I have regularly asked her what she is doing online and who she is playing with. So far, everything seems to be under control. In case you need guidance, here is the EMTAS booklet on safeguarding available in different languages.
 
Homework:

Alice: Before lockdown, the amount of homework was just right, but sometimes I struggled to find it because it was not always listed on the homework platform. During lockdown, we have had hardly any homework, apart from Science, which was always posted there. I enjoy doing projects, like the maracas I made for Mum in D&T. I find it easier to complete homework which can be printed out and done on paper or which involves some creativity.

Eva: Homework is still a mystery to me. Coming from a different schooling system, I expected that from Year 7 students would consistently get homework for every subject, but I have not seen this happen yet, especially during lockdown. When it is time for the daily homework, my life – and I am sure I can speak for most parents – would become much easier if all homework were to be consistently listed on the homework platform, and that no homework was marked optional as this label usually leads to useless arguments always ending with a grumpy child.
 
Screen time:

Alice: Probably, we have had a lot of screen time, especially during self-isolation and lockdown, but our generation spends a lot of time in front of a screen anyway.

Eva: To be honest, during lockdown I found it very hard to get the right balance of screen time, especially when everything was taking place online. Looking at the parental controls, we have noticed that some weeks Alice has been on her laptop for over 40 hours (more than a full-time employee), which included schoolwork, extra-curricular activities, chatting with friends and watching movies. In these peculiar times, as long as she respected the rules that we had given her, it was fine by me – but a bit less by my husband, who would send me to the front to fight the perennial battle on screen time. Why do I always have to play the mean one?
 
Physical activity:

Alice: At school I really enjoy playing sports with my friends. I had started to play netball as an after-school club, which I really liked as it is a team sport. During lockdown, I attended my PE lessons on Zoom and have been out walking with Mum when I had to, but I did not enjoy one bit the remote PE classes because I missed the happy atmosphere of the school and being with my friends. Not having to get up at 6.30am was great, and I got to sleep one more hour every day.

Eva: The words "physical activity" made Alice feel sick. I literally had to drag her (and my husband) out of the house. I even offered to pay her for every time she went for a walk. She is none the richer... Fortunately, the school changed the plan for PE, so one class was on Zoom and one was to be any outdoor activity that could be recorded on the school's private Strava profile. They even awarded house points for every km done, and family members' kms counted towards the house points too. Alice considered suggesting that I took her phone out for a walk, so that she could get the points, but thought better of it :D
 
Mental health:

Alice: In the last three months, I have had some ups and downs. I felt very lonely and sometimes demotivated to do anything. But I am very happy to get back to school. I believe I have grown up a little during lockdown and become more responsible. My worries have grown too. Normally, despite the amount of revision I do, school tests make me very anxious, and this happened even during lockdown. Now, I worry also about how other people might see me. Spending break times with my Mum, as well as having lunch together also with Dad, has helped make me feel less lonely. Mum even did some PE lessons online with me. During morning breaks we played games, as well as drawing, dancing, and having a snack. Food has been a highlight in our house during lockdown. We have been experimenting a lot in the kitchen.

Eva: Lockdown 1 and 3 have probably been the most surreal times in the life of most people, mine too. But they have also given me the luxury to spend so much time with Alice, that normal life would have never allowed for. We played many different games, some language based like Taboo, as well as digging out our art box and giving different things a go. I bought Alice several information books, covering mental health for teenagers, politics and philosophy for beginners (all published by Usborne), to stimulate her to read information books as well as fiction, and we discussed things in Italian, so she has acquired a lot of new vocabulary. I always praise her for her amazing abilities in both languages and have noticed that this makes her feel proud of herself. The important thing for me was to make sure she knew I was there for her. We have had a lot of small chunks of quality time together, and a solid routine, which gave Alice consistency throughout lockdown.



 
New skills:

Alice: Lockdown has had some good effects too. My table manners have gone back almost to Mum's high standards, which is nice. Mum has given all the family the challenge to be able to speak some Spanish by December 2021, so we are all learning a new language on Duolingo. I have improved my cooking and baking skills and am much more confident in the kitchen. On weekends, I prepare coffee with the moka (traditional Italian way of making it) for my Dad and he says it tastes good. I have learnt how to sew buttons and mend small tears. I have attempted knitting, not very successfully yet. And, I have started my pointe classes, and I love them.

Eva: Never a dull moment in our house, there is always some crafts going on. Lately, Alice's passion is making plated bracelets, so we have bits of colourful wool everywhere. With Alice learning Spanish at school, to encourage her language skills, I set a challenge for all the family using an app. Needless to say, constant encouragement and reminding are needed… We have made sourdough, so Alice has been cooking and baking, following traditional Italian recipes. It is a miracle we have not become more large than tall…
 
Getting back to school in Covid 19 times: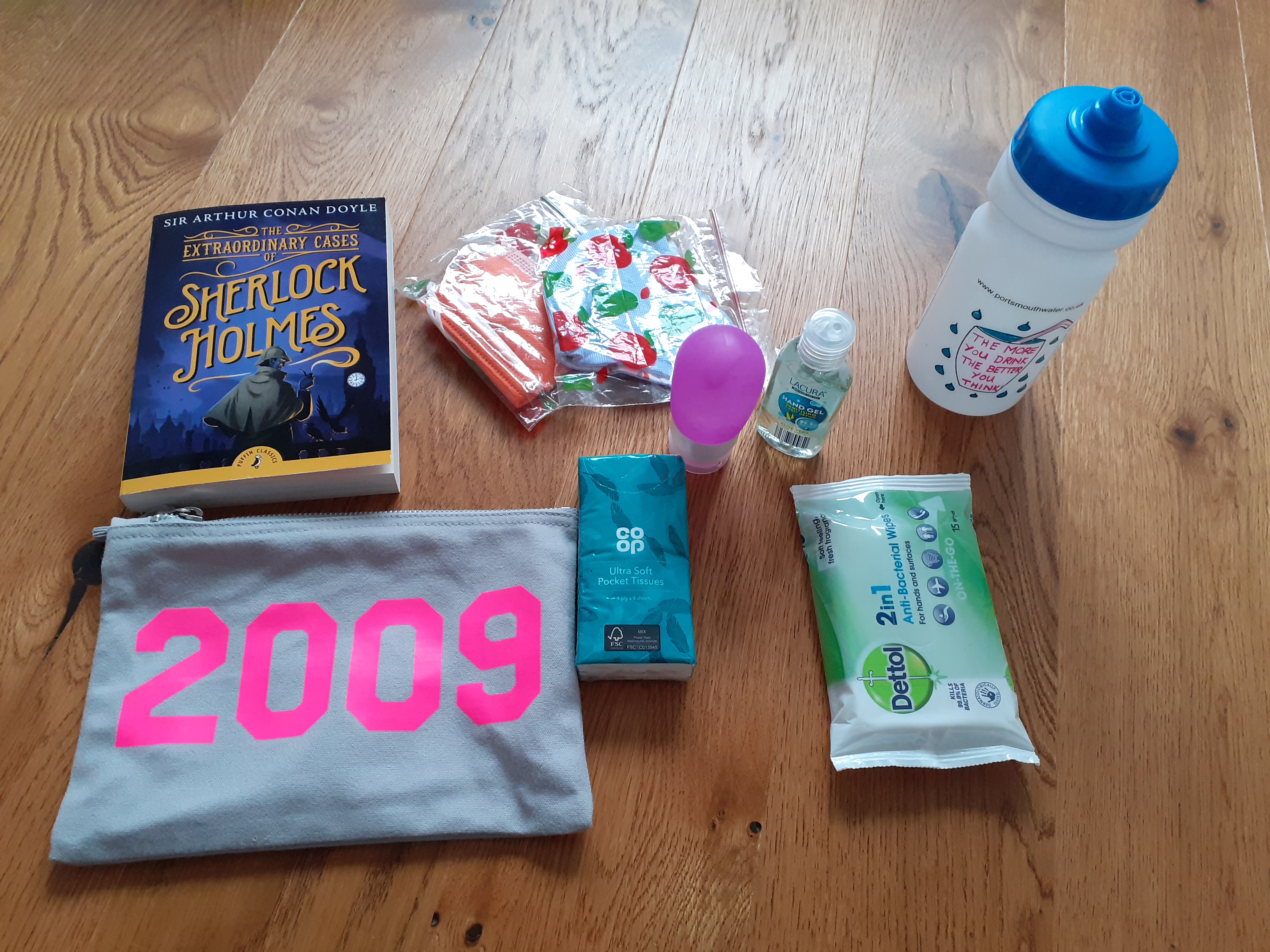 Alice: Coronavirus worries me quite a lot, but I am confident that the school will do everything they can to protect us. We need to follow the rules so we will not have to stay at home again for another lockdown. It has been explained to me how the testing works and it does not worry me much, even if it is disgusting. I am only afraid I might go too deep in my throat with the swab when doing it on my own, as when I had to take the Covid 19 tests, Mum or Dad did it for me.

Eva: Since the beginning of the school in September, we have experienced self-isolation because of Alice being a close contact of a friend who tested positive and also during lockdown 3, because I tested positive. The fact that we both had very mild symptoms has lifted some of her worries about the effects of the virus. We found it beneficial to stop listening to the news 24/7 because this was worrying her unnecessarily. We made sure that, at all times, we were compliant with the Government guidance, we explained to Alice what she could do (e.g. see one friend outdoor for some exercise) and what she should do (hand, face, space), provided her with all the necessary items (masks, hand gel, tissues, antibacterial wipes) anytime she went out and crossed our fingers that everything would be just fine.
 
In a couple of days, Alice will be back at school (she has already packed her bag and prepared her uniform), I will be back at work (I have packed my bag ready for my first school, including my badge) and my husband (who has helped pack both our bags) will enjoy himself, being the undisturbed king of the house. But only for a few hours... 
[ Modified: Friday, 26 March 2021, 2:39 PM ]
Anyone in the world
In this letter to her new born daughter, native speaker of French and Hampshire EMTAS Specialist Teacher Advisor Astrid Dinneen reflects on her first steps as a parent raising her baby bilingually.


Ma chère Elise,
Did you notice the different patterns and music of the languages spoken at home when you were still tucked into my tummy? Perhaps you recognised they were from different classes of language a couple of days after you were born. You see, your daddy speaks to you in English and I mostly speak to you in French, switching to English or a mixture of French and English when your daddy is within earshot in order to include him in our chitchat.
Long before you were born we always knew we would raise you bilingually – not quite strictly using the 'one parent, one language' (OPOL) approach where I would solely use French and your father English when around you. This method simply wouldn't suit our family unit where - so far - I'm the only speaker of French and where English is the only language that everyone has in common. Instead we'll use our own flexible approach where you'll see me dip in and out of French and English and perform a lot of translanguaging.
Mixing languages didn't use to be recommended as it was understood it confused children however advice is changing around this practice which is pretty common in multilingual households. So, rather than being brought up by two seemingly monolingual parents, you will grow up witnessing bilingualism in action in a dynamic, dual language environment where either French, English or sometimes a mixture of both will be spoken, read and written depending on context and audience – something I hope will help model how you too can use the whole repertoire both your languages have to offer.
This is all nice and well however you should know I suffer from a mild case of language attrition. You see, when you've lived in a country other than your own for as long as I have and speaking your first language only occasionally you become a little rusty – the words fail to roll off your tongue, you stumble and you fall mid sentence in a mess of grammatical approximations and incomplete idioms. This isn't helped by the fact there is no cohesive local French speaking community that I know of hence the opportunities to regularly chat with compatriots are somewhat lacking, especially during a pandemic when even your French family is unable to travel and see us. This is definitely a concern when you think about how much input in French you'll need to even have a chance to acquire it. But what a beautiful opportunity you've given me – the chance to reconnect with a language, identity and culture I am determined to pass on to you.
Talking to you in French all the time offers me much needed practice and reassuringly the words eventually come to me naturally even though false friends occasionally trip me up in my sleep deprived state. For example, the term bib in English is very close to the French word for baby bottle (biberon or bibi for short) hence why you often hear me use these words interchangeably! I'm sure you'll soon join your daddy in making fun of my slipups but these will make superb opportunities for unpicking quirks and comparing our languages – a process which will soon become familiar to you as your metalinguistic awareness develops (that's grownup for your awareness of how languages work).
Singing to you in French is a lot of fun and is great for repetition, rhyme and rhythm and you particularly love my rendition of Alouette. I'm rediscovering long forgotten songs and nursery rhymes. I'm discovering new ones too including translations of popular English classics such as The wheels on the bus. Interestingly, in French, the mums on the bus don't chat, they say chut (shush) straight after the line where the babies cry. Can you guess why the translator made this choice? Have you also noticed how the body parts in Heads, shoulders, knees and toes are in a different order in French so it still rhymes? I'm sure translation will soon become another subject of conversation in our home and you'll soon discover the skilful way we sometimes have to manipulate language and adapt text to suit our purposes (the metalinguistic awareness I've already mentioned will help you do just that).
Practitioners in pre school and school settings may consider you as EAL when they eventually get to work with you. This is such a big umbrella term however and children with EAL have varying experiences which lie on a wide spectrum. You will definitely receive a language diet that is different from your peers raised only in English. However, your exposure to French won't be comparable to that of children born in an exclusively French speaking household either as their input in French will naturally be greater than yours. You will no doubt sit somewhere in the middle with skills and qualities developed through your exposure to two identities, ways of thinking and speaking.
Will you have a preferred language when interacting with us at home or outside the house? Will this change when you start school? Will you tap into both languages to express yourself in the same utterance? Will you be happy to use French in front of non French speakers? Will you enjoy talking about how our languages work? Will translation interest you? Your development of language will be truly unique and one no one can really predict. One thing is for sure though – it's how grateful I am ma chère Elise for putting French back into my life in addition to being the best thing that's happened in 2020.
Bisous,
Maman


NB: Astrid is still on maternity leave. 


References:
Babies, First words – Netflix, April 2020
Tags:
[ Modified: Monday, 22 February 2021, 4:27 PM ]
Anyone in the world
In this blog, Rosie Cayless, EAL Coordinator at Fernhill School, writes about her experience working towards and achieving Silver in the EMTAS EAL Excellence Award.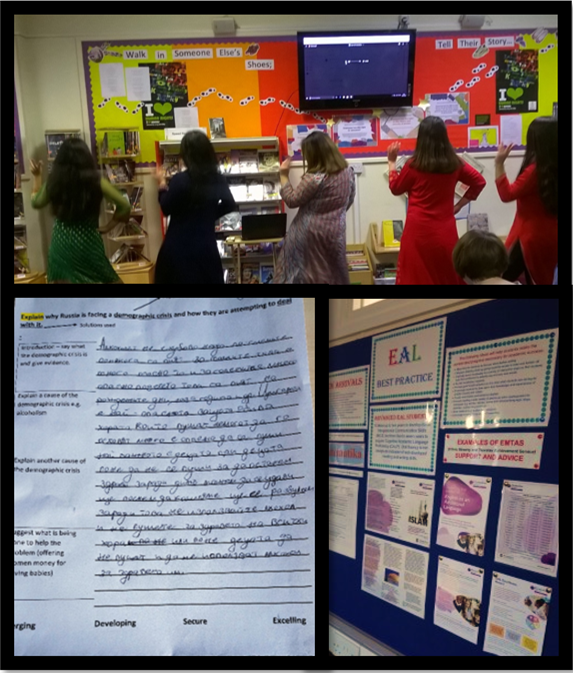 I was really keen to gain the EAL Excellence Award Level Silver for Fernhill School but, like everyone else, had no idea when I would have the time to actually do the work needed for this. Claire Barker from EMTAS visited me and went through the different criteria suggesting I could make a folder with all of my evidence and then fill in the online form too, but in less detail, as the documentation was in the folder. This galvanised me into action!
I decided to break the tasks down into ones that I knew as a school we were achieving, but needed to evidence (e.g parental engagement), and ones that required action to bring us up-to-date, such as CPD. 
We arranged an EAL training session for NQTs (led by Claire) and opened it up to NQTs from other schools, which was well-received; we had a cosy pre-Covid roomful of over 30 teachers!
Some areas required a lot of detailed recording such as doing the Bell Foundation EAL profiles for selected students, while others could be demonstrated with photographs from events such as our Global Fair. The more evidence I collected, the more enjoyable it became. 
I would say that the whole process increased my sense of job satisfaction; it was rewarding to examine all aspects of EAL provision and ask: 'Are we doing the best for our students and their families and what can we improve?' One of the most useful aspects of undertaking the challenge was to completely re-write our school's EAL policy, which underpins our whole approach and proved to be a vital part of our application. And the most enjoyable was collating examples of some of the wonderful writing Fernhill students have done in their first language.
The moderation visit was conducted by Astrid Dineen - it was very thorough, one could even say rigorous! But by the end of the (lengthy) session, no stone was left unturned and I was left feeling hopeful that we would gain the award. 
It was great to receive the email with the shiny Silver Award logo attached, Astrid sending congratulations as well as encouragement to go for the Gold Award next time!
Congratulations to Rosie and Fernhill School for achieving the Silver Award!

To find out more about the Hampshire EMTAS EAL Excellence Award, visit our website and our Moodle. 
[ Modified: Tuesday, 5 January 2021, 1:50 PM ]
Anyone in the world
In this blog, Hampshire EMTAS Specialist Teacher Advisors Lisa Kalim and Sarah Coles discuss current thinking in the cross-over territory where EAL and Dyslexia meet.


What is dyslexia?
Dyslexia is a specific learning difference that falls under the umbrella term "neurodiversity".  It is thought to affect around 10% of the population, cutting right across the range of abilities.  
It is known that different people with dyslexia experience it in different ways.  Although in the past dyslexia was often viewed as a barrier to learning, these days it is accepted that there are positives to thinking differently and many dyslexic people are now recognised for their strengths in areas such as reasoning, problem-solving, oral skills and in visual and creative fields.  
According to the British Dyslexia Organisation, "as each person is unique, so is everyone's experience of dyslexia", thus every child with dyslexia will have a different blend of strengths and weaknesses.  In school the focus on an academic curriculum can cause some children difficulties in certain areas such as:
memory

organisation

processing

phonological awareness

reading, writing and spelling

self esteem.
Some people may experience only mild impacts whilst others may experience much more significant difficulties across multiple areas – which may be more noticeable in a classroom setting.  

Does dyslexia exist in other languages?
Yes, it does.  Research suggests that its impact in terms of difficulties children with dyslexia may face may be more pronounced in some languages than others.  This is to do with transparency (NALDIC, 2020).   Some languages are more transparent than others ie the relationship between phonemes (units of sound) and graphemes (written symbols that represent phonemes) is more straightforward in some languages than in others.
More transparent languages include Italian, Spanish, Kannada and German.  The relationship between sound and symbol is consistent.

More opaque languages include Tamil, English and French. In these languages, it is more difficult to predict spellings and pronunciation because the relationship between sound and symbol is not consistent.



Figure 1: Continuum showing the approximate degree of transparency of various languages (NALDIC, 2020)


Figure 2: Approximate relative transparency of different languages & features which may present difficulties for learners with dyslexia (NALDIC, 2020)



What about languages that are not alphabet-based?
Some languages don't use an alphabet eg Mandarin, Cantonese, Japanese and Korean.  In Mandarin:
the basic speech unit is the syllable

the basic orthographic unit is a character

the rules in the sound-script correspondence in Mandarin are very different from those present in English


In addition to the above differences, Mandarin is a tonal language; a change in tone changes the meaning.  These differences apply not only to Mandarin but also to other languages that work in a similar way eg Japanese and Korean.  A dyslexic Mandarin speaker, for example, may not experience any difficulties when learning to read and write in Mandarin but may find learning to read and write in English much more challenging. 

How come English is more opaque than other languages and what does this mean for someone with dyslexia?
English is often cited as one of the most difficult languages for children with dyslexia to learn. Here are some reasons why:
Weak correspondence between phonemes and graphemes eg compare how '-ough' is pronounced in cough, bough, tough, through and dough

Mapping between sound and symbol is more inconsistent in English than in most other European languages

In combination with weak phonological awareness and slow processing, these inconsistencies present particular difficulties for someone with dyslexia.
Here are some difficulties that someone with dyslexia may experience:
Reading speed can be impacted for children with dyslexia

Processing time may be longer – learners need to scroll through various possibilities in order to retrieve the correct phonologically assembled label. Eg similar labels ('god', 'dock', 'bog') need to be rejected before 'dog', the correct label is chosen.
It can also be the case that a child's dyslexia is mild in their more transparent first language but more pronounced in English with the latter presenting phoneme-grapheme correspondence problems they didn't encounter in their first language.  For instance, a Spanish-speaking child may experience only minor difficulties reading and writing in their first language as Spanish is very transparent whereas in English, a very opaque language, they may struggle more.

What does all this mean when it comes to MFL?
It is thought that more transparent languages may be easier for a dyslexic person to learn, so in school, the outcomes for a person with dyslexia may be better if they were to take Spanish or Italian then if they took French.


So how can we support children learning English as an Additional Language who also have dyslexia?
The support strategies recommended for monolingual children with dyslexia are equally relevant to children learning EAL and may include:
Approaches that help with self-esteem

School staff should consider sharing information about dyslexia with the individual child and with their parents/carers (ie that it's a specific difficulty that affects particular areas and does not mean that the child is 'stupid' or cannot learn)

Collaborative approaches – peer support

Grouping – children with dyslexia should not be in the bottom group but with children of similar cognitive ability

Over-learning/repetition

Multi-sensory approaches

Extra time for processing eg slowing down the rate at which instructions are given and allowing more time for pupils to respond to questions

Limiting the amount of written work required and using alternative ways of recording information/responses to tasks set

Use of diagrams and visuals to assist with memorisation

Use of technology
        - Auto-correct in word processing software, spell checkers, predictive text
        - Speech-to-text software.  See the EMTAS Guidance Library 'Use of ICT' course for some suggestions of Supportive word processors and soft keyboard helper applications to try.
Exam concessions eg use of an amanuensis or reader

Some people think that the use of coloured overlays or different coloured paper or background colours on screen are helpful but empirical evidence for this is limited and the jury's still out on these points.  

An individualised approach will be needed for each child with dyslexia.  Children with dyslexia who are learning English as an Additional Language will still need EAL support appropriate to the stage they have reached in their acquisition of English.  See the Bell Foundation EAL Assessment Framework for an example of an EAL-specific framework that maps progression and allows practitioners to track progress.

For further advice on individual bilingual children in your school who you're concerned about, see the EMTAS website for a step-by-step process to follow and a downloadable, editable form for recording relevant information.

Tags:
[ Modified: Tuesday, 1 December 2020, 10:25 AM ]