Site blog
Anyone in the world
In this blog, four reviewers on initial teacher training pathways at the University of Chichester provide feedback on the Hampshire EMTAS 'Big Ideas' App. The app is designed to offer a snapshot of all the significant issues related to working with learners of EAL and their families, with links and suggestions for further reading. The app also gives users the opportunity to produce an action point list which can be printed or copied for further editing.




Big Ideas in EAL is an app designed to be used in schools containing a huge amount of information in one, easy to use area.  The simplicity of the design and clear layout belies the huge breadth and depth of information held within. It is easily accessible and the process of finding relevant information and ideas within each section is straightforward.

We felt overwhelmingly that this is an excellent resource for all school staff but especially NQTs and RQTs. For new teachers, the Teaching and Assessment and the Strategies and Resources sections have particularly valuable links that will be useful when thinking about lack of experience when working with children with EAL. The section on setting targets is also extremely useful, particularly with the links provided. This app would also benefit anybody in the teaching profession, especially those with little experience of teaching children with EAL, for example in a small village school, who may suddenly find themselves in a position where they have to. It would also benefit TEFL teachers.

The strategies and resources section would be ideal for lesson planning and teaching and we found the pedagogy section is especially useful: clear and concise, it does not assume any knowledge but is not patronizing either. The links to other pages and embedded documents are an excellent resource and save so much time. It's great that you can make a list and then easily print it off, giving it to a TA perhaps. It is useful that you can save ideas for later (with the lightbulb) and print certain sections. We particularly liked the links that were in the cultural factors section, such as the TEACHING CULTURALY DIVERSE STUDENTS: RECOMMENDATIONS FOR TEACHERS which gave useful information how as a teacher you could provide an inclusive environment for children with EAL.

We thought it was important that wider school life and understanding has been brought into the EAL training – e.g. safeguarding / learning environment / pedagogy / SEND and EAL – and that, in particularly the safeguarding/SEND sections, there are other things to think about which may not occur to some at first, e.g. other things on top of EAL to be aware of. This was really valuable. It might be useful to have a section with quotes from children with EAL as to what they find/found most helpful in schools, what they enjoy/ed or benefit/ed most from. Their point of view may vary per child, but it would be interesting to have examples.

We liked that the homepage is colour-coded (e.g. red for strategies and resources / yellow for teaching and learning) as it makes it much clearer when navigating your way around the information. A couple of us found the white text on a black background a little hard to read and wondered if black on white would be visually more inclusive, or perhaps using warmer colours like turquoises and purples for the background or font. Using a big arrow pointing left to indicate "go back" rather than the words would be simpler, and the writing in the app in general would benefit from being a bit bigger as it is quite hard to read on a mobile phone screen. The symbols depicting each help section, e.g. links (spider diagram), ideas (lightbulb), print (printer!) are clear and these quick representations lighten the mental load when you are looking for something in a hurry. The hand-drawn illustrations are a nice personal touch.

We all liked the periodic table idea but did wonder about its relevance to EAL. However, it does provide a clear layout and we liked the coherence of the overall scheme. For example, when you click on a link e.g. Cd for Cultural Diversity, the same colour is used for the border, as well as the symbol 'Cd' and the full title, which ties together nicely. 

Gillian Roe (University of Chichester Academy Trust, School Direct)
Sarah Southey (University of Chichester Academy Trust, School Direct)
Sarah Green (The Bay, School Direct)
Alexandra Foster (Bishop Luffa, School Direct)


Many thanks to the trainee teachers for the feedback on the app. Watch this space for updates!
For more information about the Big Ideas App, and to access it, please visit the EMTAS Moodle
[ Modified: Wednesday, 21 April 2021, 10:45 AM ]
Anyone in the world
Written by Hamish Chalmers, Doctoral Researcher at Oxford Brookes University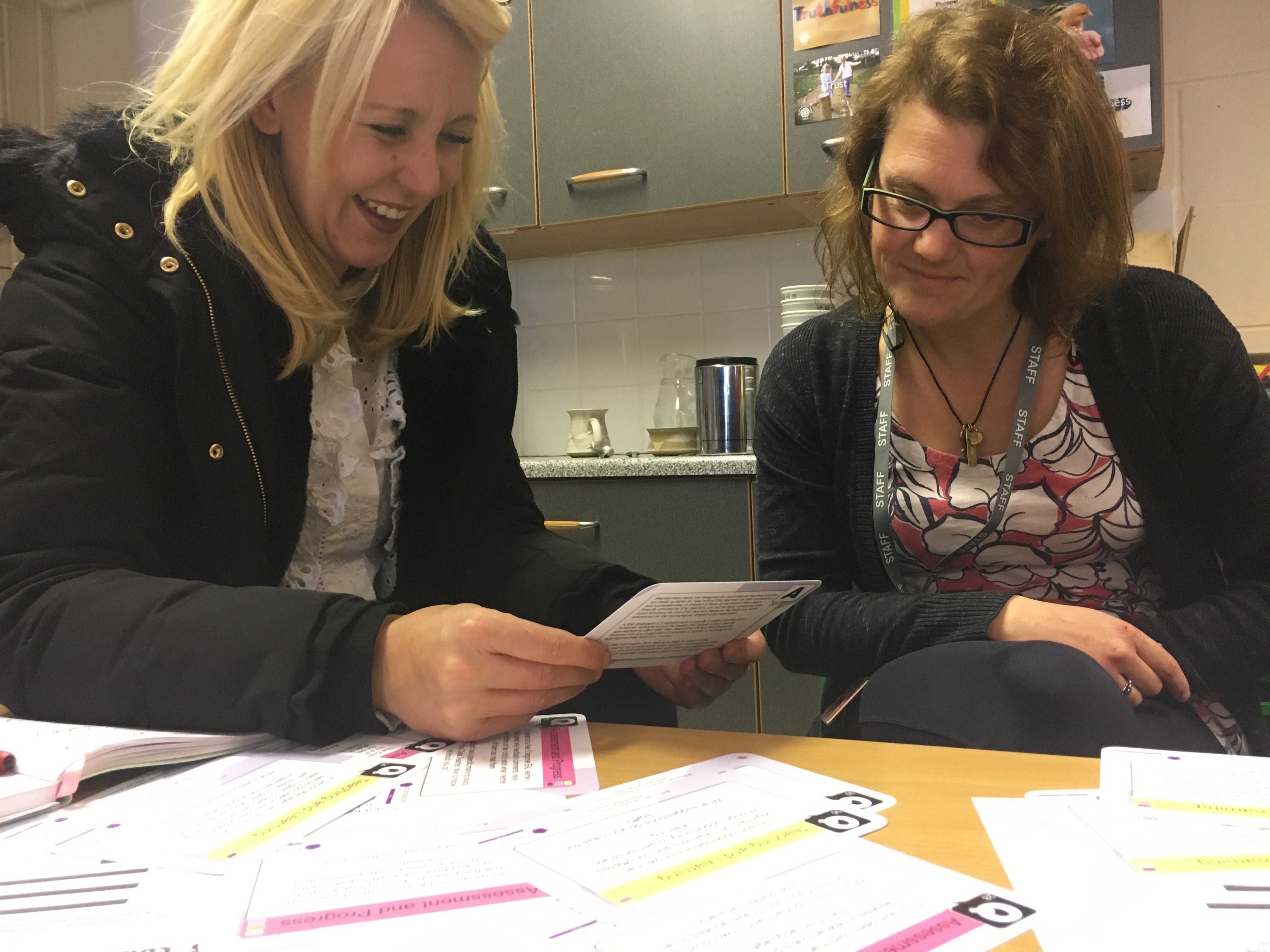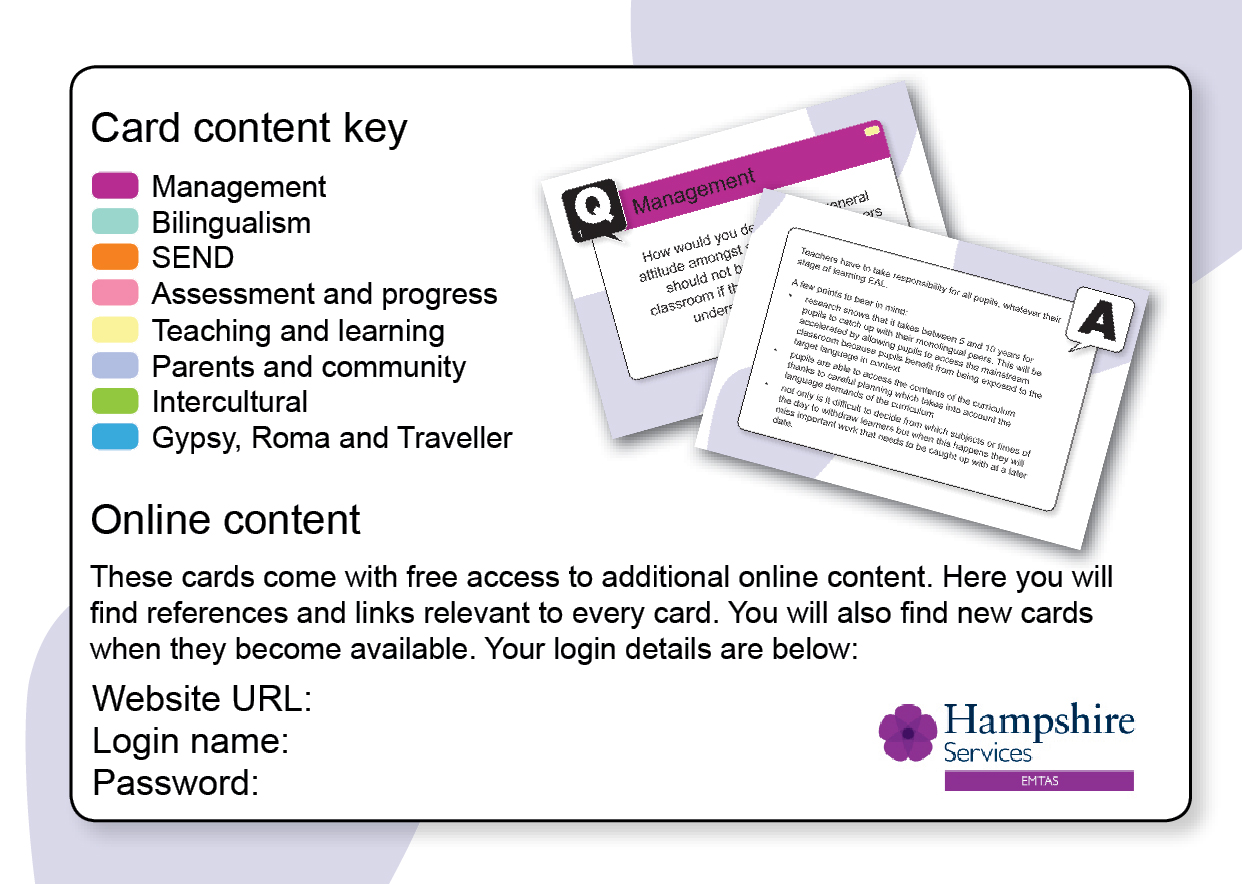 I run the NALDIC Oxfordshire Regional Interest Group (RIG) which is a forum for teachers, researchers and others interested in the education of EAL learners. Despite the very rich and diverse linguistic characteristic of Oxford and its surrounds, the Local Authority no longer has an EAL department and therefore no longer provides peripatetic support for EAL learners and their teachers. This means that it can be very difficult for individual teachers and schools to access training that would help them to keep up to date with developments in policy and practice relating to EAL, and ensure that they follow best principles in their teaching. Our RIG meets once a term. At each meeting teachers share their expertise, we invite guest speakers to talk about research and practice and we run workshops as a component of teachers' continuing professional development.
We were delighted, therefore, to be given an opportunity to try out the Hampshire EMTAS EAL Conversation Cards with the RIG this autumn. The conversation cards are an excellent way to stimulate thoughtful discussion around provision for EAL learners in our schools. Each card poses a question related to a typical scenario. For example one cards asks 'At your school, pupils who are relatively new to English are withdrawn from language classes for extra English. What would be your opinion of this policy?' The question is designed to prompt discussion about this authentic scenario, with a view to the discussion helping teachers to understand their own practice and policy. Each question is then answered on the reverse of the card, providing evidence-informed guidance for teachers on how best to respond. For example, the answer to the question above reiterates the right of all children to have a broad and balanced curriculum. It then explains that EAL learners are often already competent language learners, so withdrawing them for classes that build on this foundation of skills to develop English is unlikely to be in their best interests. The card then goes on to suggest things that schools should take into account when setting related policy.
The cards are organised into eight themes, each addressing a different aspect of EAL education. These include management, teaching and learning, parents and community, bilingualism, and so on. Working with a group of 30 teachers, I divided the cards into sets that included examples from each section and asked small groups to appoint a questioner who would lead the discussion with two or three colleagues. The room was abuzz with discussion and debate as colleagues engaged with the cards and considered their responses. Eavesdropping on the conversations was fascinating as it revealed a great breadth of knowledge among colleagues, but also some very typical misunderstandings which allowed for some timely myth busting by the cards.
One colleague commented on how useful the cards were for schools like hers, which do not have an appointed EAL coordinator. Here, like many schools, EAL expertise is largely down to the experience of individual teachers. In the absence of teachers who have taught in schools with large numbers of EAL learners and with good ongoing professional development, knowledge and guidance is rather hit and miss. Because the conversation cards provide evidence informed guidance for real-world scenarios, it means that anyone can lead CPD sessions regardless of their level of experience. While this might not be the ideal situation, it does mean that teachers can be confident that they are getting good advice, especially in the light of the many myths about language learning that get reinforced when expertise is lacking.
Online content
We also looked at the online version of the cards. Here, the same information is presented but can be shared using a projector, so that discussions about the same question can be held in larger groups. Our RIG members were impressed that the online version provides links to other online content that expands and reinforces the messages provided in the answers.
Using the cards in training
Colleagues left the meeting inspired to continue their learning about EAL, and sharing this with their colleagues by using the Hampshire EMTAS EAL conversation cards. Many saw the potential for including short sessions in staff meetings, dealing with a couple of cards at a time, or for one to one personal professional development meetings. We were delighted to have been able to share this essential resource with our colleagues and hope that the cards continue to shape policy and pedagogy for Oxford's vibrant and diverse language learners.
Where to get a set of cards
You can view a sample of the cards here where you can also find the order form.

[ Modified: Tuesday, 21 November 2017, 4:22 PM ]