Site blog
Anyone in the world
By Hampshire EMTAS Bilingual Assistant Eva Molea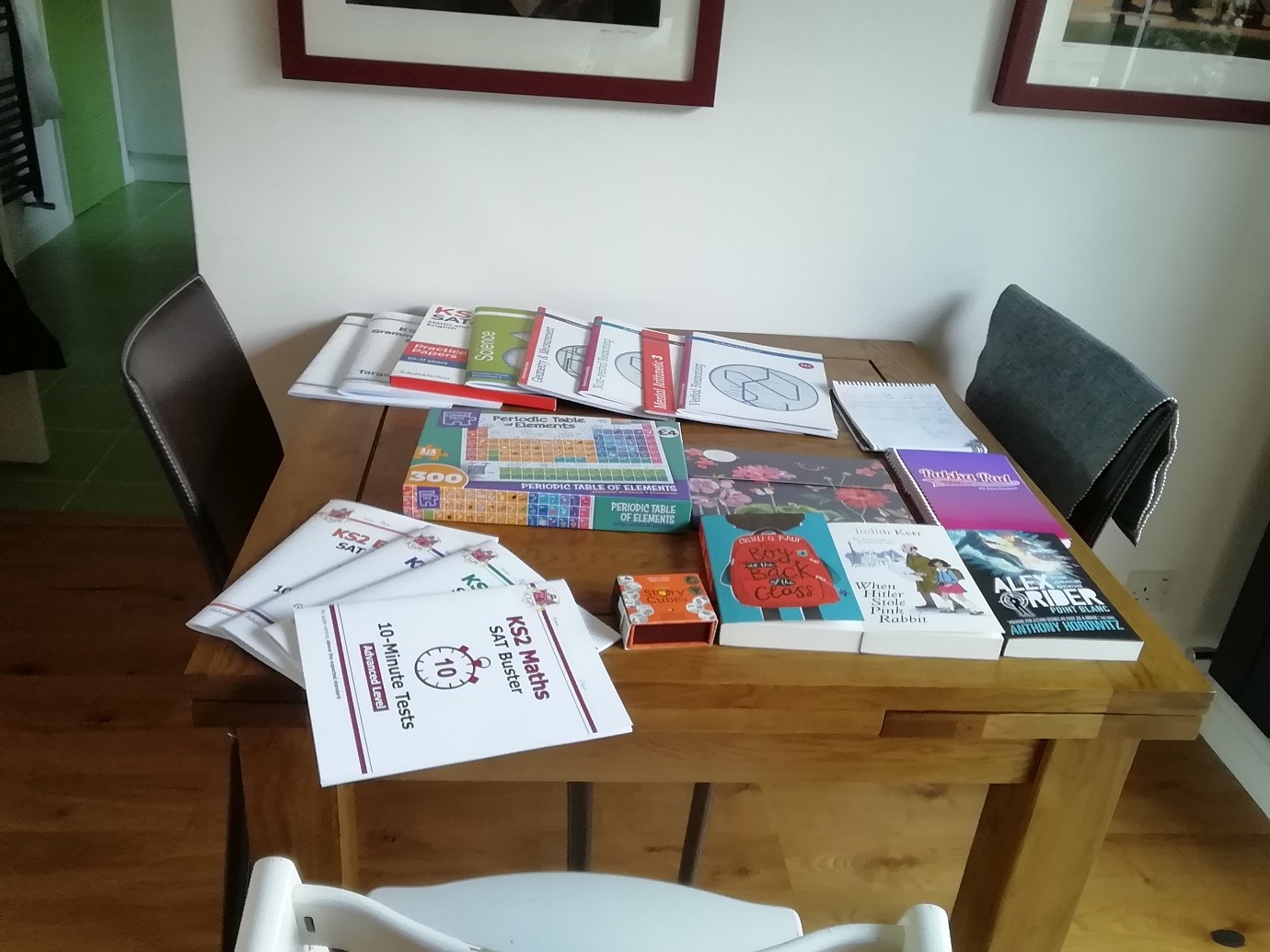 In my Diary of EAL Mum I share the ups and downs of my experience of bringing up my daughter Alice in the UK. After 9 weeks of lockdown and with the happy prospect of school re-opening, I reckon it is time for me to reflect on the last couple of months, especially on the irregular shape that Alice's education has taken.
I would like to start with a big shout out to all teachers, TAs, and school staff in general. You, guys, are my true heroes. Where do you get all your patience from? How can you manage with 30 children, day in - day out for 39 weeks a year, when my own one has driven me round the bend in not even 10 weeks??
Anyway, let's get back on track. When the nation was told that the 20th of March would have been the last day of school for the foreseeable future, I was hit by an education frenzy, so I went to the bookshop and bought: 
- as many learning packs as I could possibly carry 
- two books that I believed Alice should read (=I wanted to read) and one that she had asked for
- a pack of story cubes
- a notebook as we are always short on paper, and a letter set should she ever feel the need for correspondence
- a jigsaw puzzle of the periodic table of elements
- sketchbook (hoping that Alice would keep a diary of this peculiar period).
Proud of my shopping, I showed it to Alice when she came back from school on the 20th of March, but her reaction was far less enthusiastic than I had expected. I wondered why...
The school had provided her with SATs buster test booklets for maths, SPaG and reading and a grid of activities on Ancient Greece. They had also set tasks on the digital platforms for the children to complete.
On Sunday the 22nd of March, I sat down with my husband (aka the Headmaster) and made a learning plan for the first week: 5 days, 5 subjects per day. I was very proud of my broad and balanced curriculum.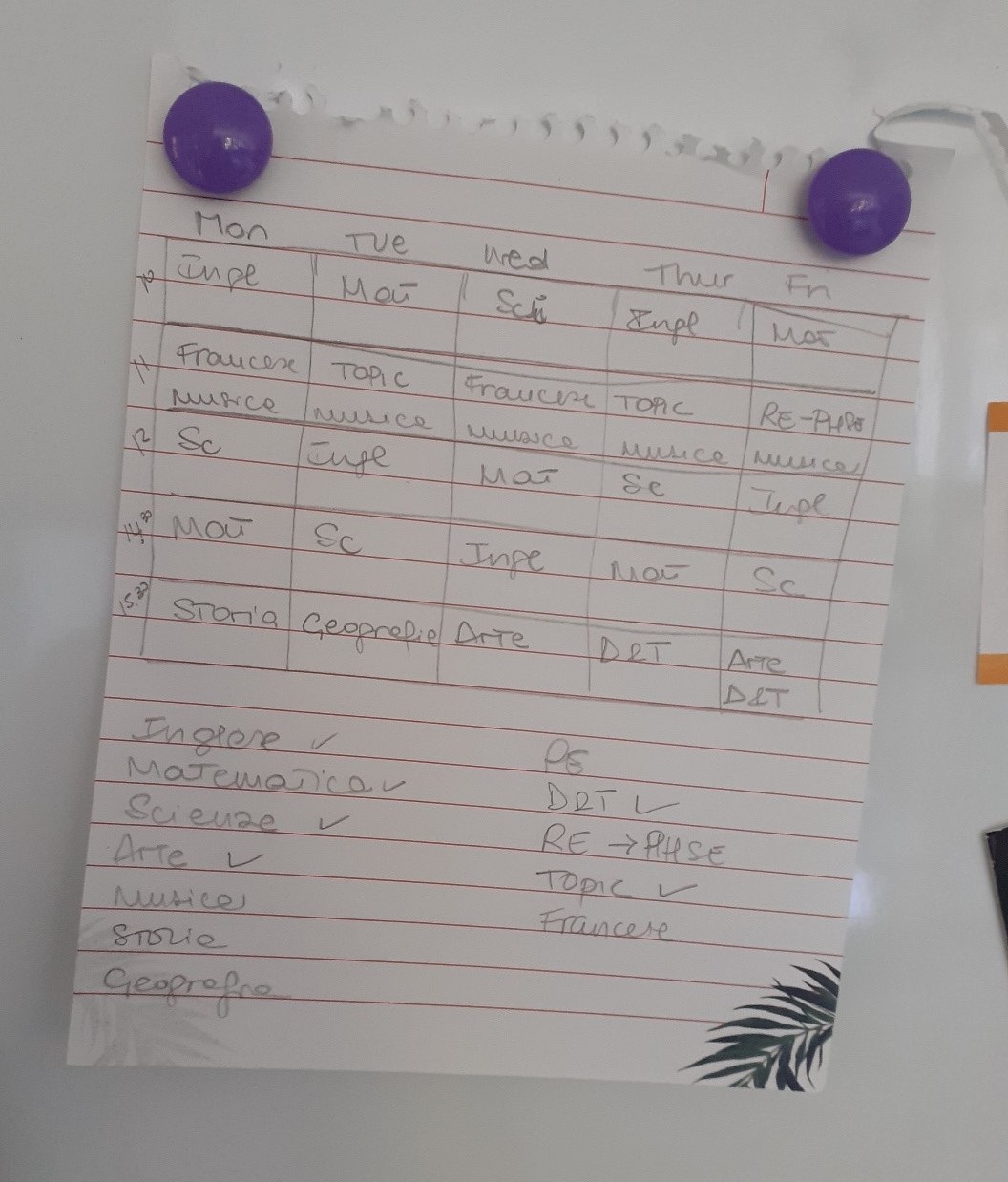 So, on Monday morning, bright and early, we sat down to work. We focused on the booklets and the digital activities and easily Week 1 was out of the way.
On Week 2, having completed all the booklets and digital tasks, we approached the Ancient Greeks grid. I really enjoyed this topic. In Southern Italy, also known as Magna Graecia (Big Greece), Ancient Greek culture had shaped ours well before the Romans, and we learnt the ins and outs of it in school, so it was lovely to be able to share this with Alice. We did some learning on the BBC Bitesize website; we read some myths from books we had brought with us from Italy; we used the story cubes to write Alice's own myth. But I was not satisfied. So, we had a Greek Day, where we:
- tried to learn Sirtaki, the Greek traditional dance, following some videos on YouTube;
- dressed Alice up as a Greek Goddess (YouTube tutorial);
- learnt the alphabet and the polite words in modern Greek, and looked at how Greek language has influenced most European languages, including English;
- cooked pastitsio and tzatziki, following the recipe that my lovely Greek colleague, Eva P, had recommended. And bought baklava…yum!
This was a great way for the whole family to learn new things and share our knowledge with Alice. 
Weeks 3 and 4 of lockdown were the Easter holiday, and my lovely child decided she was not going to touch any schoolbooks and the Headmaster agreed, so I could be off task too and enjoy the sunshine. We did a lot of drawing tutorials on the YouTube channel of the children's illustrator Rob Biddulph, that are glued in the sketchbook. 


Alice devoured one of the books I had bought for her (The boy at the back of the classroom), and tried the other one (When Hitler stole pink rabbit) but found it too hard (or not interesting enough, I'm not sure). Fortunately, dance and gym went virtual that week, so we had enough to keep her entertained. We also played some traditional Italian card games.
Getting back to work on week 5 proved to be quite hard. By then, Alice was feeling very lonely and bored because we did not have the skills to keep her interested and, not to be underestimated, we also had some work to do. But fortunately, the school set more structured homework for the children and we were not sailing in the dark anymore. Having daily work to complete was very helpful, as Alice had some tasks she could carry out independently and ask for the occasional help, whereas when she had to make research on the Internet I was a bit concerned about the appropriateness of content she might come across. For guidance, I also re-read the EMTAS information leaflet on safeguarding and wellbeing which includes online safety .  
From week 5 onwards, home learning has been an emotional rollercoaster. We have gone from enthusiastic reactions to some tasks to flood of tears for others, covering all the shades in between. Obviously, had Alice been in school, her learning would have been tailored to her abilities (including the right challenges) and more interesting for her. But I have to say that I really enjoyed learning with her, especially because we all had a very intense EAL experience as we used Italian to investigate, question, explain and reinforce everything and both the Headmaster and I have noticed that Alice's Italian has improved and her vocabulary has widened, with many new and more interesting words being used. She has also enjoyed listening to audiobooks in Italian and asked me to read to her in Italian at bedtime. EAL parents will be interested in this survey on multilingual language use during the COVID-19 Pandemic.
I pushed my luck and asked her how these 9 weeks had been for her. At first, I got a single word answer: "Boring". I was expecting that. But then she told me that using Italian for maths had made the subject easier as she still counts in Italian (I didn't know that), that she felt that her translation skills had improved, and her vocabulary in both languages broadened. 
Despite the strangeness of this lockdown period, I really enjoyed playing school with Alice and loved seeing her eyes brighten up when there was something that interested her or when she had finally secured the concepts she was struggling with. But now we all, especially her, can't wait to get back to school. 
PS: The lovely learning packs I had bought have never been touched in these 10 weeks. I will have to force them upon Alice during the Summer holidays…
[ Modified: Monday, 22 June 2020, 8:54 AM ]
Comments