Site blog
Anyone in the world
This blog, written by Sallie Connochie at Henry Cort Community College, celebrates the first ever winner of the Hampshire EMTAS Heritage Honours Award.


Moving to another country, speaking a new language and learning to live in another culture always seems so daunting.  At The Henry Cort Community College we are always proud of the way our EAL (English as an Additional Language) students settle in and achieve success during their time with us but one student, Melania, has surpassed all our expectations and been awarded the first ever Heritage Honours Award. 
This award, an initiative of the Hampshire Ethnic Minority and Traveller Achievement Service (EMTAS), is designed to celebrate the significant linguistic, cultural and religious achievements of children and young people that, for whatever reason, are not ordinarily recognised by schools.  These achievements may have happened during the school day but equally may have occurred within the wider community, outside of schools' normal working hours.
During her short time here, Melania has not only achieved a grade 9 in her Russian GCSE and a grade 6 in her Citizenship exam, but has also supported EMTAS with promoting their online learning programme, provided mentoring support for her peers and guided the EAL provision at The Henry Cort Community College.
Chris Pim, EMTAS District Co-ordinator for the area, congratulated Melania for her achievements and for being the first ever recipient of this award. Chris presented Melania with her certificate and engraved pens.
Ms Cubbage, Principal, said: "I am extremely proud of Melania, she is a model student who has strived hard, not only with her own studies but has willingly given support to others.  She thoroughly deserves this award, and I'm delighted that she is the inaugural winner."


Melania has even been featured in an article in The News. Read the article here.
Congratulations to Melania on her achievement!

This article first featured on the Henry Cort Community College website. 
For more information about the Heritage Honours Award, see our Moodle page.
Please note, nominations for the Heritage Honours Award close this year on Friday 25th June.
[ Modified: Friday, 25 June 2021, 4:18 PM ]
Anyone in the world
In this blog, Claire Barker, Operational Lead of the Hampshire EMTAS Traveller team, provides an update on the work of the team and gives an insight into future projects.


Hampshire EMTAS includes a very active Traveller team who work closely with schools to support staff with cultural awareness of our GRT communities, to help improve attendance and to engage with GRT pupils about their attainment and aspirations for the future.
In the past, the team has worked in a similar way to our Bilingual Assistants, offering a number of fixed sessions of academic support for every GRT child referred to us.  Over the last year as part of a regrouping exercise, we have evaluated the purpose of our work and reviewed the impact it has had.  We all agreed the children enjoyed support sessions but once we finished, the children did not have face to face support from us again.  This meant that the impact was short-lived.  Unlike children who are new arrivals to the country and struggling with English, our GRT children do not experience a language barrier and can therefore be supported academically by the school day-to-day.  We looked at issues around GRT children and their learning and found that the key recurring barriers to their progress and attainment are: poor attendance, lack of literacy and slower rates of progression in general.  None of these issues can be alleviated by a fixed number of support sessions delivered across half a term.
The crux of working with the GRT communities is trust and we all agreed that this needs to be built up over time, working with the children and getting to know their families.  As a team, we want to work with schools to look at their GRT cohorts and work out how to accommodate small mentoring groups that will be visited at least three times a year.  On each visit, a member of the team will work with the children on literacy, attendance and attainment.  This will be linked to the school participating in our GRT and Showman Literacy Ambassador programme.  This programme is being further expanded to include an interschool GRT and Showman Book Club; this is still in its infancy so watch this space.
If you are interested in the GRT children in your school being part of our mentoring scheme and you are a Hampshire school, for more information please contact Hampshire EMTAS: EMTAS@hants.gov.uk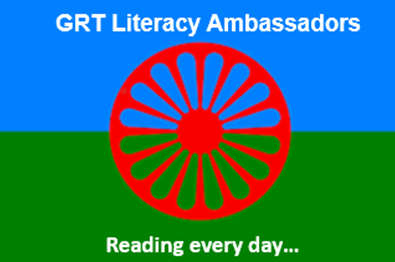 An important part of our journey moving forward is raising the cultural awareness of both staff in schools and agencies who work with our GRT communities.  We do this in a variety of ways: we have a termly network meeting held on TEAMS where teachers and other professionals can come together to discuss good practice for GRT children within schools and learn about any new ideas and projects.  We are also hoping to hold three GRT Roadshows to showcase good practice across the county.  These will be in Basingstoke, Winchester and the New Forest in October 2021 and we will send out details in due course.
We also hold Cross Border meetings with professionals from outside Hampshire with an interest in GRT communities and education.  These meetings are held on TEAMS and if you would like to take part please contact Lizzie Jenner to be invited: lizzie.jenner@hants.gov.uk  Our next meeting on 1st March is focusing on aspirations and aiming higher with presentations from Darlington EMTAS and the University of Sussex.

Hampshire EMTAS is keen to raise aspirations in our GRT children from an early age and we believe our new way of working through mentoring should help this.  We have coupled this with the introduction of Kushti Careers.  This is a suite of short videos by people who are currently from Romany Gypsy communities, who share their stories of how they valued their education and where it has led them in their lives today.  We hope to add others from the Showmen community, Irish Travelling community and Roma. The idea is to share it in schools to show that there doesn't have to be barriers to education because of culture and background.
We hope to have one of the presenters of a Kushti Careers video delivering a keynote speech at the EMTAS Conference on 9th July 2021.  Please make a note of this date in your diary.  It promises to be a great day, focusing on best practice for EAL and GRT children in education.
These are exciting times for the Traveller Team moving everything forward, preparing to return to schools and encouraging our GRT families to come on the journey with us so that their children's futures are aspirational and show how, in the 21st century, our GRT communities are benefitting from expanded horizons and opportunities.
Tags:
[ Modified: Tuesday, 2 February 2021, 2:27 PM ]
Anyone in the world
By the Hampshire EMTAS Traveller Team


Due to current circumstances and the impact on schools of the lockdown, we have decided it would be a good idea to move our celebration of Gypsy, Roma, Traveller History Month (GRTHM) from its traditional month of June to October so no one will miss out on our planned events. 
To this end, we are putting on three roadshows across the county.  The roadshows will be in Basingstoke, Winchester and the New Forest and there will be something for everyone from talks to exhibitions to Stepping with FolkActive.  The roadshows promise to be lively, entertaining and informative and will give our audiences a chance to see how Hampshire EMTAS works with its schools and GRT communities.
The roadshows are drop-in events with talks taking place between 4pm and 5pm after which people will be invited to take part in a stepping activity.  Stepping is a traditional form of dance that was initially a type of sport for working class men in the north of England and for Travellers.  Each dance is created by the individual dancer and does not follow any set rules – it is energetic and is often described as tapping or drumming with your feet.  It requires no previous experience or expertise and when the live music is playing, it is impossible not to move your feet.  Come along and join in. 
There will also be an exhibition of the Life of Showmen displaying the rich history of Showmen in Hampshire through the decades and a display of all the entries to the a postcard competition (details below). 
These promise to be lively events with lots of interaction, music and dance so save the date! The EMTAS Gypsy Roma Traveller History Month Roadshows will take place on:
1st  October: The Discovery Centre, Winchester, 3.30 – 6.00pm
8th October: The Discovery Centre, Basingstoke, 3.30 – 6.00pm
22nd October: Applemore College, Hythe, 3.30 – 6.00pm
We hope lots of you will be able to attend a roadshow near you.  We will soon be sending out a Schools Comm with further details and we'll be advertising the roadshows on our website as well as issuing personal invitations to all the schools, families and agencies we work with.  We look forward to welcoming you to one of these events and to getting to know you while you enjoy the exhibitions, talks and dancing. We hope to see you there!


The EMTAS GRTHM postcard competition

As part of our GRTHM celebrations, we are also holding a postcard competition.  It's open to all GRT children and there are three categories: KS1, KS2 and KS3/4.  We are launching the competition in June and need lots of support from our schools to make this a big success.  The winning postcards are going to be printed and, in liaison with schools, sent to GRT children all over Hampshire in recognition for their improved attendance and/or attainment throughout the year.  The winners in each category will also receive a prize and both winners and runners-up will see their postcards included in a full-colour calendar, something they can share with their families and feel really proud of.  We will be in touch about the competition and how you can support your GRT children to take part in it very soon.


Meet the Hampshire EMTAS Traveller Team
The EMTAS Traveller Team consists of
Sarah Coles (EMTAS Deputy Team Leader)
Operational Lead:             
Claire Barker (Specialist Teacher Advisor)
EMTAS GRT Officer:
Sam Wilson (Attendance, Admissions and Transport)
Traveller Teaching Assistants:
Julie Curtis with responsibility for ELSA
Steve Clark
Our work always has an education focus and comprises working in partnership with schools to support Traveller children and families.  At this time of year, we are heavily involved in transition work, supporting the move from infant to junior school for younger GRT children and from Year 6 to Year 7 for older ones.  New for 2019-20 is our GRT Excellence Award, a self-evaluation framework that can support schools to develop and embed best practice in relation to their work with GRT communities.  Also popular is our new GRT Reading Ambassador Scheme which is having a positive impact on children's progress in reading in the pilot schools where it has been running.  We can also support with attendance, admissions and transport applications and we can provide cultural awareness training to school staff.


Tags:
[ Modified: Wednesday, 3 June 2020, 9:49 AM ]
Anyone in the world
By Hampshire EMTAS Polish-speaking Bilingual Assistants Magdalena Raeburn and Katarzyna Tokarska.


Have you ever felt frustrated or out of your comfort zone because of communication barrier? Have you been on holiday abroad and found it tricky to explain what you need to your local shops, hotels or restaurants?
Imagine now, how much more complex and difficult a situation of an EAL child in a UK school might be. Try to put yourself in their shoes for a while… They come to the UK not for a holiday and not out of their own choice. They have to challenge themselves against a new language, new culture and a local community as well as the unknown school set of rules and regulations.
EMTAS Empathy Training will help you understand the complexity of the challenge that the EAL child faces every day.  The aims of the session are:
- To increase awareness of the challenges that EAL learners face in the UK schools
- To give an insight into Polish learners' cultural school differences
- To share ideas of how to approach the most common challenges experienced by the EAL learners. 
During the training you will have a chance to become an EAL learner in a Polish classroom by taking part in a practical group activity on the geography of Poland. You will be expected to understand the teacher's presentation, participate in a variety of activities, including group work, match the pictures, read and follow instructions as well as answer questions. 
Would it be 'only' a language barrier…?
The training participants concluded that acquiring the language is only a part of the bigger picture. Cultural traits, local history, geography and customs are also a part of learning when they are trying to integrate into the new reality.
Our 'students' admitted that it 'really made (them) consider other barriers than language'. 
They also discovered that the manifested child's behaviour in the classroom might have different roots rather than the 'obvious' ones… One of the participants said: 'Very useful to understand how they would/could come across as 'naughty' or 'distracted''. It was an eye-opening experience.  
Our workshop attendees revealed that their 'survival' strategy during the session was to answer 'yes' to any teacher's attempt of communication. Have you got such EAL children in your classroom? Our workshop 'students' said it was their technique to use to be left alone rather than having to participate in the activity they do not feel competent or confident with. Our participants also felt 'frustrated', 'confused', 'not very clever' and 'wanted to avoid being asked'.  They were 'easily disengaged', 'embarrassed when put on the spot', 'wanted to give up' and 'finally turned off'.
The session was an opportunity to face your own emotions as well as share the strategies, resources and ideas. Some strategies could involve researching information on the EAL child's culture, educational system as well as taking your pupil's personal experience into account.
When the EAL children join the UK classrooms, they need more than technicality of the language and pedagogical strategies.  They need our empathy at every step of their challenging, new journey. 
Take part in our empathy exercise at the Basingstoke EAL network meeting on January 28th. Limited spaces available and free to Hampshire maintained schools. For enquiries, please contact Lizzie Jenner, lizzie.jenner@hants.gov.uk.
[ Modified: Wednesday, 22 January 2020, 4:41 PM ]
Anyone in the world
Dawn Walters, Year R Team Leader at Hook Infant School, shares the exciting activities she planned as part of a Romany Gypsy Day she organised for her class.

[ Modified: Monday, 4 November 2019, 3:27 PM ]
Anyone in the world
By Hampshire EMTAS Specialist Teacher Advisor Claire Barker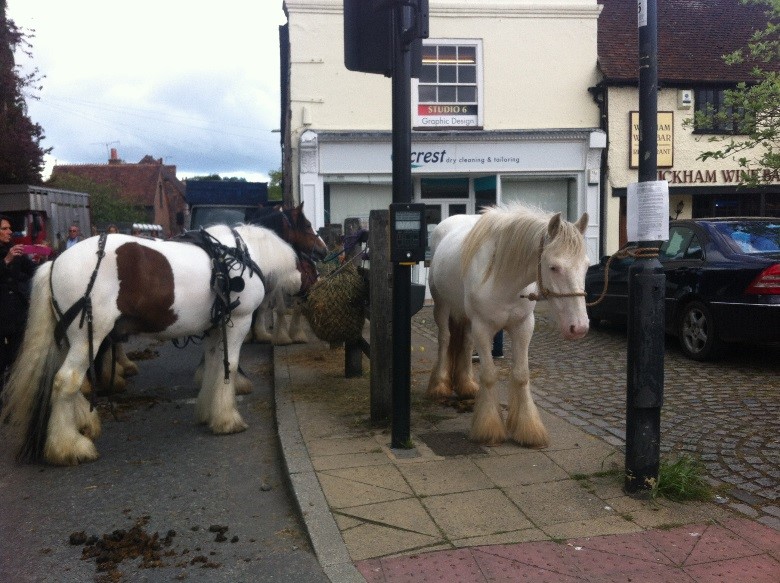 As the summer fast approaches many of us will see our Traveller children and their families disappear for the last weeks of term or dot in and out as they attend the most notable horse fairs around the country.  The horse fairs are a valuable and treasured part of the Traveller culture and should be shared and enjoyed in our schools that have Travellers as part of their school community.
The season always opens and closes with Stow Fair which is held in May and October.  It takes place at Maugersbury Park and thousands of Travellers come to the showground to trade and parade their horses.  This particular fair has been an annual event since 1476 when a Royal Charter was given for a fair to be held.
Locally, in Hampshire, Wickham Fair is always held on 20th May unless that day falls on a Sunday and then the fair will be on 21st May.  This year it is an extra special event as this is its 750th anniversary.  King Henry III granted a Royal Charter to Wickham in 1269 to hold the fair and markets in the town.  It was not a Gypsy Horse Fair at this time but in later centuries it became one of the main English horse fairs for Travellers.  A condition of the Charter was that a fair had to be held every year on that day so during World War II a local Traveller placed a carousel in the Square to keep the tradition of the fair going so it could continue after the war.
Appleby Fair is the big event of the year for Travellers and it happens in the first week in June and goes on from Thursday to Wednesday with the main events happening on the Friday, Saturday and Sunday.  Like Wickham and Stow fairs it was also granted a Royal Charter.  King James II granted a charter to Appleby in 1685.  Many Romany historians claim this fair is older than five hundred years with some claiming Travellers from the Roman times travelled to Appleby to trade and parade.
The fairs and the events surrounding them form a vital heartbeat in the Traveller communities.  It is a time when Travellers from Ireland, Scotland, Wales and England come together to share their traditions and values.  They trade together buying and selling horses and goods.  They eat together and socialise and there is lots of catching up with families from far and wide.  The fairs are often times for family weddings, baptisms and birthday celebrations as the whole family is together.  Many young Travellers meet their future partners at the fairs.
Romany, Irish Travellers, Scottish Travellers, Welsh Travellers and Showmen come together to ply their goods and catch up on the year's events. However, the Showmen tend to be at the fairs as service providers running carnivals and catering wagons for all of the Travellers.
Many of the families will take pictures and share them on social media and this provides schools the opportunity to discuss and find out about the fairs and the Gypsy, Roma and Traveller communities.
If you have a child from a Traveller community in your school and they are absent for a fair, take the time on their return to ask them to share the magic and experiences they have had.  Explore their world together and create a greater understanding of one of Britain's oldest communities and what they hold dear.
Tags:
[ Modified: Thursday, 9 May 2019, 9:47 AM ]
Anyone in the world
by Smita Neupane and Sudhir Lama, Nepali Bilingual Assistants with Hampshire Ethnic Minority and Traveller Achievement Service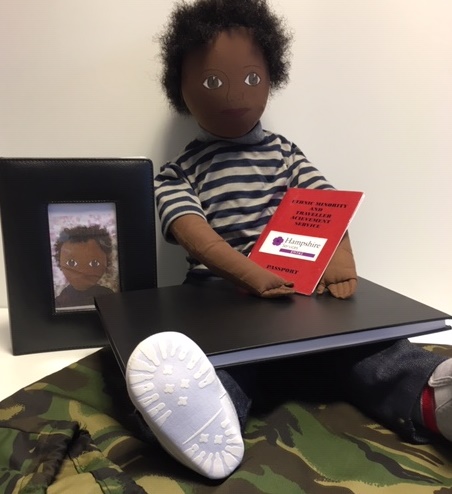 Have you ever used a Persona doll? Do you know how and why to use a Persona Doll? Persona Dolls are an ELSA resource and emotional literacy support tool used to initiate talk and to share experiences within the classroom. EMTAS were awarded an amount of money in an MOD bid to work with Infant and Early Years settings to introduce Personal Dolls to help all children cope with the demands of moving school, house, and even country with a particular focus on Service children. The Persona Doll project is also designed to involve the family and community and to share experiences with peers. It has an intergenerational element with the involvement of secondary pupils supporting the creation of some of the resources.
In the beginning…
Hampshire is an area rich with Service children across the length and breadth of the county and spanning all the educational phases. The project is designed to support Early Years children but to make it relevant, the experiences of older children was needed and had to be included in the package.
Initially, before the Persona Dolls had joined us, the work started at The Wavell School, with two Nepali Bilingual Assistants from Hampshire Ethnic Minority and Traveller Achievement Service (EMTAS) interviewing students with backgrounds from Fiji, Nepal, Malawi and Jamaica. They shared their stories and were open and honest about their experiences including the difficulties faced during transition and the worries about having a parent in the forces. They spoke of homesickness and missing friends and family, the foods they missed and aspects of their lives that had changed. Some of the students were UK born so had not lived in their parents' country of origin so they took time to find out as much about their culture and history as they could through their families and community. The students created talking books from this information that included pictures and speech both in English and first language. Some of the books included nursery rhymes from their culture and how to count in their first language. The books are proactive and help bring the Persona Dolls alive. The Wavell children chose the dolls and named them ready for their journey into their schools.
First steps…
When the Talking books were all prepared and each Persona Doll had its name and a passport produced, they were packed up ready to travel with their big note book to record their experiences. The dolls have been taken to infant and primary schools all over the county and the idea is that they stay in that school for roughly half a term and then they are off on their travels again. The doll is taken into the school and introduced into the class where it will be staying and the children get to ask it questions and to find out what it likes and dislikes. 
Some ground rules were set:
doesn't matter how dirty the doll gets

no face painting, hands or feet painting of the doll!

it is not to be used as a reward

it has to be included on the register

it has to have its own seat, peg etc.

it has to have lots of different experiences

everything has to be recorded in the Persona Doll's book and shared.
The first doll to leave EMTAS was Himal, a Nepali boy, and he went off to Talavera Infant school and Becky the class teacher. Becky and the class totally embraced this project and the work was amazing. Himal attended an Eid festival where he was gifted new shoes.  He went to a Christening. He went to a hot tub party (but just watched). He also shared his feelings about moving to a new school and how this made him feel.
The Persona Dolls generate lots of discussion with the children. It encourages them to think about how they feel when they experience trying something for the first time.  It makes them think about what a good friend is and how a good friend can support a new arrival. It allows the children to talk about things that may worry them about transition and about what is happening in their lives at home and at school.
Desired outcomes …
It is hoped that the eight dolls will continue to transition from setting to setting and may even revisit schools they have been to already as can happen with Service children.
One of the aims of the project was to help build up pupil self esteem and confidence.  It is hoped that through exposure to the stories children will want to talk and share their own feelings and experiences. Through listening to each other's experiences it helps children realise that they are not alone in what they are feeling and it is okay to feel that way.
While the project has a fun element of taking the doll to different celebrations and events it is also teaching social and emotional skills through communication and responsibility.
The feedback so far from two schools has been very positive and the children have loved having their guest to stay and were really sad when they left.  This too helped teach pupils resilience as many children feel unhappy and lost when their best friend moves on and this helps them build up coping strategies to deal with this and invites discussion within the classroom to look at feelings.
Do you want to be part of this?
If you are a Hampshire school and would like to be part of this ongoing project please email Claire Barker, claire.barker@hants.gov.uk. We would be delighted to have you come on board and training is available this term.  
Please see our website for further information on the use of Persona Dolls.
If you are a school outside Hampshire and would like a chat about how to set this up in your area, please contact Claire Barker, claire.barker@hants.gov.uk.
[ Modified: Wednesday, 23 January 2019, 11:09 AM ]
Anyone in the world
Sarah Coles shares the start of her PhD journey with the first two instalments of a journal-style account of her reading for the literature review and methodology chapters of her thesis.  She is planning to research the language learning journeys of UK-born EAL learners as they enter Year R but before entering the field, there are books and articles to be read and planning to be done.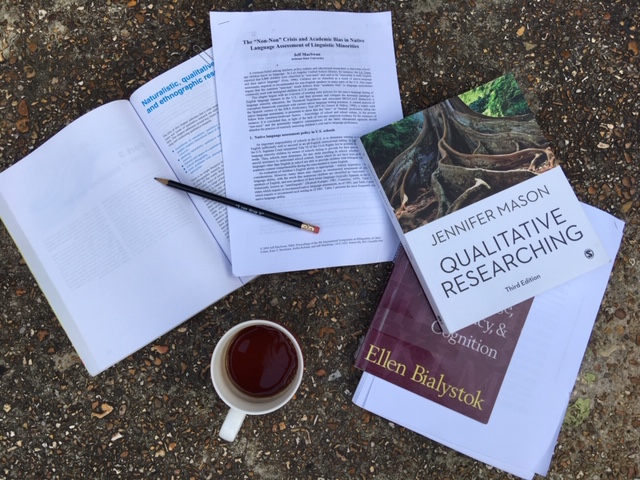 Week 2 of Term 1 (2018-19) and the summer has faded in more ways than one, which coincides with an interesting bit of a book I have been reading for my PhD.  The book is about Second Language Acquisition and makes the point that most research into this has a focus on learning the new language.  While this is of course interesting with many, often competing, views vying for attention in the literature, the authors suggest that language attrition – or 'forgetting' – is equally interesting.  They say that all our languages form part of a complex, dynamic system in our brains that changes continuously and they put forward a simple rule which states that information we do not regularly retrieve becomes less accessible over time and ultimately sinks beyond our reach.  In relation to our languages, these are in a constant state of flux, they argue, depending on the degree of exposure we have to each.  Talking to colleagues about this in the EMTAS office, they said they had noticed changes in their own languages over time.  Kamaljit talked about how her ability to write in Hindi has decreased due to lack of use, whilst Ulrike and I had both experienced difficulties with word retrieval and with one language affecting the other in different ways.  For instance sometimes, because of immersion in Turkish all those years ago, I would respond in Turkish to members of my immediate family who don't speak the language when I went home for a holiday.  They were grateful that this passed fairly rapidly, though I observe my languages have been shuffling around in my mental filing cabinet ever since.  Mostly, English sits at the front and comes out first, Turkish is a bit further back but in front of French, pushing French out of the way when I am in France much to the bemusement of the French – the majority of whom don't speak Turkish either. 
Week 3 of term 1
Alongside the day job, I have carried on reading for my PhD studies and my focus this week has been on qualitative research methods.  One thing I need to consider carefully is my own impact on the situations I will be researching because even if I am only there to observe, this in itself will influence not only what happens but also how I interpret what I see.  Clearly in a classroom situation you cannot see absolutely everything that happens, never mind be able to record it all in handwriting that you can read back afterwards.  There will be much that you don't see at all, and also much that you do see but that you don't record – which isn't to say it's not useful or relevant to the area of research, just that there will be inevitable casualties due to the pragmatic aspects of what you're able to do as the researcher.  Anyway, the long and short of it is that researcher bias is something I will need to be aware of as according to several different authors, you can't remove it from the equation.  Rather, you need to be aware of your point of view, your previous experiences and prior knowledge and how these things colour the way you see and hear and interpret events in order to manage the impact of your own bias on your research.  It is interesting to me to consider too how language and cultural differences might impinge on methods like interview, and there is a lot to think about when you are planning to use this as a tool to elicit data from people.  You could, for instance, have a set of predetermined questions and you could just ask people those.  Or you might find this too interrogative a way of doing an interview which just doesn't fit with what you are trying to achieve – which in my case is a full, rich picture of people's lived experiences and views.  So I am thinking about a more flexible approach, possibly around doing some mapping of languages, people, communities and the like while people talk, which won't look much like the sort of interview I mentioned first but will hopefully give me the sorts of data I am looking for. I have yet to read the chapter on coding, so there is a chance I may change my mind about this. Keep tabs on the journey as it unfolds using the tags below.
[ Modified: Thursday, 19 December 2019, 1:07 PM ]
Anyone in the world
There is a commonly held notion that mathematics has a universal quality that ensures learners have a relatively equal opportunity to succeed, whatever their background. But is this generally true when it comes to pupils learning English as an additional language (EAL), or does it require qualification and a much more nuanced analysis?



Introduction
It can't have escaped your attention, whether as an educator or parent, that there is some angst nationally over standards in mathematics compared with other nations. Whether this is a genuine problem and that the root causes can be easily explained is for another article. However, it is true that the UK differs from many other countries in the amount of language that is deliberately interwoven into the mathematics curriculum. This is important as the expression of mathematics through a linguistically rich curriculum may present barriers for learners who are not working at age-related expectations in English. This approach might also present cultural inhibitors, whether because children lack a degree of cultural capital as result of their upbringing or because they and/or their parents were educated abroad.
Pupils educated abroad
Pupils educated abroad, especially older EAL learners who have had an uninterrupted education, will have studied a lot of mathematics; finding out about their mathematical experience and ability can be problematic when they first arrive. However, it is true that mathematics is one subject in which newer to English learners have some chance to demonstrate their prior learning because it is less dependent on language than many other subjects. Testing and baseline assessment of mathematics can be helpful but the results need to be treated with caution. Whilst it is tempting to assume that mathematical approaches are similar across the world, the reality is very different. Numbers are not just numbers when a learner has routinely used different numerical symbols to the Hindu-Arabic numerals used in Western society. Not only this, but symbols, like an equal sign or a multiplication symbol, can be denoted differently. The fabric of the curriculum differs widely as well. We often find children are way ahead in certain disciplines such as algebra or calculus yet have limited knowledge of others like shape or perimeter. The mechanics of solving problems are such that a child may be secure in a method which is entirely different to those taught in UK Schools. Indeed, children abroad are not necessarily routinely taught several different methods and may find it hard to consider alternative ways of approaching a problem, particularly if they are already secure in one way.
The mathematical problem
As I am sure you are aware, our mathematical problems tend to be very wordy and the way that questions are expressed, particularly in exams, can be difficult for some EAL learners. The English is stylised, particular to mathematics and quite unlike the way that we talk or even write on a daily basis. I would also argue that most mathematical questions are culturally bound, making implicit assumptions about what experiences pupils will or will not have had, whether UK born or not.
To illustrate this quandary, consider the following problem:

At yesterday's match 650 people watched Arsenal play on the big screen. Half of these fans bought a programme at £2.50 each.
- How many fans paid out?
- How much money was spent on programmes altogether?
Firstly, this question like many you will see in examination papers, lacks a comprehensively clear context. There are no visual clues and the setting, related to a football match, is implied but not explicitly referenced. If you don't know about 'Arsenal' you are at an immediate disadvantage. The problem revolves around buying and selling 'programmes' which may be beyond many pupil's experience if they have never attended a football game. The use of the word 'programme' is problematic as it can all too easily be linked with the phrase 'watching on the big screen' and interpreted as a TV programme. Like the word 'programme', there are other homographs as well, such as 'match' and 'fan' which may cause confusion. The relevant numerical operation is bound up in words like 'each' and 'altogether'; words like this that imply a specific numerical operation, and there are many, need to be explicitly taught to EAL learners. The question also features the phrasal verb 'paid out'; this type of language is extremely hard for English beginners.
The implications for EAL learners are far reaching. If you are working with children at an early stage of English acquisition you will need to consider both the linguistic and cultural demands of the mathematics curriculum. Making the mathematics more comprehensible will require thought and preparation - whether through the use of imagery, first language explanation, mathematical glossaries or other forms of personalisation.
Tags:
[ Modified: Tuesday, 15 May 2018, 8:52 AM ]
Anyone in the world
Some Traveller girls find themselves growing up and facing body changes without any idea about what is happening to them.  Claire Barker and Sam Wilson, Hampshire EMTAS GRT experts, discuss how this state of ignorance is due to cultural taboos widely held within the Traveller communities.
Tackling taboos without causing offence
It is often scary as a classroom practitioner to raise sensitive issues with parents when you are unsure if you are going to cause offence or not.  In our work with the Traveller communities we are aware of some of the subjects that Traveller families find hard to discuss amongst themselves and impossible to discuss with people outside their communities.  Schools are under increasing pressure to ensure all children are educated in Sex and Relationships Education (SRE) and from 2019 parental choice will be removed and SRE will be made compulsory.  This will pose a challenge for schools that have Traveller students on roll.
Many Traveller families do not believe that any sex and relationships information should be shared with their children and these should be learned through experience as they mature and marry.  This can seem short sighted to people outside the Traveller communities and difficult for many people to understand in this day and age.  It is very important for many Traveller parents to ensure that their girls are kept pure in body and mind and this means no information relating to sex or relationships is discussed within the family.  Many Traveller parents withdraw their children from all Personal, Social and Health Education (PSHE) as they are afraid of what their children may learn.  Words like 'periods', ' menstruation' and 'pregnancy'  are taboo in many families and may be replaced by terms such as 'monthlies' and when  a Traveller woman is pregnant, the pregnancy  is not acknowledged by the children.
How do I deal with this as a classroom practitioner?
For a classroom practitioner who has to deliver the advised PSHE curriculum it can be a minefield of taboos and potential to offend if you have Traveller children in your setting. It may sometimes even lead to Traveller children being withdrawn to be Electively Home Educated (EHE). Traveller parents seek to protect their children from outside influences they feel may be damaging to their child.   There are sensitive issues that can sometimes be difficult for the non-Traveller population to understand but in our diverse society in the 21st century we as professionals need to be aware of the issues and to have considered ways of dealing with them in order to avoid offending the GRT communities and contributing to the rise in EHE statistics.
Taking the first step
The first step in tackling the taboos is to speak to the community involved so you gain a better understanding of why something may be considered offensive or forbidden and the rationale behind the thinking.  It is important not to be judgemental as often cultural beliefs may not mirror our own but we must look at ways to work together to reach a common ground and understanding to benefit the children.
To this end myself, an EMTAS colleague and two school based colleagues met with some Mums from Traveller communities to ask them what they knew about PSHE and what it was that worried them.  We did this in an informal coffee event and it generated a great discussion with both sides learning lots.  The Traveller Mums agreed that when they heard PSHE they withdrew their children and kept them off for the whole day.  They were surprised by some of the topics covered by PSHE and agreed their children would really benefit from sessions on topics like Stranger Danger and Road Safety.
We invited the Mums back to see all the resources used from Years 3 to 6 and to look at power points and schemes of work.  They loved bits of it, hated bits of it and were totally shocked by bits of it.
We then discussed how their girls found out about their body changes and they said they didn't – it just happened.  Sometimes if they have an older sister or a close cousin they may have told them but it wasn't a Mum's place to talk about it.  We asked if they would consider us doing it without mentioning sex or relationships just what to expect from their bodies.  The Mums were thrilled with this idea providing we taught them the lesson first.
Our school based colleagues thought about how to tackle this and came up with the idea of a 'Girl's Bag'.  They made up a lovely drawstring bag in a pretty print filled with everything a pre-teenager may use.  It had dry shampoo, deodorant, false nails, nail varnish, shower gel, a razor, hair remover, a trainer bra and a packet of sanitary towels.
We invited the Traveller Mums back in and told them how the Traveller girls and any other girls who had been withdrawn from SRE/PSHE for what ever reason would be invited to the session with parental permission when we delivered it in school.  The Mums then did the lesson with us, it is important to note that this was done with only female staff present as this topic is totally taboo for GRT men.  We each drew out an object and we discussed if we used it and what we used it for and if we liked the colour, smell etc.  When the sanitary towels were taken out of the bag, the packet was opened and the teacher explained what it was used for and why every girl would need them.  It was talked about in generic, practical terms with no mention of why this happens to your body apart from it being part of becoming a woman.  The Traveller Mums loved the lesson and said how they wished someone had done this for them.
However in another school the Traveller Mums felt it was too late for their girls and in their family older sisters had helped their younger siblings.  They asked what we were doing for boys and to be honest, the answer was nothing.  So we decided to go with the same idea and create a bag to explain to the boys what they needed to do to be sweet smelling and hygienic.  The Traveller Mums liked this but said they wanted some information included about self examination and testicular cancer which could happen to a teenage boy.
Never deterred by a challenge, we acquired prosthesis testes that had been created with a lump so the boys could feel what they were looking for.  The sample lesson with the Traveller Mums had to be carried out by me as a woman but the session for the Traveller boys had to be carried out by a man as it wouldn't be acceptable for a woman to discuss anything sexual or body related with boys.  Again it was a great success.
Moving forward…
It is still quite an innovative idea;  there is a lot of work and relationships to be build  with the Traveller communities to make this part of the SRE curriculum in schools.  Will it ever truly take off and be acceptable?  This is doubtful as schools need to be culturally aware and  the GRT communities are slower moving with regards to education and their children but it is a step in the right direction of offering support whilst fully respecting the culture.  The continuing work has to be the building up of trust between schools and the GRT communities so a relationship can be established to allow taboo subjects to be discussed in the interest of the GRT children while staying within the boundaries of cultural acceptance.
[ Modified: Tuesday, 26 November 2019, 3:34 PM ]