Site blog
Anyone in the world
In Diary of an EAL Mum, Eva Molea shares the ups and downs of her experience bringing up her daughter, Alice, in the UK. In the latest instalment, at the end of Lockdown 3, Eva reflects on Alice's first 6 months in secondary school.
Last time I delighted you - my affectionate readers - with my comments on Alice's education, we had just started Year 7 and barely managed to get through all the set-up steps needed for Alice to be a well-functioning secondary school student. Let's recap some key points:


Uniform hunt:

by the end of September, we had all the right bits and pieces, and Alice was a pro at doing her tie. We had seen some additions to the full array, like the embroidered cardi (that Alice had never worn because it was too uncomfortable under the school blazer), a V neck navy sleeveless jumper (that Alice had worn only once because she was afraid of being laughed at by other children) and different styles of hats, scarves and gloves to brave the morning chill. Obviously, during lockdown, she had a growth spurt, so we have been on a trousers-hunt again. On most websites, her size was sold out, but I managed to get a pair from the school second-hand uniform shop. That is a good starting point to get spares or items needed for a short time (and short it will be this time, as Easter holidays are just a few days away), and it supports the school finances!
                     


Apps: In September, I had drunk many cups of tea to get all my apps up and running, and I am proud to say that I was on top of everything. Since the beginning of Lockdown 3, camomile has become a permanent fixture in our cupboard. More than once we had issues with logging on to the learning platform or getting into the Zoom lessons. Nothing that a bit (= a lot) of perseverance and a phone call to the school could not fix. The school has been very understanding, and the Reception Ladies should get a bonus for their unlimited patience. When things were getting too slow for the three of us to be able to work at home, my husband agreed on a WiFi upgrade (the broadband market offers many solutions, it only requires a little time to look at them), which helped a lot. To ease the traffic on the band, sometimes I still had to tether from my mobile phone or, even better, stop working for a couple of hours and read a book instead. Which was a treat! (One of the advantages of working part-time!)

Besides the normal challenges that any newbie secondary school parents/carers and children would have faced, lockdown has put some more hurdles on our path. But every cloud has a silver lining and there are some positive outcomes as well. I have asked Alice to give her views on a few points:

Technology:

Alice: During lockdown, having my own laptop has been great because we all needed a device to work on. The WiFi has been a bit up and down, but since the upgrade we have been fine. I have learnt how to use different conferencing software, like Zoom, and have improved my presentation skills with PowerPoint. Now I know how to scan and print from my phone or laptop and I have found some nice apps that allow me to draw on my tablet.

Eva: Alice has become very independent with the use of technology, and this is a life skill that will always be handy. Devices have eventually evolved from portable TVs to multipurpose objects: from attending her lessons to dancing, and from chatting with her bunch of friends to online gaming. Alice has improved her ability to use the online bilingual dictionary and thesaurus (we use wordreference.com, which comes also as an app), to research online and to check reliable websites (we have used many of the free resources for distance learning available on the EMTAS moodle). We have discussed online safety and I have reviewed my parental controls on all her devices. Without being too intrusive, I have regularly asked her what she is doing online and who she is playing with. So far, everything seems to be under control. In case you need guidance, here is the EMTAS booklet on safeguarding available in different languages.
 
Homework:

Alice: Before lockdown, the amount of homework was just right, but sometimes I struggled to find it because it was not always listed on the homework platform. During lockdown, we have had hardly any homework, apart from Science, which was always posted there. I enjoy doing projects, like the maracas I made for Mum in D&T. I find it easier to complete homework which can be printed out and done on paper or which involves some creativity.

Eva: Homework is still a mystery to me. Coming from a different schooling system, I expected that from Year 7 students would consistently get homework for every subject, but I have not seen this happen yet, especially during lockdown. When it is time for the daily homework, my life – and I am sure I can speak for most parents – would become much easier if all homework were to be consistently listed on the homework platform, and that no homework was marked optional as this label usually leads to useless arguments always ending with a grumpy child.
 
Screen time:

Alice: Probably, we have had a lot of screen time, especially during self-isolation and lockdown, but our generation spends a lot of time in front of a screen anyway.

Eva: To be honest, during lockdown I found it very hard to get the right balance of screen time, especially when everything was taking place online. Looking at the parental controls, we have noticed that some weeks Alice has been on her laptop for over 40 hours (more than a full-time employee), which included schoolwork, extra-curricular activities, chatting with friends and watching movies. In these peculiar times, as long as she respected the rules that we had given her, it was fine by me – but a bit less by my husband, who would send me to the front to fight the perennial battle on screen time. Why do I always have to play the mean one?
 
Physical activity:

Alice: At school I really enjoy playing sports with my friends. I had started to play netball as an after-school club, which I really liked as it is a team sport. During lockdown, I attended my PE lessons on Zoom and have been out walking with Mum when I had to, but I did not enjoy one bit the remote PE classes because I missed the happy atmosphere of the school and being with my friends. Not having to get up at 6.30am was great, and I got to sleep one more hour every day.

Eva: The words "physical activity" made Alice feel sick. I literally had to drag her (and my husband) out of the house. I even offered to pay her for every time she went for a walk. She is none the richer... Fortunately, the school changed the plan for PE, so one class was on Zoom and one was to be any outdoor activity that could be recorded on the school's private Strava profile. They even awarded house points for every km done, and family members' kms counted towards the house points too. Alice considered suggesting that I took her phone out for a walk, so that she could get the points, but thought better of it :D
 
Mental health:

Alice: In the last three months, I have had some ups and downs. I felt very lonely and sometimes demotivated to do anything. But I am very happy to get back to school. I believe I have grown up a little during lockdown and become more responsible. My worries have grown too. Normally, despite the amount of revision I do, school tests make me very anxious, and this happened even during lockdown. Now, I worry also about how other people might see me. Spending break times with my Mum, as well as having lunch together also with Dad, has helped make me feel less lonely. Mum even did some PE lessons online with me. During morning breaks we played games, as well as drawing, dancing, and having a snack. Food has been a highlight in our house during lockdown. We have been experimenting a lot in the kitchen.

Eva: Lockdown 1 and 3 have probably been the most surreal times in the life of most people, mine too. But they have also given me the luxury to spend so much time with Alice, that normal life would have never allowed for. We played many different games, some language based like Taboo, as well as digging out our art box and giving different things a go. I bought Alice several information books, covering mental health for teenagers, politics and philosophy for beginners (all published by Usborne), to stimulate her to read information books as well as fiction, and we discussed things in Italian, so she has acquired a lot of new vocabulary. I always praise her for her amazing abilities in both languages and have noticed that this makes her feel proud of herself. The important thing for me was to make sure she knew I was there for her. We have had a lot of small chunks of quality time together, and a solid routine, which gave Alice consistency throughout lockdown.



 
New skills:

Alice: Lockdown has had some good effects too. My table manners have gone back almost to Mum's high standards, which is nice. Mum has given all the family the challenge to be able to speak some Spanish by December 2021, so we are all learning a new language on Duolingo. I have improved my cooking and baking skills and am much more confident in the kitchen. On weekends, I prepare coffee with the moka (traditional Italian way of making it) for my Dad and he says it tastes good. I have learnt how to sew buttons and mend small tears. I have attempted knitting, not very successfully yet. And, I have started my pointe classes, and I love them.

Eva: Never a dull moment in our house, there is always some crafts going on. Lately, Alice's passion is making plated bracelets, so we have bits of colourful wool everywhere. With Alice learning Spanish at school, to encourage her language skills, I set a challenge for all the family using an app. Needless to say, constant encouragement and reminding are needed… We have made sourdough, so Alice has been cooking and baking, following traditional Italian recipes. It is a miracle we have not become more large than tall…
 
Getting back to school in Covid 19 times: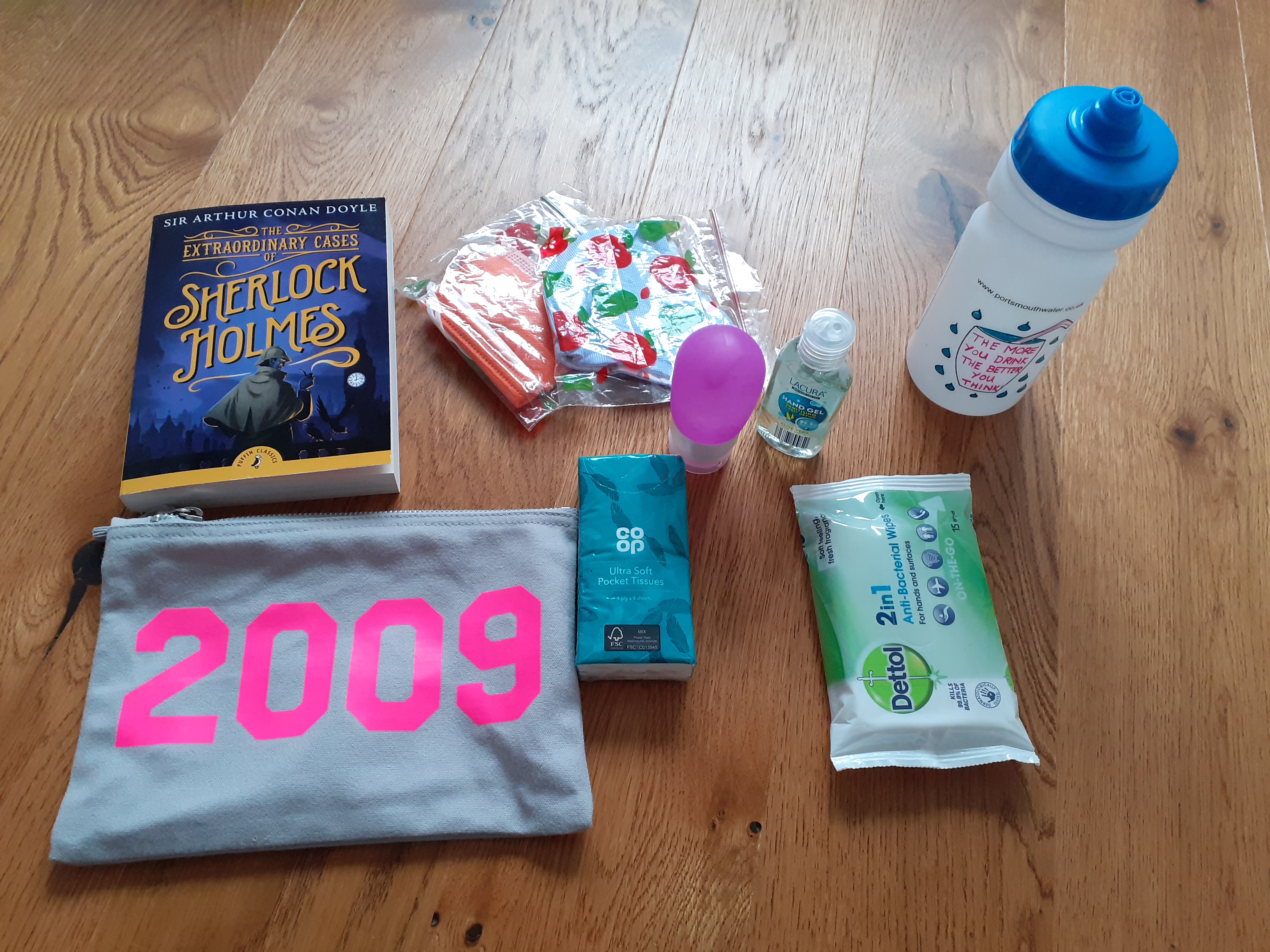 Alice: Coronavirus worries me quite a lot, but I am confident that the school will do everything they can to protect us. We need to follow the rules so we will not have to stay at home again for another lockdown. It has been explained to me how the testing works and it does not worry me much, even if it is disgusting. I am only afraid I might go too deep in my throat with the swab when doing it on my own, as when I had to take the Covid 19 tests, Mum or Dad did it for me.

Eva: Since the beginning of the school in September, we have experienced self-isolation because of Alice being a close contact of a friend who tested positive and also during lockdown 3, because I tested positive. The fact that we both had very mild symptoms has lifted some of her worries about the effects of the virus. We found it beneficial to stop listening to the news 24/7 because this was worrying her unnecessarily. We made sure that, at all times, we were compliant with the Government guidance, we explained to Alice what she could do (e.g. see one friend outdoor for some exercise) and what she should do (hand, face, space), provided her with all the necessary items (masks, hand gel, tissues, antibacterial wipes) anytime she went out and crossed our fingers that everything would be just fine.
 
In a couple of days, Alice will be back at school (she has already packed her bag and prepared her uniform), I will be back at work (I have packed my bag ready for my first school, including my badge) and my husband (who has helped pack both our bags) will enjoy himself, being the undisturbed king of the house. But only for a few hours... 
[ Modified: Friday, 26 March 2021, 2:39 PM ]
Comments