Site blog
Anyone in the world
By the Hampshire EMTAS Specialist Teacher Advisors




This last year has been busier than ever for the EMTAS team.
 


Our Bilingual Assistants (BAs)

, led by our BA Manager Eva Papathanassiou, have been working tirelessly, 

remotely 

throughout the national lockdowns 

and

 then

, when

 it became

 possible,

 in person,

 

providing support to pupils, families and schools. 

Much time 

has been

 spent by our BAs supporting children and families with accessing online learning.



We have seen an increase in the number of referrals compared to last year

 and have been busy ensuring that all requests are responded to

. The most popular languages referred to us this year have been Nepali, Polish, Romanian, Arabic, Turkish, Portuguese and Cantonese.


Our language phone lines have also been popular. The phone lines are available to support with sharing information with parents/carers, answering any questions they have and helping with home-school communication. Contact details and the list of languages can be found 
here
. 


Over with the Traveller team, new this year a series of termly GRT-focused network meetings were held online. These will continue to be online through 2021-22 in order to make them accessible to staff in schools across the county. Like our other network meetings, they are free to attend for Hampshire-maintained schools. To find out when the next ones are, check the 
Training section
 of the EMTAS website.


The EMTAS Admin team have continued to offer back-office support, maintaining records, sending out resources and dealing in impressively efficient ways with new referrals that have been flooding in from schools since the end of the last lockdown.  
EAL/GRT Excellence Award


We are delighted that over 60 schools have started to work towards their EAL or GRT Excellence Awards this term.


Congratulations to the following schools who have successfully submitted or completed the validation process this year:


EAL
Petersfield Infant School

 

John Keble C of E Primary and Ampfield C of E Primary Federation

 

Awaiting validation for Bronze

 

 

Manor Field Infants

 

Validated at Silver
GRT
St John the Baptist C of E

                                                         


Heritage Honours Award 



The EMTAS Heritage Honours Award, launched this academic year, celebrates the achievements of children from BME, EAL and GRT backgrounds at school and within the home/community. Children and young people can be nominated for an award by the school they are currently attending.


More than 65 successful nominations have been made this year. Reasons for nomination variously include success in heritage language examinations, practical and creative use of first language within the school environment, sharing cultural background with peers, acting as an empathetic peer buddy, success in community sporting events and excellent progress in acquiring EAL.


Congratulations to all the children and families involved. 
Find out more 
here
.
New e-learnin
g
The team has been busy developing new pieces of E-learning this year which will be 
available from September 2021. 
-  Supporting children and families from Gypsy, Roma and Traveller (GRT) backgrounds 

-  
Developing culturally inclusive practice in Early Years settings
-  The appropriate placement of learners with EAL in groups, sets and streams
The e-learning modules can be accessed on our Moodle here
.
Supporting English as an Additional Language (SEAL)

 


This is a course aimed at Teaching Assistants and it covers key aspects of practice and provision in relation to pupils for whom English is an Additional language.  The full course comprises 6 modules which are delivered one a term over two years.  There is a new SEAL course starting in October 2021.  
For further details, please go to the 
Training section
 on the EMTAS website.


Guidance Library

 


Thank you for all the positive feedback we have received about the remote support we have provided in the Guidance Library section of our Moodle. We will continue to add to this next year. Access our Guidance library 
here
.
EMTAS Blog


This year, we have published 20 blogs, written by a range of practitioners, including EMTAS Bilingual Assistants and Specialist Teachers, school-based staff and University students. We look forward to continuing to publish a fortnightly blog next year.


If you would like to contribute, please do get in touch with Astrid Dinneen 
astrid.dinneen@hants.gov.uk
 (who would like to say a massive thank you to Jamie Earnshaw for editing the blog so beautifully during her maternity leave).
 
EMTAS Resources Update

 


This year, we have been busy adding to our Resource Library. Below, we have listed some of the resources available to loan. You will also find a link to our online catalogue, so you can view all the resources we have available.



Story Packs

 




Each book has a series of props, made from key characters/events in the story, on lolly sticks (six of each prop), plus six copies of a key phrase that is used throughout the book. This resource can then be used with a group of children, who can enjoy telling the story in their own language, or share in English, using the props, or in many other ways. The resource can be lent out with one dual language version of the book.


Some of the stories we have include:
- Sports Day in the Jungle
 – Hungarian, Polish, Portuguese, Russian, Spanish
- The Hungry Caterpillar
 - Punjabi
- Brown Bear, Brown Bear, what do you see?
 – Arabic, Albanian, Bengali, Chinese, Portuguese, Somali, Turkish, Urdu, Shona, Hindi, Panjabi
- Farmer Duck
 – Bengali, Chinese, Malayalam, Turkish, Urdu, Bulgarian, Japanese, Panjabi, Romanian, Hindi, Nepali, Polish, Tagalog, German
- Monkey Puzzle – Brazilian Portuguese


EAL Story sacks


We have in stock a selection of EAL story sacks. They come in stories suitable for KS1. 
They have the story book, story props, and an audio CD of the story. Plus, they have a DVD with printable resources of activities for children with EAL.
 

Fiction for older readers


For the later primary and early secondary age (10 – 14 years), we do have many stories that can be enjoyed, in a variety of languages. We also have some of the very popular choices of fiction, such as Harry Potter and Tom Gates, in some languages.
GCSE texts


We have a range of GCSE texts available to loan, such as 

A Christmas Carol, Animal Farm, Macbeth, 

and 

Romeo & Juliet

, available in different languages including Polish, Portuguese, Bulgarian, Italian and Spanish. 

There are direct translations, thesaurus versions, graphic versions and GCSE notes.

 


Exam Dictionaries


We have a large range of exam dictionaries, which are word to word only and do not have a definition or what the word means. 
 

New books for older readers with low reading ages




We now have a range of reading books available, primarily aimed at secondary school aged students who have low reading ages but many are also suitable for upper primary school aged pupils too. They have been written specifically with older readers in mind and so the content has been chosen to interest this age group, ensuring that the readers do not feel that the books are 'babyish' even though the text itself may be relatively simple.   


The reading ages of the books range from approximately 5-6 years old to around 9-10 years old. They have been divided into nine groups so that books with similar reading ages can be easily identified. Books from a particular colour band for an individual student can be borrowed, matched to their reading level, then, as the student's reading skills improve, a book from the next colour band up could be borrowed as their reading skills improve.  


These books would be suitable for older new arrivals who need support to develop their reading skills in English and for whom reading books aimed at younger readers would not be suitable.  They would also be appropriate for older students with EAL who also have SEND or for older pupils from Traveller backgrounds who are still developing their reading skills.  
 

A word of warning about using these books with UASC and refugees – there are some titles within this group of books that are 
not
 suitable for use with UASC or refugees due to either the genre, content or illustrations. This is because these children and young people may have experienced trauma either in their country of origin or during their journey to the UK and some of the books may remind them of this. 
 

EMTAS Library Catalogue


The EMTAS Library Catalogue can be found on our website 
here
. Use the search box at the very top right-hand side of the screen to search for resources in a particular language. You can then email our Resources Manager, Julie Yates, who will arrange for the resources to be sent out via the courier.
Staffing 



At the end of this term, we will be bidding farewell to a number of colleagues. 


Chris Pim, who retires at the end of the summer term, has been a member of the EMTAS Specialist Teacher Advisor team for many years.  Schools in Fareham and Gosport will know him particularly well as he's been their District teacher and has provided ad hoc advice and support as well as network meetings and other training opportunities.  Until handing over to Lynne Chinnery in September 2020, Chris was also often to be found in schools in Havant and Waterlooville performing a similar role. 


Chris's particular interest has been in the use of ICTs and he leaves a fantastic legacy in this area.  His project on the use of immersive gaming as a driver for writing was exemplary EAL practice in the classroom.  He's been instrumental in conceiving of and developing the EMTAS EAL e-learning available to schools across the county as part of the SLA.  The EMTAS Moodle, the blog, the videoscribes and the app 'Big Ideas' were other contributions made by Chris to the resources available to staff in schools.  He led on the project that looked at Hampshrie's Fijian communities, resulting in a dual language book about Rugby being produced, along with two new Fijian/English versions of titles in the Mantra collection of dual language books.  We also have Chris to thank for the new Heritage Honours Award, the subject of a recent blog from Henry Cort.  All at EMTAS will miss him greatly. 


On the Bilingual Assistant team, we say goodbye to Cintia, who has been working with our Portuguese speaking children and families, and Marianne, who has been supporting our French referrals. We wish them the best of luck in their new ventures.
We extend a warm welcome back Astrid Dinneen, who returned in July following maternity leave. Astrid will be back working with schools in Basingstoke & Deane, along with overseeing the blog and the Young Interpreter Scheme, and much more!


As a result of the staff changes to the teacher team, there will be some changes to the geographical areas the Specialist teacher team will be covering from September. Helen Smith has spent the last year supporting schools in Basingstoke and Deane but, from September, Astrid will be resuming her work in this area. Instead, Helen will be supporting schools in Test Valley.  As we bid farewell to Chris Pim, Jamie Earnshaw will be taking the lead in Fareham and Gosport. 


We also welcome Abi Guler to our Bilingual Assistant team.  He will be working with our Turkish families.
Finally…


We have some exciting projects up our sleeves for 2020-21!


After having to be postponed on two occasions, we are very much looking forward to our EMTAS Conference, which is to be held on Friday 15
th
 October.  


We will be continuing to hold our termly network meetings. Check the 
Training section
 of the EMTAS website for dates and to see what these sessions will cover.


Following the support we provided to students completing a Heritage Language GCSE this academic year, we look forward to sharing the results in September. We will also be getting ready to support students with Heritage Language GCSEs in the autumn and again next summer. We will keep you posted with news of the packages of support we will be offering.


Have a great summer and we look forward to seeing you all next term!
[ Modified: Wednesday, 21 July 2021, 4:51 PM ]
Anyone in the world
In this blog, Claire Barker, Operational Lead of the Hampshire EMTAS Traveller team, provides an update on the work of the team and gives an insight into future projects.


Hampshire EMTAS includes a very active Traveller team who work closely with schools to support staff with cultural awareness of our GRT communities, to help improve attendance and to engage with GRT pupils about their attainment and aspirations for the future.
In the past, the team has worked in a similar way to our Bilingual Assistants, offering a number of fixed sessions of academic support for every GRT child referred to us.  Over the last year as part of a regrouping exercise, we have evaluated the purpose of our work and reviewed the impact it has had.  We all agreed the children enjoyed support sessions but once we finished, the children did not have face to face support from us again.  This meant that the impact was short-lived.  Unlike children who are new arrivals to the country and struggling with English, our GRT children do not experience a language barrier and can therefore be supported academically by the school day-to-day.  We looked at issues around GRT children and their learning and found that the key recurring barriers to their progress and attainment are: poor attendance, lack of literacy and slower rates of progression in general.  None of these issues can be alleviated by a fixed number of support sessions delivered across half a term.
The crux of working with the GRT communities is trust and we all agreed that this needs to be built up over time, working with the children and getting to know their families.  As a team, we want to work with schools to look at their GRT cohorts and work out how to accommodate small mentoring groups that will be visited at least three times a year.  On each visit, a member of the team will work with the children on literacy, attendance and attainment.  This will be linked to the school participating in our GRT and Showman Literacy Ambassador programme.  This programme is being further expanded to include an interschool GRT and Showman Book Club; this is still in its infancy so watch this space.
If you are interested in the GRT children in your school being part of our mentoring scheme and you are a Hampshire school, for more information please contact Hampshire EMTAS: EMTAS@hants.gov.uk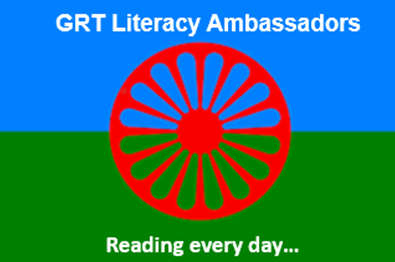 An important part of our journey moving forward is raising the cultural awareness of both staff in schools and agencies who work with our GRT communities.  We do this in a variety of ways: we have a termly network meeting held on TEAMS where teachers and other professionals can come together to discuss good practice for GRT children within schools and learn about any new ideas and projects.  We are also hoping to hold three GRT Roadshows to showcase good practice across the county.  These will be in Basingstoke, Winchester and the New Forest in October 2021 and we will send out details in due course.
We also hold Cross Border meetings with professionals from outside Hampshire with an interest in GRT communities and education.  These meetings are held on TEAMS and if you would like to take part please contact Lizzie Jenner to be invited: lizzie.jenner@hants.gov.uk  Our next meeting on 1st March is focusing on aspirations and aiming higher with presentations from Darlington EMTAS and the University of Sussex.

Hampshire EMTAS is keen to raise aspirations in our GRT children from an early age and we believe our new way of working through mentoring should help this.  We have coupled this with the introduction of Kushti Careers.  This is a suite of short videos by people who are currently from Romany Gypsy communities, who share their stories of how they valued their education and where it has led them in their lives today.  We hope to add others from the Showmen community, Irish Travelling community and Roma. The idea is to share it in schools to show that there doesn't have to be barriers to education because of culture and background.
We hope to have one of the presenters of a Kushti Careers video delivering a keynote speech at the EMTAS Conference on 9th July 2021.  Please make a note of this date in your diary.  It promises to be a great day, focusing on best practice for EAL and GRT children in education.
These are exciting times for the Traveller Team moving everything forward, preparing to return to schools and encouraging our GRT families to come on the journey with us so that their children's futures are aspirational and show how, in the 21st century, our GRT communities are benefitting from expanded horizons and opportunities.
Tags:
[ Modified: Tuesday, 2 February 2021, 2:27 PM ]
Anyone in the world
By the Hampshire EMTAS Specialist Teacher Advisors




We hope you had a wonderful, relaxing summer break and are now refreshed and ready for the new academic year. In this first blog of 2020-21, we are taking the opportunity to share with you some of the exciting projects we have been working on and to signpost some things to look out for in the year ahead.
EAL Excellence Award film debut
A few months ago, before the lockdown, five EAL coordinators from local primary and secondary schools in Hampshire LA came together to talk about their experiences around entering for the Hampshire EMTAS EAL Excellence Award. It was a highly successful morning with lots of sharing of practical ideas. We thank Anne Marklew (Harestock Primary School), Dawn Tagima (Cherrywood Community Primary School), Stacey Barnes (Ranvilles Infant School), Eileen Rawlins (Cove Secondary School) and Sophie Durbajlo (Merton Infant School) for kindly allowing us to video this session for the purpose of disseminating best practice more widely within the local authority and beyond.
The themes explored in the video include:
-  the benefits of entering for the award
-  preparing for the award
-  submitting data and evidence
-  next steps and working towards the next level
Watch the video here.
Training and resourcing 

We are really pleased to welcome to the EMTAS Specialist Teacher Advisor Team Lynne Chinnery and Helen Smith. Lynne will be supporting schools in Havant & Waterlooville, and Helen will be covering Basingstoke & Deane whilst Astrid is on maternity leave. 
Our training activities for 2020-21 include a series of network meetings.  We have added to our offer network meetings aimed at an NQT and RQT audience to get people started in the right direction when it comes to practice and provision for EAL and GRT learners.  Other network meetings are also available so if you're interested, see our website for more information and for details on how to book.  The first of our network meetings this year will be held online.  If your school would be willing to host a network meeting towards the end of this term or later in the year, we'd love to hear from you.  If you can't attend one of our network meetings, don't forget our EAL e-learning is an on-tap way of accessing training and it's free to staff in Hampshire-maintained schools.
Two new services we offer schools in 2020-21 are EAL and GRT clinics.  During an EAL Clinic, a Specialist Teacher Advisor visits the school on a pre-arranged date and meets individually with members of staff to discuss 1:1 the EAL children in their class.  Please see here for more information.  For schools with Gypsy, Roma and Traveller pupils on roll, the GRT clinic model may be more relevant.  This is aimed at supporting the GRT Co-ordinator on staff to develop and embed best practice for GRT pupils, including Showmen.  For more information, see the EMTAS website.  We are launching for 2020-21 a Kushti Careers page showing the achievements of members of the GRT community and how education has influenced their life choices
The very successful 6-module Supporting English as an Additional Language (SEAL) course is due to run again from October 2020 to July 2022.  The advantage of sending a member of staff on this course is that you will have an EAL expert on staff who can advise colleagues about EAL best practice and cultural aspects that may affect a child's learning and/or ability to settle into their new school environment.  For further information see here.
Date for your diary:  Friday 9th July 2021 is the next EMTAS Conference. It promises to be an exciting and informative day with EAL and GRT speakers and workshops that will impact on your practice in the classroom.  Look out for communications on the conference throughout this term.
In case you missed it before the summer holidays, we released our guidance on entering EAL learners for the autumn GCSE exam series. The guidance includes information about the autumn 2020 GCSE exams, factors to consider when deciding which EAL learners to enter and suggestions as to how to support EAL learners who are entered for the exams. Keep in mind that the exam boards' deadline for entering learners is fast approaching: 4th October for English and Maths and 18th September for all other subjects.
In light of the changes to the Heritage Language GCSEs in the autumn, particularly the removal of the speaking tests, we have adapted our packages of support to focus on preparing students for the Reading, Writing and Listening exams. Full details can be found here. Please complete the request form on our website and return to the EMTAS inbox: emtas@hants.gov.uk
Hot off the press, we have just released our guidance on the placement of EAL learners in sets, groups and streams. A copy of the full guidance can be found on our moodle, alongside our other Position Statements.  We hope that this document will help to inform decisions made by all school staff about the best sets, groups or streams in which to place learners for whom English is an additional language.
Another useful resource which has just been updated and is available to use on our website here is the audio version of 'Welcome to Hampshire' in English, our information guide written specifically for unaccompanied asylum seeking children and young people.  This is aimed at those who can understand English but who are not yet able to read it sufficiently well to access the booklet independently.  Our website also hosts translated version in Arabic, Farsi and Pashto, aimed at children and young people who are literate in these languages. 
Young Interpreter Scheme research update
In other news, Debra Page's PhD research evaluating the Young Interpreter Scheme's impact on children's language use, empathy, and cultural awareness continues.  Debra is now recruiting schools for her data collection phase.  Since Debra's last blog in May, her teacher questionnaire has closed and findings from this will be released in a few months' time.   If your school is interested in taking part in this exciting research project, do email debra.page@pgr.reading.ac.uk; she will be very happy to discuss her project and what it involves with you.
Developing the writing of more advanced EAL learners (AEL) project
This year EMTAS is planning an all new cross-phase project aimed at improving the writing of more advanced EAL learners (and non-EAL peers) using authentic reading and writing experiences. The project aims to use cutting edge technologies (two types of Google tools) to engage learners in creative experiences that link with existing Programmes of Study and project-based learning already happening across the curriculum.
There are two elements to the project:
a. Providing online sources of rich multimedia experiences around topics and themes that support work already going on in the curriculum. These experiences contain authentic high-quality texts that act as a model for children prior to designing their own versions.
b. Enabling children to create their own multimedia versions using the Google tools within Google Earth and Google Poly (3D/Virtual Reality).
The main text-type is likely to be information-based although the experiences may also feature elements of explanation and persuasion or discussion depending on the subject and topic.
Any schools wanting more information or who are interested in taking part should contact Chris Pim - chris.pim@hants.gov.uk
Finally…
Like schools, we have been working on a comprehensive Risk Assessment to support our staff to begin safely visiting schools again after the lockdown.  We recognise that the Covid-19 scene is subject to frequent change and our aim is that our Risk Assessment will keep pace with the situation as it continues to develop.  Schools can be reassured that we take the safety of pupils, families and all school-based colleagues as seriously as we do that of our own staff and we are working hard to come up with creative ideas for ways we can continue to offer support where it's needed.  If you have any suggestions to make to that end, do get in touch.

More news coming soon




Tags:
[ Modified: Monday, 7 September 2020, 1:44 PM ]
Anyone in the world
By the Hampshire EMTAS Specialist Teacher Advisors




Supporting you during the school closures
During the lockdown, the EMTAS team have been busier than ever.  Our Bilingual Assistants (BAs) continue to support home-school liaison, invaluable as the lock down, distance learning and subsequent reopening of schools has necessitated good communication between schools and all members of their communities.  Many of the BAs have also been working on translations of new resources.  This has resulted in a set of three new aide memoires aimed at parents/carers new to the UK education system being made available on the EMTAS website and our Moodle's Guidance Library. 

Meanwhile, the Traveller team have launched a postcard competition for Gypsy, Roma & Traveller History Month (June) and planned roadshows which will take place in October.  There's more on both of these in this blog written by Claire Barker.  The team have also been supporting transition for pupils due to make the move from primary to secondary phase as well as updating the GRT pages of the EMTAS website.  This includes a new section called 'Kushti Careers' which features real-life, education-related success stories from Hampshire's GRT communities.

The Specialist Teacher Advisor team have continued to offer support to schools.  Key output includes the new open access Guidance Library and Distance Learning course on Moodle, a virtual Young Interpreter Conference open to all children including those who have participated in the scheme, new guidance on setting and the premiere of a film about the EAL Excellence Award, made in collaboration with staff in Hampshire schools.  The teacher team are currently developing training deliverable via Zoom as the shift to online learning looks set to continue into the autumn term.  In fact, via video conferencing, St Peter's RC Primary in Havant and John Keble Primary School in Winchester have this term been validated for the EAL Excellence Award, achieving Bronze whilst The Wavell Secondary School in Farnborough was validated at Silver - a motivational thought for any school working on their own submission.  

The EAL/SEND phone line remains open on Tuesday afternoons for schools to discuss any pupils about whom they have concerns, but is operating slightly differently.  Schools can still ring in using the usual number and they will speak to one of our admin team who will arrange for the school to be phoned back.  A new suggested format for schools to record such concerns has also been created and can be found here.  Our language phone lines are also still available to support with sharing information with parents/carers, answering any questions they have and helping with home-school communication. Contact details and the list of languages can be found here. 

The EMTAS Admin team have continued to offer back office support, maintaining records and dealing in impressively efficient ways with new referrals that have started to come in from schools.  They have also been registering school staff for resources on the EMTAS Moodle, notably the EMTAS EAL e-learning and the EAL and GRT Excellence Awards.  One, who leads a secret double-life as our Resources Manager, has also run a project with members of our Bilingual Assistant team on how to make best use of Kitabu.  This is an app from MantraLingua that gives access to their entire range of dual language texts and includes additional features and functions.  She's also been sending out resources from the EMTAS library to schools.
Staffing
There have been some staffing changes this year too.  We lost Graham Ellwood, Traveller Team Manager, back in the autumn term.  His death was unexpected and he is much missed.  Following Graham's demise, Claire Barker took over the operational lead of the Traveller Team with Sarah Coles taking the strategic lead.  We also said goodbye to Kamaljit Dulai, Bilingual Assistant Manager, who retired in April after being with EMTAS for over 22 years.  In her place, we have Eva Papathanassiou, previously our EMTAS Greek-speaking Bilingual Assistant.  Eva continues to speak Greek where it's helpful and is now leading the Bilingual Assistant team too.

At the end of this term, we say à bientôt to Astrid, who will be taking maternity leave from the end of the summer term.  Jamie Earnshaw will be over-seeing the EMTAS blog in Astrid's absence whilst Helen Smith, previously a member of the Traveller Team, stands in for her as the Specialist Teacher Advisor for Basingstoke and Deane schools.  Helen's teaching background is in EYFS whilst during her six-year stint with the Traveller team at EMTAS she has led on the EYFS and KS1 transition programmes.

In September, we welcome Lynne Chinnery to the EMTAS Specialist Teacher Advisor Team.  Lynne's background includes 14 years in Libya where she ran a language school and picked up Arabic. She has also lived and worked as a TEFL teacher in Greece, Turkey, Spain and China.  Lynne will be working with schools in the Havant and Waterlooville district and she has already been involved in doing a remote validation for the EAL Excellence Award for a school in that area, St Peter's RC Primary School.  She also has experience of working with Unaccompanied Asylum Seeking Children (UASC) and delivering training on aspects of EAL practice and provision to schools on the Isle of Wight.

We also welcome Huijie Zhou (aka Nicole) to our Bilingual Assistant team.  She will be working with our Chinese families and supporting the Mandarin Heritage Language GCSEs.
Finally…
Like many schools, we have plunged in at the deep end when it comes to using videoconferencing and have discovered it can be used as an alternative to in-person visits to schools in various different ways.  As an option that enables schools to access services from EMTAS, we will continue to offer support via videoconferencing in 2020-21.  Alongside this, in preparation for the new academic year and in anticipation of the lockdown being eased still further by September, EMTAS have developed a detailed risk assessment to help ensure everyone stays safe when our staff are able to start visiting schools again.  We have some exciting projects up our sleeves for 2020-21 including a bedtime story project, working with parents to record bedtime stories in other languages for children to enjoy at bedtime; and an Advanced EAL Learner project that draws on cross-curricular immersive virtual experiences as drivers for speaking, reading and writing in English and other languages.  We are keen to identify schools to participate so we can get started on these – and other things too, of course. Have a great summer and we look forward to seeing you all next term!
More news coming soon


[ Modified: Tuesday, 14 July 2020, 12:42 PM ]
Anyone in the world
By Hampshire EMTAS Traveller Teaching Assistant Steve Clark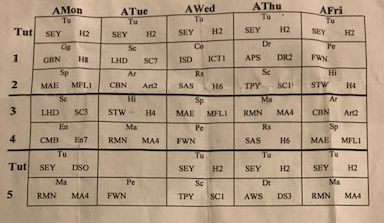 The big leap from Year 6 to Year 7
First steps into secondary school can be difficult for any pupil. Secondary schools are usually much bigger environments with more pupils and staff than most primary schools. The differences are noticeable: pupils move between lessons rather than staying in the same room all day and there is a complex school layout and timetables to negotiate. Pupils for whom English is an Additional Language (EAL) and pupils from a Gypsy, Roma, Traveller heritage (GRT) find the transition challenging. Rather than making the leap into the unknown, some GRT pupils withdraw from mainstream education and opt instead for elective home education (EHE).
This year more than any other year it will take a concerted effort from EAL and GRT children, parents, carers and schools to support their transition. The Coronavirus has led to a long absence from school for most pupils and many will find adjusting to the routines of the school day and entering a new learning environment particularly challenging.
Many EAL families may have experienced high levels of anxiety about Covid-19 and isolation especially where they have not been able to go and visit relatives or, in some cases, have any contact with them at all. Some families will have suffered bereavement and their children may benefit from bereavement counselling and/or ELSA support. EMTAS can also offer first language support for schools and families, mentoring for pupils and cultural advice for staff.
Many of our GRT families are fearful of the impact of the virus on their children and their communities and may be very reluctant to allow their children to return to school for this reason. If this is the case, schools can ask for EMTAS support for staff and the GRT communities affected. 
Many GRT families are self-employed and due to the nature of their work may be experiencing high levels of anxiety due to the impact of the lockdown on their ability to continue working.  Some families may be trying to off-set this by travelling further afield to secure work.
Hampshire EMTAS is, as always, ready to support all concerned with transition. Usually, we offer a transition programme for GRT pupils and EMTAS staff visit pupils in person to support and facilitate their journey from primary school into secondary. However, this year, because of social distancing, EMTAS staff are instead offering this support via telephone and can liaise with EAL and GRT parents and carers this way to answer any questions they may have and to support them with the transition. In October, after the child has started in their secondary school, an EMTAS member of staff will arrange a follow-up visit to see them to check they are settling in.


What EAL and GRT pupils, parents and carers may want to know
Lunch systems - Many schools are cashless and operate a fingerprint recognition system to pay for lunches. It is important to stress to GRT and EAL pupils and their families that their fingerprint will not be used for any other purpose.
Mobile phones - It is important to communicate to GRT and EAL pupils, parents and carers, the school's expectations around the use of mobile phones during the school day and to clarify how they can contact each other in exceptional circumstances.
Homework - Starting a conversation between school staff and GRT and EAL pupils, parents and carers can prove highly effective in ensuring that any potential problems with completing homework are identified early on and flexible solutions found.
Uniform and equipment - It is recommended that schools have a full and clear conversation with GRT and EAL parents and carers prior to the child starting in Year 7 about what equipment the pupil will need and what is acceptable uniform including jewellery and hairstyle. This may give school staff an opportunity to address any concerns the family may have regarding cost.
Cultural factors should be considered e.g. clarification about the provision of separate changing facilities for PE and modesty -related issues to do with PE kits etc. These are particularly relevant to Muslim students and their families.
Religious observance - Sikh boys may wear a patka (head covering) or other hair covering and may, for religious reasons, not have their hair cut; hijabs may be worn by some Muslim girls. Many Muslim pupils, especially once they are in secondary phase, will observe fasting throughout Ramadan followed by Eid, a day they may request permission to take off school for religious observance.
Attendance - Communication between GRT and EAL pupils, parents, carers and school staff is vital to ensure a good level of attendance (96% or above) is maintained. Clear guidance should be given to GRT and EAL pupils and parents on how to report any absence. Maintaining a good relationship with the GRT and EAL families will help to continue the conversation and to help identify any problems with attendance.
Art, Design & Technology, Food Tech and Science – Discussions between school and parents and carers about funding and the supply of ingredients and materials for these subjects can help avoid any potential misunderstandings or disruption to the pupil's learning.


Ideas for schools to build confidence from Day One in September
The better prepared a pupil is for their transition, the more smoothly it will go. It is a good idea for the primary school to show pupils a timetable from a secondary setting and explain to them what it means. If the secondary school can provide a digital tour of the school this year to help ease anxieties about what the new environment looks like, this would help pupils gain a little knowledge about what to expect to see on their first day. A short film introducing key staff and the Year 7 Tutor team would allow the pupils to recognise these people more readily. 
Communication with EAL and GRT parents and carers in the next few weeks will help identify and hopefully answer any questions the child and parent may have.
Hopefully all our EAL and GRT children will transition successfully in September and settle back into the learning environment quickly, making new friends and picking up with old ones. Give them time to think and process as the language and pressures of a new setting may take time to build up their confidence and to participate.


Also see our dedicated pages for: 
For further information please contact Sarah Coles at sarah.c.coles@hants.gov.uk or the EMTAS office at emtas@hants.gov.uk. 
Tags:
[ Modified: Monday, 29 June 2020, 9:19 AM ]
Anyone in the world
By the Hampshire EMTAS Traveller Team


Due to current circumstances and the impact on schools of the lockdown, we have decided it would be a good idea to move our celebration of Gypsy, Roma, Traveller History Month (GRTHM) from its traditional month of June to October so no one will miss out on our planned events. 
To this end, we are putting on three roadshows across the county.  The roadshows will be in Basingstoke, Winchester and the New Forest and there will be something for everyone from talks to exhibitions to Stepping with FolkActive.  The roadshows promise to be lively, entertaining and informative and will give our audiences a chance to see how Hampshire EMTAS works with its schools and GRT communities.
The roadshows are drop-in events with talks taking place between 4pm and 5pm after which people will be invited to take part in a stepping activity.  Stepping is a traditional form of dance that was initially a type of sport for working class men in the north of England and for Travellers.  Each dance is created by the individual dancer and does not follow any set rules – it is energetic and is often described as tapping or drumming with your feet.  It requires no previous experience or expertise and when the live music is playing, it is impossible not to move your feet.  Come along and join in. 
There will also be an exhibition of the Life of Showmen displaying the rich history of Showmen in Hampshire through the decades and a display of all the entries to the a postcard competition (details below). 
These promise to be lively events with lots of interaction, music and dance so save the date! The EMTAS Gypsy Roma Traveller History Month Roadshows will take place on:
1st  October: The Discovery Centre, Winchester, 3.30 – 6.00pm
8th October: The Discovery Centre, Basingstoke, 3.30 – 6.00pm
22nd October: Applemore College, Hythe, 3.30 – 6.00pm
We hope lots of you will be able to attend a roadshow near you.  We will soon be sending out a Schools Comm with further details and we'll be advertising the roadshows on our website as well as issuing personal invitations to all the schools, families and agencies we work with.  We look forward to welcoming you to one of these events and to getting to know you while you enjoy the exhibitions, talks and dancing. We hope to see you there!


The EMTAS GRTHM postcard competition

As part of our GRTHM celebrations, we are also holding a postcard competition.  It's open to all GRT children and there are three categories: KS1, KS2 and KS3/4.  We are launching the competition in June and need lots of support from our schools to make this a big success.  The winning postcards are going to be printed and, in liaison with schools, sent to GRT children all over Hampshire in recognition for their improved attendance and/or attainment throughout the year.  The winners in each category will also receive a prize and both winners and runners-up will see their postcards included in a full-colour calendar, something they can share with their families and feel really proud of.  We will be in touch about the competition and how you can support your GRT children to take part in it very soon.


Meet the Hampshire EMTAS Traveller Team
The EMTAS Traveller Team consists of
Sarah Coles (EMTAS Deputy Team Leader)
Operational Lead:             
Claire Barker (Specialist Teacher Advisor)
EMTAS GRT Officer:
Sam Wilson (Attendance, Admissions and Transport)
Traveller Teaching Assistants:
Julie Curtis with responsibility for ELSA
Steve Clark
Our work always has an education focus and comprises working in partnership with schools to support Traveller children and families.  At this time of year, we are heavily involved in transition work, supporting the move from infant to junior school for younger GRT children and from Year 6 to Year 7 for older ones.  New for 2019-20 is our GRT Excellence Award, a self-evaluation framework that can support schools to develop and embed best practice in relation to their work with GRT communities.  Also popular is our new GRT Reading Ambassador Scheme which is having a positive impact on children's progress in reading in the pilot schools where it has been running.  We can also support with attendance, admissions and transport applications and we can provide cultural awareness training to school staff.


Tags:
[ Modified: Wednesday, 3 June 2020, 9:49 AM ]
Anyone in the world
By the Hampshire EMTAS Traveller Team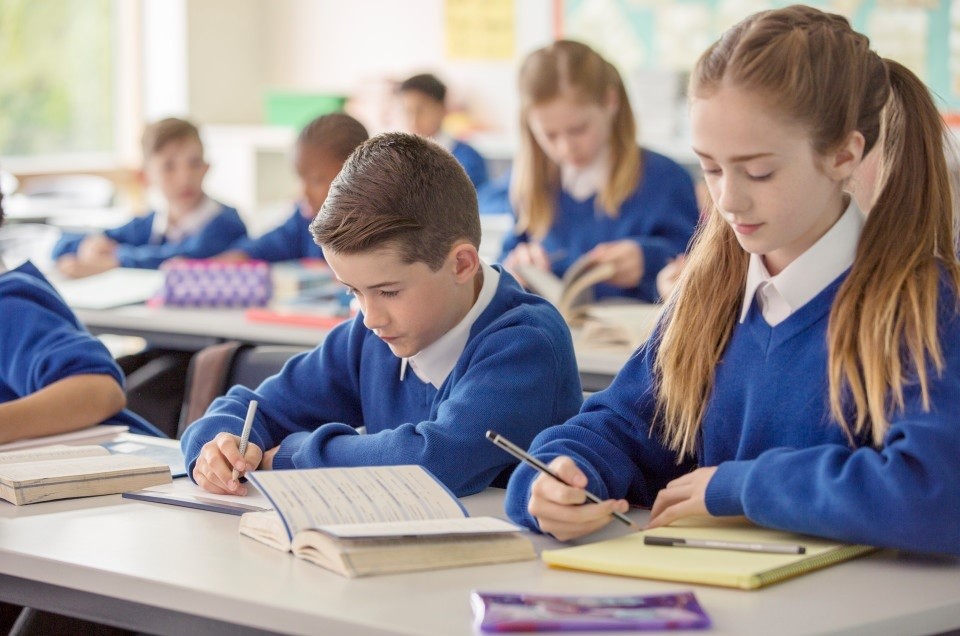 The objective of this article is to talk about Distance Learning for Traveller pupils and how to produce quality resources for your pupils who would normally be off travelling from April until November. However this year every teacher across the country, if not the world, has been producing good quality distance learning packs not for the few but for all their learners. This is a bonus for us as a service because it means teachers will all now know how to create Distance Learning materials. Alas this time will pass and fade from memory so to help support the creation of Distance Learning packs for GRT children in the future we have produced this easy to follow guide.
Learning at home
Home learning can cause many worries and concerns for Traveller families. The living conditions of many of the families are not conducive to learning. If a Traveller family comprises more than one child of school age all wanting to do written work or work on a tablet, computer etc. and the family live in a trailer, space can be an issue. Many Traveller families have difficulty with internet access depending on their living conditions as many sites do not have broadband or internet connectivity. The families may say they have internet because they have 3G or 4G on their phones but they don't have the ability to download and do work in a meaningful, straightforward way. It is therefore very important to offer the work in a paper format that can be collected safely from the school.
Some parents, not exclusively Traveller parents, have trouble with literacy and this can create a barrier to them being able to support their child's learning. Some Traveller parents may not have attended school at all or may have had a shortened school experience or erratic school attendance. These factors can lead to them having poorly-developed literacy skills that prevent them from being able to act as parent teachers in the home following a school based curriculum. Some Traveller parents may say no to the packs telling schools they are managing fine. This can be borne out of fear of not being able to meet the school's expectations. It helps to talk through with the parent what they are doing with the child at home and to look for learning opportunities in what they are comfortable with. This can be as simple as when they are out for a walk counting the cars or finding flowers and saying what letter they begin with. The children can collect stones and write letters or numbers on them to help them practise counting and letter-sounds.
Most Traveller families follow the rule of Mochadi. This is a cleanliness code that is strictly adhered to in the dwelling place whether it is a house, trailer or chalet. This code does not allow messy play with pens, pencils, glitter, glue, play dough, etc. inside so it is good to look for activities the children can do outside like scavenger hunts, making bug dens, making bee hotels. Many of the Traveller children will be getting educated in their culture during lockdown. Many will be given responsibilities around the home and work with the father. Often the children have animals to look after and girls will be taught cooking and homecraft.
Hampshire Ethnic Minority and Traveller Achievement Service (EMTAS) have created a Distance Learning page to signpost available free resources that may be useful. The EMTAS page is constantly growing and we would love to hear from you if you have made or found a brilliant resource that we can add - and we'll credit to you for submitting it.
The Traveller Times have also created a page of resources that may appeal to some of your Traveller learners and their families.
Fears and coding absences
Many Traveller families had great fears of Covid 19 before the government issued guidelines for schools and this resulted in many families removing their children from education either as an extended absence or to electively home educate them. Some Traveller families did go travelling and asked the school to use the 'T' code as they would be working as they travelled. The 'T' code can only be used for very specific circumstances and travelling to avoid Covid 19 would not be a legitimate reason to use the code. This link explains how to use the 'T' code accurately.

The absence coding of Traveller children who went off school before the government closure is at the discretion of the Headteacher who may wish to seek advice from their local EMTAS or Inclusion service.
The Traveller Times team recognised early on that many of their members and families had a great fear of this illness and they produced a simple factual video made by Lisa Smith, a Traveller and one of the editors of the Traveller Times, to help allay the fears of Traveller communities.

Challenges ahead
Once this is over and schools go back to some semblance of normality, the challenge of getting Traveller children to return will begin. Many families have fought battles with elders to have their children in education and now these battles will begin again. Many Traveller children who are due to transition to junior, secondary or further education may find the emotional stress and worry too much and opt instead for elective home education and work. It is vitally important to keep in contact with the Traveller parents of children in Years 2, 6 and 11 to reassure them and offer transition support. Schools should contact their local EMTAS for help and guidance with this.
Life will return to normal and our Traveller children will slowly come back into education and challenge us with their learning and sometimes their behaviour but all credit to you, when they come back through your doors – this demonstrates education is valued by our Traveller communities and that they trust you with their child; there is no greater reward than this.
Tags:
[ Modified: Monday, 4 May 2020, 9:37 AM ]
Anyone in the world
By Hampshire EMTAS Traveller Teaching Assistant Helen Smith
During the summer and autumn terms the EMTAS Traveller Team is always busy supporting pupils through the transition period. Historically, transition was focused on the transition from Year 6 to Year 7 and although this still remains the bulk of our work, we have now developed programmes to support Gypsy, Roma and Traveller (GRT) pupils from Year 2 – Year 3 (when a child is moving from an Infant school to a Juniors) and into Year R.
The period between Year 6 and Year 7 is the time when high numbers of GRT pupils are withdrawn to be Electively Home Educated (EHE); on average we lose about 30% of our pupils to EHE during this time. We are working hard with pupils, families and schools to reduce this number. During the spring term we meet to review the data and identify pupils that may be at risk of not successfully transferring to secondary school.  There is a variety of identifiers for such pupils, which include:
 no application for a secondary place made

 low or erratic attendance

 older siblings that are already EHE

 children whom we have previously supported who we know have reservations about secondary school

 SEND issues.
We then begin transition work by contacting schools that have pupils on roll who have not made secondary applications and we offer our help.  We may ask school to chase up the application and find out from parents if they need help or we may meet with school and the family to talk through any issues and barriers. Our position on school applications is always to make the application, even if you are not sure your child will be staying in school, then give it a go even if it's just for a term.
Our transition programme is for GRT children who have secured a secondary place. It takes place during the summer term and can be delivered over a period of between 2 and 4 weeks.  It includes a follow up visit in the child's new school in the autumn term. The aim of the programme is to encourage the children to want to start thinking more positively about secondary school and the opportunities it can give them. The programme focuses on post-16 aspirations, necessary school equipment, timetables and routines and any worries, questions and concerns. The follow up can sometimes just be a phone call to the school to check that the child has transitioned and make sure there aren't any problems. Ideally this would then be followed by a visit to talk to the child and help with any issues they may raise.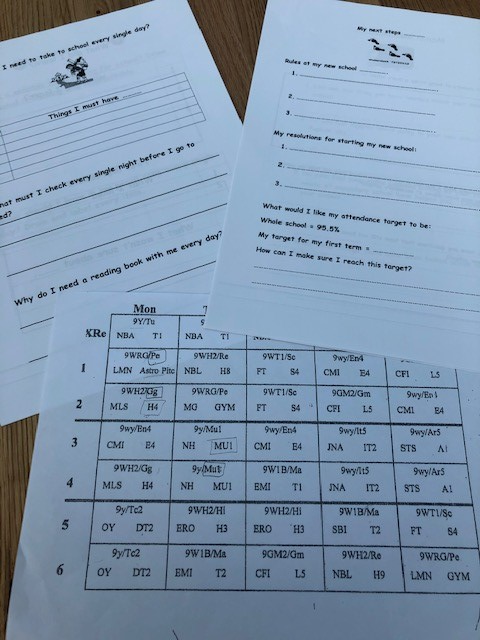 Last year we piloted a programme to help transition from Year 2 to Year 3 where children are transferring from an infant school to a junior school, i.e. it is not aimed at children who are attending a primary school. Due to time restraints, we target this offer at children who we think may struggle to settle into their new junior school. This can be because:
they have already attended several schools

they have only recently settled into their current infant school

there are SEND issues

they are an anxious child or parent

they have low or erratic attendance.
The Year 2 – Year 3 programme comprises three sessions in the infant school and two sessions in the junior school. The programme centres around similarities and differences between the two schools and is aimed at reassuring the child about any worries they may have about their new setting.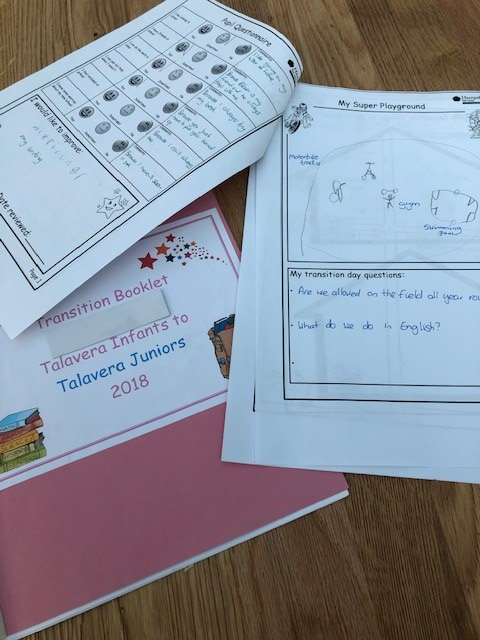 In 2018-19, we piloted a transition programme for children transferring from pre-school to Year R, or into Year R having not attended a pre-school. Again, these will be children who have been identified by us, the school, pre-school or parent as needing extra help to settle into school. This may be because:
the child has not attended any pre-school setting

the parent is anxious about the child starting school

the attendance of siblings has been erratic or low

there are SEND issues

extra support has been recommended by an outside agency.
The bulk of the programme takes place once the child arrives in the infant school, but ideally begins with a meeting with school/pre-school and parent in the summer term to discuss any issues and help with ideas for making sure the child is school ready. The programme involves one of the EMTAS GRT persona dolls.  The doll and I visit the school during the first couple of weeks.  The children show us around their school and share some of their school activities and routines. Our visits are recorded in the doll's journal using photos and the children's work. The persona doll and I will then visit again in the spring and summer terms and check on the child's progress.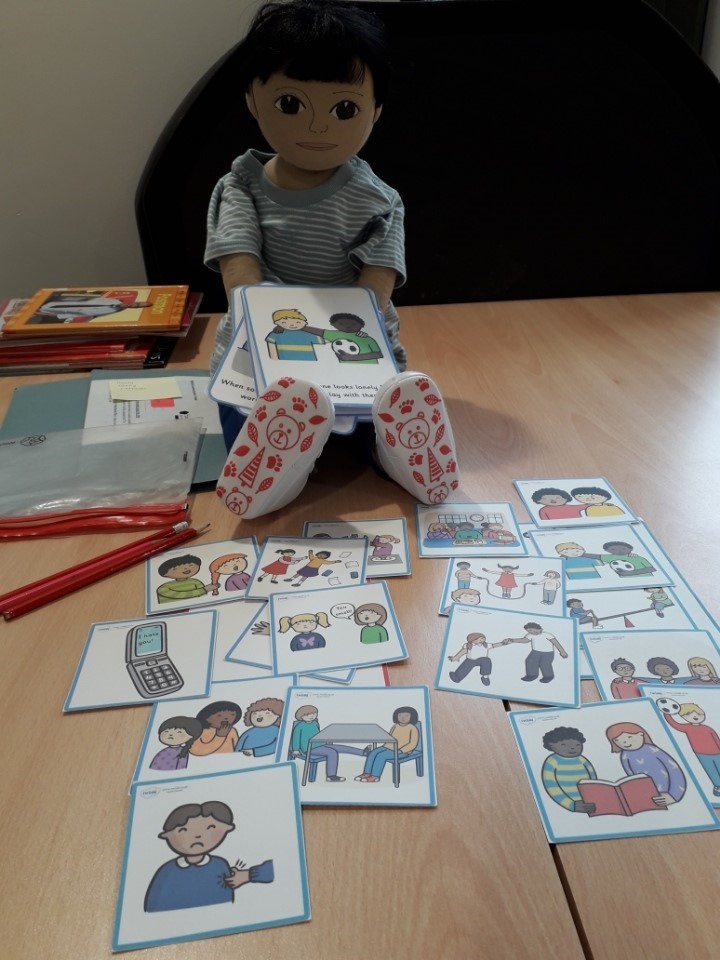 The aim of the transition is to make the experience as positive as possible to help aid retention in all phases, especially secondary.  As a team, we believe the better the experience our GRT children have early in life, the more positive an influence this can have on their attitude to school and education, which can pay dividends in the secondary phase.  The majority of Year 6 GRT pupils with whom we have worked over the last 4 years are still in school and about to enter their GCSE year.  This is testimony to the dedication, flexibility and perseverance of our team, the GRT children, their families and in no small part the schools.
If you have a GRT pupil that you think would benefit from EMTAS transition support, please use the website to make a referral in the normal way, ideally by the beginning of the Summer term. Additional information pertaining to GRT support and staff training can also be found on our website.

Meet Helen Smith and persona doll Jesse at the next Basingstoke network meeting on March 23rd at Marnel Infant School. Booking essential. Further details on our website's training tab. 
Tags:
[ Modified: Friday, 13 March 2020, 11:06 AM ]
Anyone in the world
Tags:
[ Modified: Wednesday, 26 February 2020, 10:14 AM ]
Anyone in the world
Dawn Walters, Year R Team Leader at Hook Infant School, shares the exciting activities she planned as part of a Romany Gypsy Day she organised for her class.

[ Modified: Monday, 4 November 2019, 3:27 PM ]