Site blog
Anyone in the world


In this blog, Hampshire EMTAS Bilingual Assistant Eva Papathanassiou reviews Mantra Lingua's Kitabu dual-language ebook Library.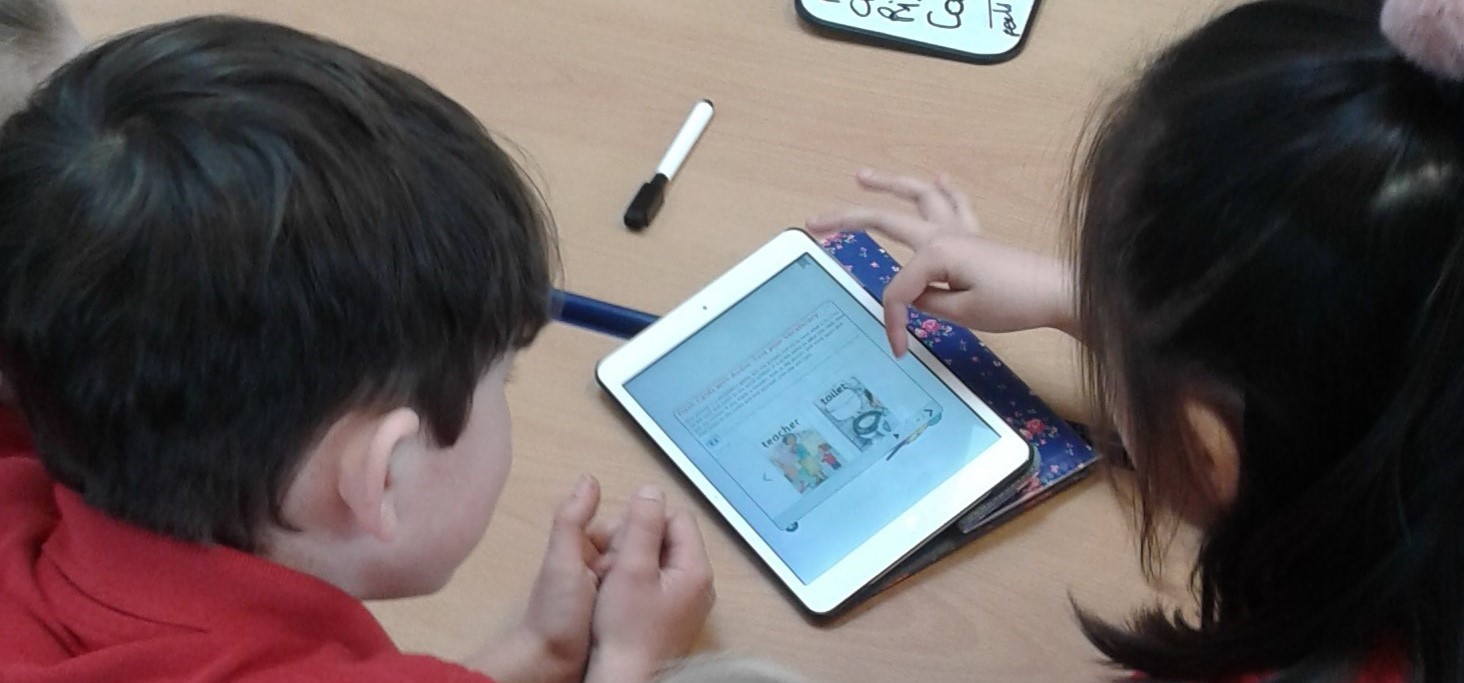 I got very excited and relieved a few months ago, when I opened my work inbox and read that I was invited to have access to an application which is literally an e-book library! Excited, because as a Bilingual Assistant, I know how any first language use, tool and resource can be extremely useful and significant for supporting children who have English as an Additional Language (EAL) to engage with the curriculum. Relieved, because this rich and diverse library would be in my hands, at any place, at any time, in less than one minute, without having to travel to our main office to get a resource or having to ask my colleagues to send to me at short notice.
I will briefly present to you this tool which is available as an app (download from Google Play or App Store) as well as through a URL on laptops and computers. I will then share with you two examples of how I have used it and why I am still so enthusiastic about it.
The Kitabu dual-language ebook Library by Mantra Lingua is a bilingual, interactive e-book library which gives you access to more than 550 books in 42 languages. The books are grouped by origin of language and type/genre. The majority of the books are fiction and folk stories for primary to early secondary (KS3) children. The fantastic thing about this library is that every e-book has both text and narration in two languages and different extra features. For example, you can create and share notes in any page, you can highlight a word or you can use a pen to draw, write or erase in any place in the text. You can also 'tap around to hear the sound' - tap around the page and hear the sounds of the illustration, making the book very vivid and appealing, especially to young children. 
Most e-books contain a video of the story in English and follow on activities at the end for vocabulary and comprehension such as flash cards, labelling the parts of a picture, matching pairs, sequencing pictures and video observations matched with reading comprehension multi-choice questions. As you will read later on, I found the activities extremely useful to both EAL pupils and myself, especially for making the children feel more relaxed and confident, creating a rapport and for assessing first language literacy skills.
I first used the Kitabu dual-language ebook Library last autumn, when I visited a Primary School to meet and support a Romanian pupil in Year 2, Alexandru*, who had recently arrived in Hampshire. One important part of my job is to write an initial profile report of the EAL pupil by collecting important information about the child, their personality, their concerns and challenges, previous education, the level of their literacy in first language and their proficiency in English at the school starting stage (in partnership with the school teacher). Sharing the same language and culture makes the pupil's initial profile creation a more straightforward task. However, someone who doesn't share the child's first language would find the process more challenging due to the lack of mutual understanding and immediate rapport that comes more naturally with someone who shares the same heritage. I don't speak Romanian so I needed to use any tools and means available that would facilitate this task, but most importantly would enable the pupil and myself to get to know each other a little bit more and establish a bond, a relationship of trust. After a brief cooking activity with his class, it was time for me to get to know Alexandru better and assess his literacy skills. The Kitabu dual-language ebook Library came to my rescue and in two minutes, I had in front of me a selection of 8 bilingual books for Alexandru to choose from. Alexandru seemed very much at ease with the tablet and he happily took it from my hands to explore it. When he noticed the title of the books in Romanian, his face lit up; he chose the book Let's Go to the Park/Hai să mergem în parc and we both started exploring straight away. 




Alexandru tapped excitedly the different parts of the book and heard the narrative in Romanian and the different sounds of the illustration, scenes of a park full of children playing with their families. Slowly, he read some of the sentences in his first language and he heard the audio and me reading the same sentences in English, whilst he was pointing to the pictures and tapping to hear the different sounds. We moved on to the activities at the end, and we looked to the bilingual glossary with matching images from the book where we could both hear and read the words in both languages. Alexandru had the opportunity to learn some new English words, teach me some Romanian ones and correct my pronunciation and at the same time he felt happier, more relaxed and engaged. He also wrote some words in capital letters in his own language showing his writing ability, which seemed appropriate to his age and previous education. Alexandru also built his vocabulary further with different games when he labelled the parts of an image by dragging the correct word at the correct place and matching different pictures to words on the tablet and submitting his answers. This e-book enabled me to engage in an informal conversation with Alexandru, made both of us feel more at ease and get to know each other a little bit better while I had the opportunity to assess Alexandru's first language (and partly English) listening, speaking, reading and writing skills. 
A second example where I found the Kitabu dual-language ebook Library extremely beneficial was when I was asked to take over the support of a Japanese girl in Year 2 at another Primary School after one of my colleagues left our team. Hinata* had learned to write in her first language at nursery in Japan and firstly joined the school in the summer term of the previous academic year, in Year 1. The school had very successfully used Hinata's previous skills for various writing activities and the EMTAS department had already sent a bilingual book for Hinata to read together with her classmates. Hinata appeared rather shy when she had to speak to her teacher or in front of her class and she used one word answers or gestures for communication.
During one of my visits, I was asked by Hinata's teacher to supervise a 'guided reading' group activity where Hinata and three of her friends would have the opportunity to read and discuss the  bilingual book, Mei Ling's Hiccups/
メイリンのしゃっくり

, lent by EMTAS as a hard copy.







Hinata appeared reluctant to read out loud in Japanese but she did read each page to herself and subsequently she happily heard the rest of the group who took turns to read the text in English. Very soon Hinata appeared more relaxed and took her turn to read parts of the text in English. Everyone was impressed with her reading skills and praised her efforts. We got into a conversation about parties and Hinata was able to answer closed questions and give one-word answers, using key vocabulary from the book i.e. balloon, party, drink. Having been exposed to the Kitabu dual language ebook Library very recently, I enthusiastically searched to find any appropriate Japanese books. I was thrilled to find Mei Ling's Hiccups as an e-book and straight away I found the follow-on vocabulary and comprehension activities. In school, Hinata together with her classmates quickly got engaged in matching pictures to words and labelling different parts of a picture. Soon Hinata appeared much more confident to demonstrate her comprehension by tapping, dragging and listening to the questions, very often volunteering her answers and at the end we went back to the book text and Hinata heard parts of the story in Japanese and read several phrases in English.
Last week, I visited the Primary School again for Hinata's follow up visit.  I was looking forward to seeing and supporting Hinata again and I remembered how much Hinata together with her classmates had enjoyed the bilingual book and its linked Kitabu activities, the first thing I did was to download another Japanese e-book from the app. 
Hinata was joined by three other children and all together we went to the school library to read the new e-book, Tom and Sofia start School.  Hinata was again hesitant to read in her language but she was very happy to listen to the text in Japanese, read some pages to herself and the rest of the group seemed excited to hear the story in a different language and took turns to read or hear the audio of the text in English. Very often after this activity, they asked Hinata questions like 'is this how you say the word cool?' repeating the last word they heard from the Japanese audio.  Hinata replied by 'yes' or 'no' and she was also able to answer a few comprehension questions with one word answers with no hesitation. Afterwards, we watched the animated video of the story and we proceeded to the Video Observations follow on activity where you answer comprehension multi choice questions based on what you have just seen. Hinata's confidence grew and very soon, she volunteered to answer the questions by choosing the correct answer on the tablet, take her turn to read small portions of the text in English together with her peers and participate in the other activities such as labelling the parts in a picture or matching pairs of images and words. 




I used the Notes feature to write a comment on where and how Hinata read in the book and the children used the pen to circle different words in the e-book to demonstrate their comprehension. We highlighted more tricky words or phrases like 'feel welcome' and the group discussed what the phrase meant with examples.  They also had the opportunity to listen to and read the definition of the word 'welcome' in English from an e-book. Hinata took part in all group activities contentedly and apart from learning through a new story and its key vocabulary, she was enabled to demonstrate her listening and reading comprehension and reading out loud skills confidently in front of the small group of her peers.  In addition, she paid attention to the given instructions in English (read by me) or heard by the activity audio and followed what she needed to do together with her classmates, proud when she submitted a correct answer.  At the end of the session, the group talked about their 'special friends' at home, pets or toys and Hinata told everyone that hers was a bunny.
Knowing how important it is for EAL pupils to continue using their first language in school and at home, the Kitabu dual-language ebook Library with text and audio in two languages, interactive activities and animated stories gave me an excellent opportunity to create a rapport with children who do not speak English or Greek (my own first language) and enabled me to assess their first language and English skills, through story-telling, informal chats, videos and games.  Both Alexandru and Hinata felt more confident and engaged, happier to express themselves and participate, something more evident in a group setting. 
The Kitabu dual-language ebook Library with its extensive bilingual library is another excellent tool for enriching children's learning environment by use of their heritage language;  something essential for confidence-boosting, self-expressing, demonstrating academic knowledge, studying more efficiently and independently and most importantly maintaining their culture and sense of identity.
*pseudonym



Find out more about Kitabu dual-language ebook Library (Mantra Lingua is offering parents of learners of EAL free access to the Kitabu dual-language ebook library until the end of August - see attachment for details)




Congratulations to Eva who was appointed as our new Bilingual Assistant Manager since writing her blog.



Tags:
[ Modified: Thursday, 24 November 2022, 9:16 AM ]